This weekend I went to Wool House, an exhibition put on by the Campaign for Wool, at Somerset House. I have talked about the Campaign for Wool in the past – this is a campaign that I really believe in, and the exhibition was a fantastic way to celebrate it. If you want to find out more about the Campaign for Wool itself, check it out here.
Wool House ran from the 13th to the 24th of March, and made quite a splash – even JS' mum was excited about it! I managed to wangle myself a ticket to the final party, a Tweed Tea Party from 3 to 5 pm on the final day. It was fantastic.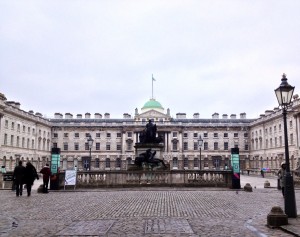 I struggled with myself on this article – I generally try to keep my blog-posts to a readable length. However, I didn't want to split this up into more than one post, so please bear with the length. It's worth it, I promise!
For those of you who are interested, I do have a WIP this week – Scrunchable Cowl. The Ravelry page is here.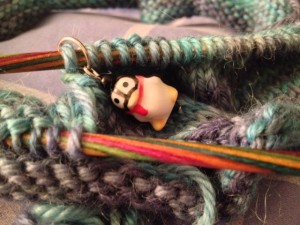 Wool House
Wool House was a celebration of wool. It wasn't at all knitting orientated – in fact, it was barely knitting related, and was really refreshing to see how versatile wool actually is. I bet that half of us don't even realise how incredible it can be even when it is in a textile environment.
Entrance to Wool House
The exhibition itself was held in the West Wing of Somerset House, a big old house in London. Unfortunately I missed the live sheep in the courtyard – but there were these four handsome fellas in some very bright colours to improve the rather dreary greyness of the day.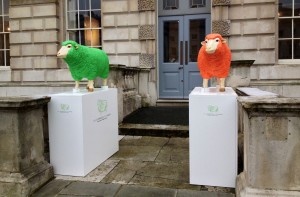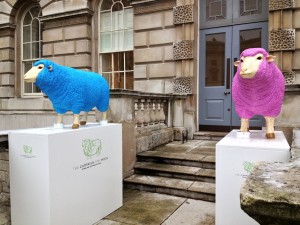 Walking into Wool House itself was incredible. There were roving trees flanking the doorway, and you walked into to an amazing carpet that was basically black and white tiled flooring – but made of wool! A huge mammoth chair invited you to sink into it and get lost in the fluffiness, while a bear by Shauna Richardson, who has featured on PM a few times, looked on. A gigantic sheep tapestry and four fantastic sheep-head hats completed the picture.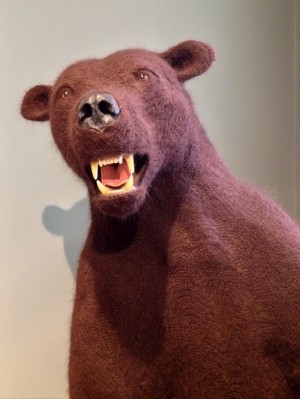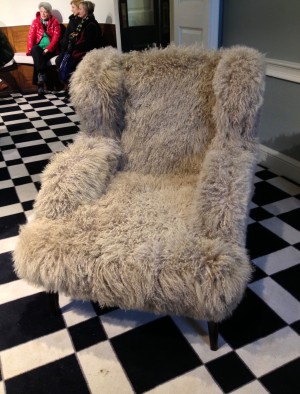 This was by no means the sum total of all the amazing exhibits in the entrance. My favourite – apart from the crocheted bear – was the Hummingbird Tapestry by Alexander McQueen. It was breath-taking, and I wish my photos could do it better justice.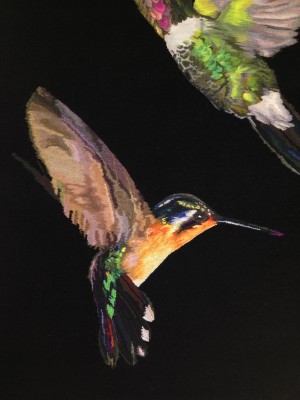 The main bulk of the exhibition was split into two sections.
Designers at Wool House
One half of the exhibition was nine rooms that had been fitted out by interior designers – I was so inspired by this that I spent no less than two hours staring at just nine rooms.
Natural Room – Josephine Ryan
This was definitely my absolutely favourite room. There were so many ye olde thingys around…wool combs from a very bygone era, a wool hackle, wellington boots, knitted sofas, a giant old wood kitchen table. It very much appealed to the country-girl-at-heart side of me, and I thought it was fantastic. The level of detail was brilliant – there were even little toy sheep being herded into a gate on the mantelpiece of a big fireplace.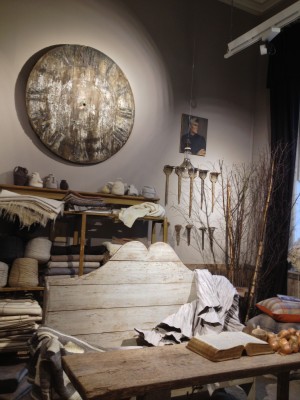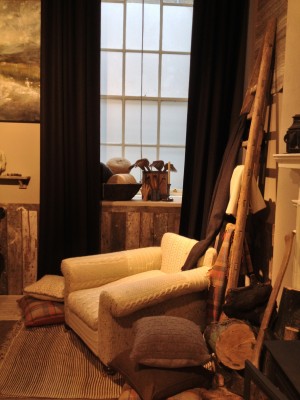 Modern Room – Anne Kyyrö-Quinn
Talk about brightness overload! This was fantastically colourful, with some pretty nifty science going into the sound-absorbing wall-covers. You cannot believe how much sound a piece of felt will deaden, and these structures would be perfect for a room that was required to be quiet and gentle. And warm!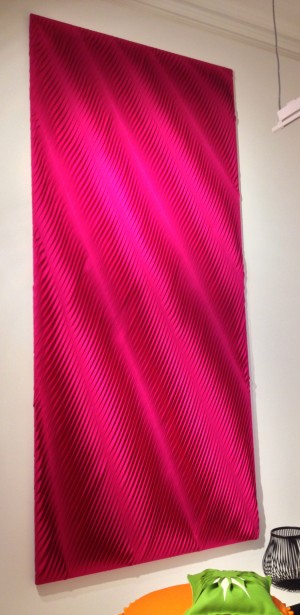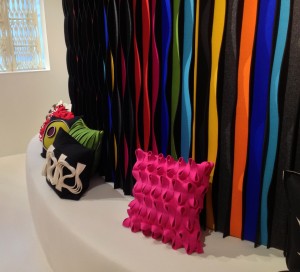 Nursery – Donna Wilson
I was a bit unsure about the nursery, although I understand why it was laid out the way it was, and what was around. I think it was very cluttered for my taste, and as a show-room for a room, I didn't like it. But, in individual elements, it had some lovely touches – a 'rain' mobile made of felt, a woollen blanket as a den for a child, and soft toys that definitely fit the modern cartoonists dream. The best thing was the sheep, for sure!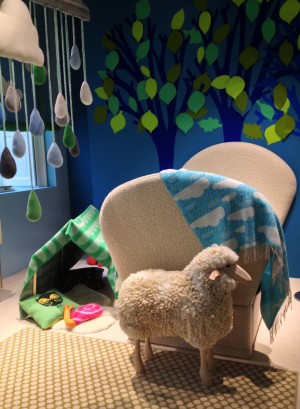 Snug – Arabella McNie
Based on a Turkish theme, the purpose behind the snug was to show the ethnic heritage of wool. It was a fabulous room, very modern despite the ancient elements to it. The throws draped over an arm of a chair were definitely the best bit, with some incredible detail in them. I would love to spend an afternoon curled up on one of those chairs with a throw over me, knitting away on something.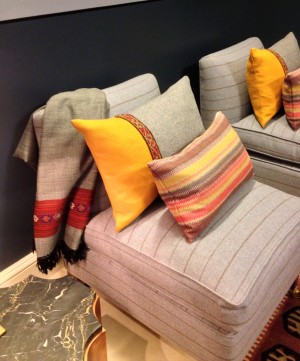 Study – Ashley Hicks
The juxtaposition of an iPad in a fairly traditional feeling study made me laugh to myself. Although it felt traditional, I think this was largely the feeling of the furniture, because it certainly had that modernity that I felt in all of the rooms (although I am by no means an interior designer!) The wool on the walls was definitely my favourite part of this room. If I had a study for doing clever, academic things, I would totally have this one.
Classic Drawing Room – Fox Linton Associates
Walking into this room was like entering a gentleman's club. Hit with the navy blue, the stark contrast of the furniture was incredible. The best feature were knitted lights, made up using a knitted structure stretched around a wire frame, with fibre optic cables laced through it. Fantastic, I will definitely be trying to make some of these. One of my other favourite things was a glass table that had blue and white yarn enclosed in it. Incredibly imaginative in such a simple way.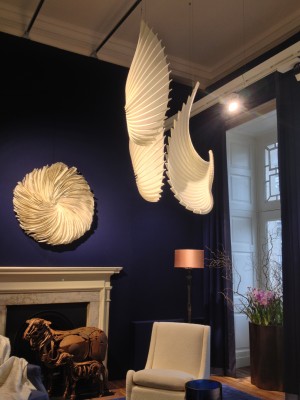 Bedroom – Kit Kemp
This bedroom got my inspiration juices flowing the most. It was fantastic, and appealed to me in a totally different way to the Natural Room, which celebrated ye olde thingys. The bedroom was, for one thing, in a colour scheme that really appealed to me – grey and green with fabric walls that had embroidery on them. Embroidery! The bed was massive with a gorgeous quilt on it, and the headboard was absolutely stunning. It had applique felt on it, with more embroidery. The cushions were brilliant, and it had a big geometric rug on the floor that would probably have me staring at it for hours if it were in my bedroom.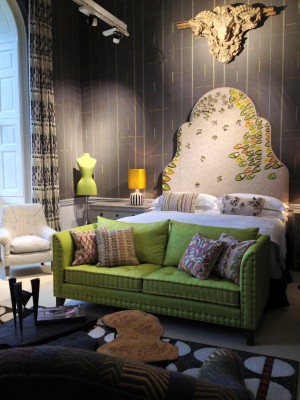 Fashion and Artisan at Wool House
The other half of Wool House was devoted on one side to craft, and on the other to fashion. I walked down the artisan side first, and was so interested to see many of the things there. I don't have space to talk about them all, and besides the photos will tell so much more of the story. There were three things in particular that I really loved.
Artisan
Tapestry by Claudy Jongstra was the most stunning. Huge, felted tapestries with such incredible effects on them – Claudy uses traditional techniques to do her felting, and her dying is something that has to be seen to be believed. I have no idea how Claudy got this lustre in a yarn, but I literally stared at it for about ten minutes. I had three conversations with strangers (kind of a big deal for me) about it, and we couldn't figure it out. I've emailed her to ask!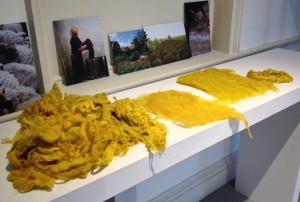 The second thing I loved was based around "Large Tree Group", a tapestry by Dovecot Studios. It showed a selection of handspun yarns that were all dated (I must remember to date mine) and included fibre from 1964! Incredible, and the display on how the tapestry is made was fascinating too. I must not start another craft! I must not start another craft!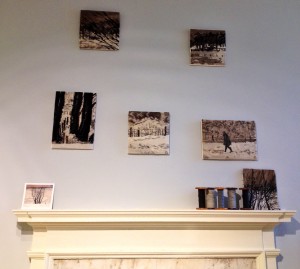 Finally, the third artisan thing that deserves a big mention is the knitting mood boards. I make mood boards all the time, but not like this! I think this will change the way I work for the better.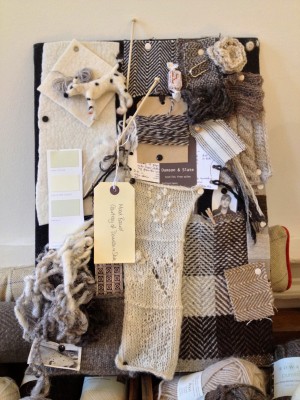 Fashion
Anybody who knows me will know that I know very little indeed about fashion! However, I don't really have to have too much of an opinion here, because I just want to express my surprise at how wool is used! I'd never thought about this before – but a fine woollen suit is actually made of wool! Who knew?!
There were samples of pinstripe fabric, a pinstripe chair, and a display on the suits that Winston Churchill used to wear. Tweed was another huge thing in Wool House (more on that in another post), and some of the stuff they had was amazing – how about these shoes by Vivienne Westwood! Some of the clothes were gorgeous – what I would give to wear some of the coats they had on display.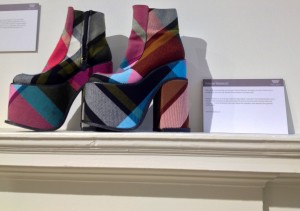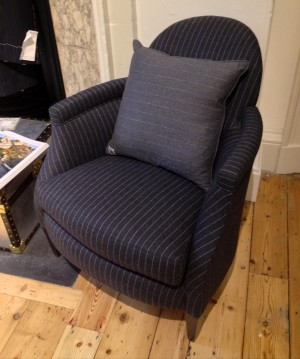 The men's clothes were also fantastic, with suits, hats, cardigans and even scarves that a few of the men I know would absolutely covet. As for the women's clothes…well, I need to learn how to make one of these coats because I want one.
The final 'fashion' thing was about bedding! That's right, mattresses and duvets, cushions and linen made from wool. I think that I would adore a wool bed, even though you probably wouldn't think of that immediately.
That's about it from me on Wool House! I have so many more photos for you, which can be found here. I went slightly crazy and took over 400 photographs! I've managed to get it down to about 100, so hopefully you aren't too overwhelmed. There is no way I could describe everything I saw and loved, but you'll probably be hearing snippets of reference to this exhibition for a while, so fear not!
I think the Campaign for Wool is an incredibly worthy cause, and I would encourage you to do some research into the uses for wool that aren't included in your craft. I will be blogging about Wool House again, as I attended a Tweed Tea Party there – but at well over my normal limit of words on blog posts, I'm going to leave it here for tonight!
Did any of you make it to Wool House? Does anybody know of similar campaigns or events that you think I might be interested in?
I'm feeling incredibly inspired and am off to knit something, or possibly put together a mood board!
Much love,
Corrie xx