I decided to take the Bank Holiday off – which means that although I didn't do any blogging, I got loads of stuff done! The big news item is that I've finished Naloa! I haven't posted any photos of it yet as it's still blocking and I want to do a Big Reveal – more on that later.
I've done a lot of running, and finished knitting the "Bank Holiday Cowl". You won't have heard about this before, because I designed and knitted it this weekend.
Bank Holiday Cowl
I used up my skein of handspun by the name of "Pharaoh" for this project. There were 121 metres of this, and it came out as a bulky/super-bulky yarn as I was practising spinning roving – it was only the second yarn I'd ever spun.
I wanted a simple lacy bit that would keep the knitting interesting, while also giving the cowl some structure, while showing off my crazy yarn to the best of its ability! I flicked through my book of lace patterns and landed on cockleshell lace. This required a garter stitch pattern, and as I wanted to knit the cowl in the round, I decided to scrap the garter stitch and just do it stockinette – shortly afterwards, I realised it was the same pattern as used in a section of Naloa!
I actually knitted it three times. The first time was at Wonderwool Wales using 5.5 mm needles – I had a grey and purple section in the yarn, which I included. It looked absolutely horrible. I unpicked it and started again.
The second time, I cast on the same number of stitches but used a 6 mm needle. The purple/orange/yellow section of the yarn was much bulkier than the grey and purple bit, so I knew I would have an issue with sizing, but I wasn't sure how bad it would be. I did six repeats of the lace pattern, and got through the first section of the cowl before realising that it looked absolutely huge, and I wasn't going to have enough yarn. Off the needles and into the frog pond again.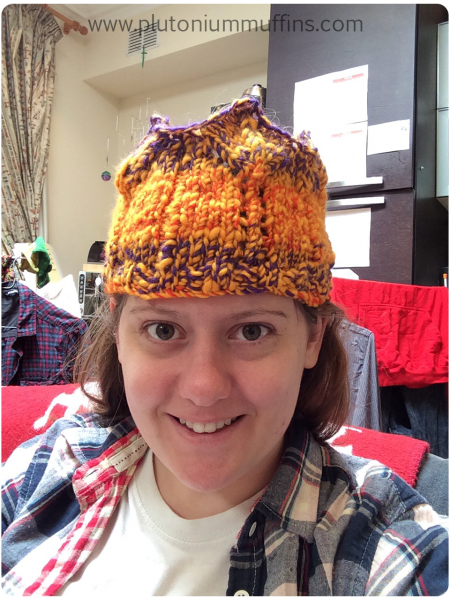 I did fewer repeats of the pattern on the last go around, and was happy with what I got. I did a stockinette section with a couple of eyelets for each repeat section, and ribbing at the top. I only did two rounds of ribbing because I didn't have enough yarn- ideally I would have done a couple more. So this is the third incarceration of the cowl. I really like it, not least because it's my own handspun, but also because it's my own design. It's definitely an organic 'Corrie' creation.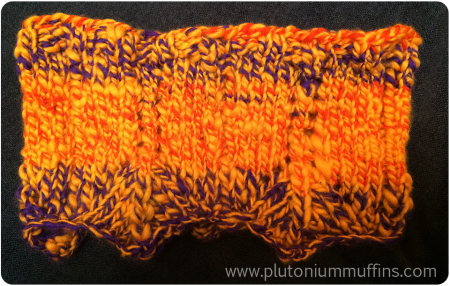 What did you get up to this weekend?
Much love,
Corrie xx