This is a story about legwarmers that are going to haunt me for the rest of my life.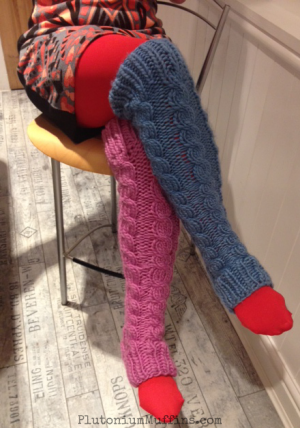 Those blooming legwarmers.
Two years ago, I asked Wonder-Mum what she wanted for Christmas and she asked for legwarmers. "No problem", I thought, and I picked out Cabled Legwarmers from Stitch Style Socks: Twenty Fashion Knit and Crochet Styles. I went stash-diving and I found some Sirdar Big Softie that I'd had for years. I counted it up, had the right amount, and off I went.
I would like to say at this point that I had never done cabling and I'd never knitted in the round with dpns – I ordered some fat and stubby 10mm bamboo dpns off Amazon and learned how to cable to do this project, and I thought I was doing particularly well. They knitted up really quickly and all was going absolutely swimmingly…until I got to one cable repeat from the end on the second one.
I ran out of yarn. Saddened, I did a double-check on the pattern…and realised that it asked for four balls of Rowan Big Wool, which comes in 100g balls…and I had had six balls of Sirdar Big Softie in 50g balls. D'oh. I cannot explain the thought processes that went on while this happened. Undeterred, I wrapped the completed legwarmer up and gave it to mum for Christmas.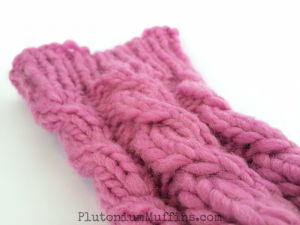 She thought this was very strange and I explained that I just needed to get another ball of the same yarn, and then the second would come.
No. The yarn had been in my stash for so long that the dye lot had changed and I could not find anyone who had a ball of the right dye lot for my usage. The new dyes they were using for this colourway were so different that it is now effectively different yarn – it's gone from vibrant blue to pale pastel sickly blue. I couldn't even alternate to introduce the new one slowly.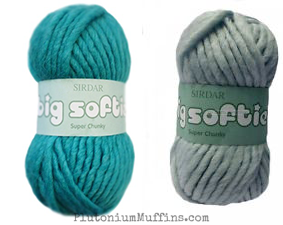 I unravelled what I had done on the second legwarmer and tried to forget about it.
Fast forward two years, and imagine a lot of ribbing (not of the stitch kind) from mother about the fact that I had once given her a single legwarmer. I tried to explain about the dye lots and the yarn, but you know what family is like, right? I said that if she wanted another, it would have to be pink. She said yes, thinking this would never happen (probably).
However, I was now so sick of being teased about the bloody legwarmer that this year, I did it. I knitted it up in bright pink, and ended up with a pair of legwarmers that were funkily different. I loved them, and I was pretty sure that Wonder-Mum would probably never wear them.
Nevertheless, I wrapped the pair up (I did steal back the original for the purposes of gifting them to her together) and gave them to her this year. There was a bit of confusion ("Is this the second blue one?" "No mum, it's the original.") and she seemed relatively pleased.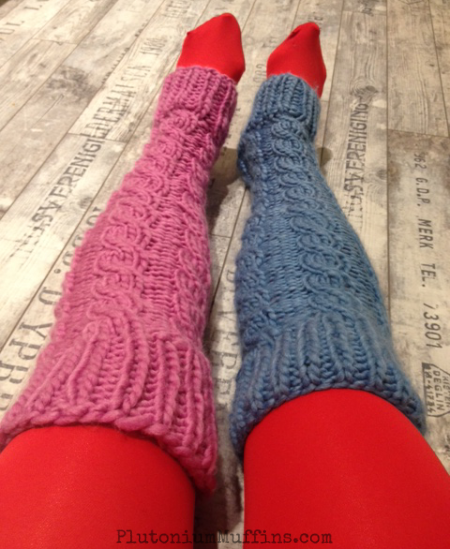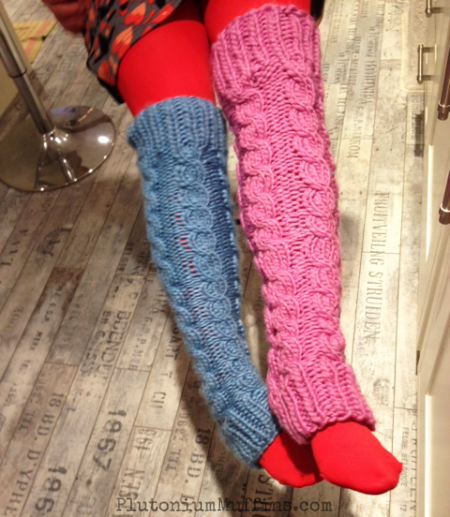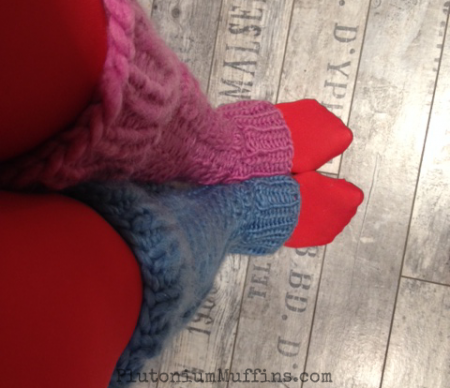 I will never get rid of the embarrassment of knittng a single legwarmer for mother. There will always be that little "do you remember the time when Corrie knitted me one legwarmer" anecdote at family gatherings. But I am pleased the damn things are out of my life! I love you mum, but this is one project I am not sad to see the back of!
Do you have any knitted items that have presented a similar issue for you?
Much love,
Corrie xx