I have been working full-steam ahead on Erquy for the last week, with not much progress on anything else (although I did knit a quick hat which I will show off on Friday). It's also the middle of the month, so high time for an update to my resolutions…
Erquy
This was my progress on Erquy last week.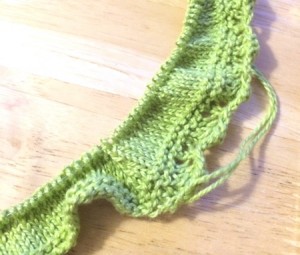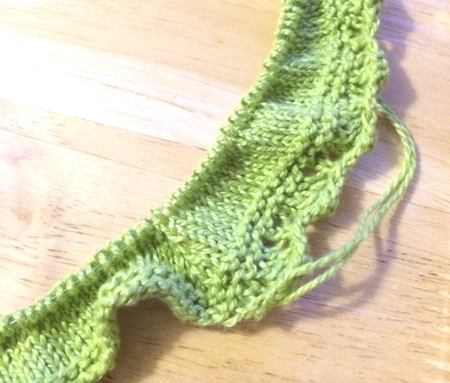 Shortly after taking that photograph, I entered the first dark green section and took it to Knit Night (at Loop, if you're ever in London on a Thursday night, come along!)
There, I realised that in my haste on the tube, I had miscounted something and created less of a zig-zag as the pattern is designed, and more of a y-shape on one of the sets of increases. I wasn't using stitch markers at this point, as I have been primarily knitting this on the tube or bus, and I always, always lose stitch markers.
I was advised to ignore the mistake and just go back to the original pattern – the problem was my stitch-count on two sections was now off, with too many on one side and too few on the other. In and of itself, not a problem – except the bottom of Erquy is knit up in a gorgeous Feather and Fan pattern, and my stitch count needs to be spot on when I get to that point.
I didn't frog, I ripped back the ten or so stitches and fixed it all on the needles. I was silent for most of the session at Knit Night, and if I had been thinking straight I would probably have put it down and started something new – something stocking stitch – and then gone back to it in the quiet of my own home.
I am incredibly proud to say that I managed to fix it. OK, yes, there are some monstrous holes where the yarn has distributed itself unevenly – but I'm sure that I will be able to block this out, and even if not, I don't care that much – as long as the stitch count for the lace is OK, I really don't mind.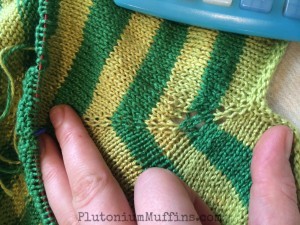 I am now knitting with colour coded stitch markers – black for the start of the round, pink for a decrease and blue for an increase, and I'm halfway through the main zig-zag section. I will then be on to the Feather and Fan pattern, and then I have to decide whether or not this will be a dress.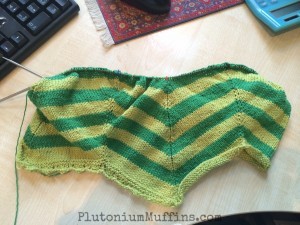 I am on the fence when it comes to that. I *want* it to be a dress, but I am beginning to realise that with the yarn this may be impossible, as it's woefully inadequate to be anything too big. I don't mind too much – it was souvenir yarn bought in Brazil and anything made from it will have wonderful memories associated with it!
I have made an important discovery here. I don't usually use stitch markers when a project is 'portable', but the time lost while correcting mistakes because you lost count while tutting at a screaming toddler on a train is worth more than an active piece of equipment (as long as your sm's aren't made of, like, pure gold!) Life lesson learned.
Righto, best get on with some things!
Much love,
Corrie xx