I have a project to show off today, the Boyfriend Socks I made for my wonderful JS for his birthday this year. Yes, I finished them in May, but the delightful boy hasn't given me a chance to take photos yet!
I'm working hard for my parents company at the moment, and have absolutely no time for knitting. I am keeping very busy on Facebook, Twitter and Google+ though, as I spend any tea break surfing for knitting related stories/pictures/interesting snippets of info, and I'd be delighted if you'd join me over there! The content on my social media is totally different to anything you get on here, aka not so self-centred, ha.
Anyway, on with the socks.
JS' Boyfriend Socks
I used Regia 4-ply in a Kaffe Fassett colourway, Ombre Stripe. I was really unsure about this when I bought it – the main reason I did was because it was cheap! (Don't tell JS.) When I started knitting it up, I fell in love with it.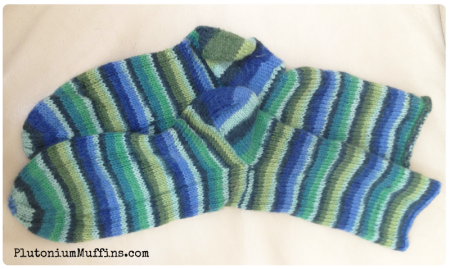 The pattern I used was Basic Ribbed Socks by Kate Atherley. It's a free pattern on Ravelry, with a slipped stitch heel and a basic rib. The slipped stitch heel is my favourite heel (so far). I absolutely loved it, they knitted up so quickly and JS was pleased as well. I think he's a bit scared to wear them (especially as I was demanding photos and he didn't want to wear them out).
Anyway, they fit me, albeit slightly loosely, so I feel I can totally legitimately steal them…right?! He'd better watch his step…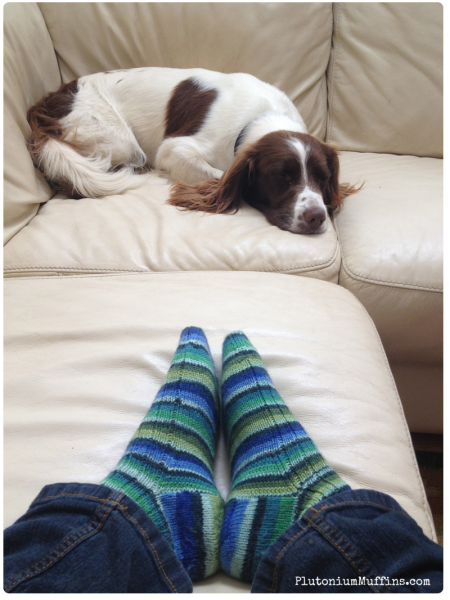 My tension with socks still needs some sorting out, you can still see where the needle joins were. I listened to Episode 50 of the 2 Knit Lit Chicks podcast yesterday and Barb reviewed a book on knitting in the round. This is "Circular Knitting Workshop" by Margaret Radcliffe. It teaches you how to knit socks on two circular needles, which is something I've been too scared to try. I want to get that book!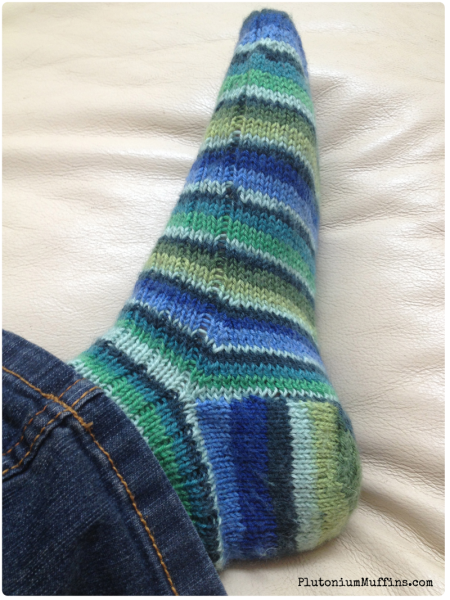 Anyway, that's all from me for now, I'm already running behind on my work today.
Much love,
Corrie xx