In my April Resolutions post the other day, I mentioned that I had a finished object; and can now reveal that it is Hitchhiker!
Hitchhiker – a completed shawl
The last time I talked about this project, I was lamenting the fact that the colours didn't blend into each other nicely. When I finished it and put it on, I realised that this did not matter even a little bit. You just can't see the joins between the colours – so no stress there!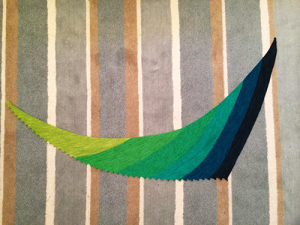 I finished it on Sunday, making it a little bit over a month from start to completion of the project; not too bad going considering I seriously lost my knitting mojo halfway through March!
I love this project, although the final shawl is a little short for my liking. I'm not entirely sure how to wear it so I am wearing it like a scarf with the widest point covering my chest/neck/v-in-my-collar region. Wrapping it around twice leaves tiny little ends that unwrap and create nasty gaps where cold air can get in, and wrapping it once leaves long ends and doesn't quite cover everything I want to be covered. I guess my question here is: can anyone enlighten me on how to wear a Hitchhiker?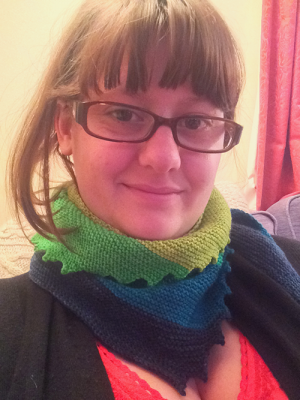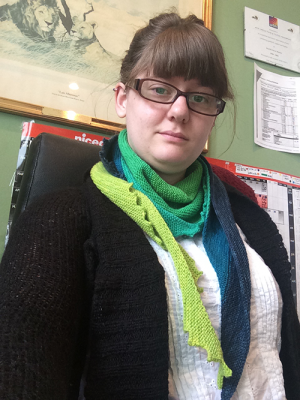 The yarn is Desert Vista Dyeworks Voir in the Northern Lights colourway. It is 100% merino, 100% soft, and absolutely gorgeous. The colours have definitely grown on me, and despite declaring that I would not be buying from them again, I have my eye on this one…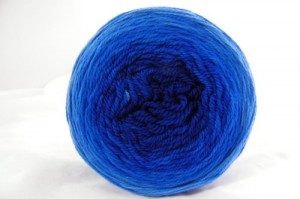 The yarn was fingering weight, which is lovely for a slightly more delicate accessory – especially as summer is approaching with glee. I might explore making it in a dk weight next (there will definitely be a next one) and seeing if that makes it a bit bulkier and suitable for a London winter for the next one.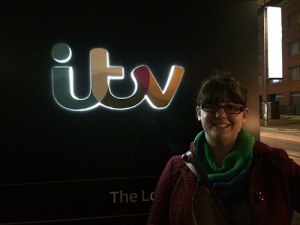 Here is the explanation from the designer, Martina Behm, for the name of the shawl. This is copied directly from the pattern page on Ravelry, where you can buy it for EUR 3.20.
The name? Well, if you use a 150 g skein of Wollmeise 100% Merino for this, you can make how many teeth? That's right, 42. The answer to the question about the universe and everything, according to Douglas Adams' wonderful book "The Hitchhiker's Guide to the Galaxy". So don't forget your towel, and happy knitting!
So, that's it! Not too bad, and now I feel much more motivated to move towards finishing more projects. Hurrah!
Much love,
Corrie xx
PS Haven't read The Hitchhiker's Guide? Go get it from the library. Now.