Draco Malfoy, the arch-nemesis of Harry Potter, my favourite villain, and the subject of my latest knitting project, is finished! If you had forgotten or missed it, I started knitting him about a year ago…well, OK, last July (2012), and put him down when I got bored. He sat in my WIP Basket for ages, until I decided he was going to be finished.
This project, an illusion knit by Steve Plummer, sparked off a discussion on "The Never-Ending Knit" on Ravelry – join in here.
Draco Malfoy – Illusion Knitting
I made the most concentrated effort I've ever made on finishing a project this week with Draco Malfoy. I have literally been knitting non-stop in every available moment. Even quality time with Archie the Bunny has been interrupted by knitting. (Tell me that Archie looks like he's upset by this arrangement!)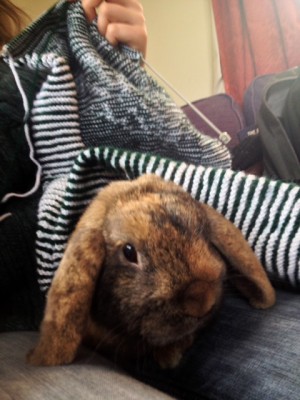 The wall-hanging was knit as a companion piece for Harry Potter, both presents for Grumpy. I used King Cole Premier Value Double Knitting yarn in dark green and white for the house colours of Slytherin (green and silver). I used this yarn because it's 100% acrylic and I would never want to use it for a garment. I knitted it on 2.75 mm needles so that it would be very dense fabric and the illusion would be very obvious.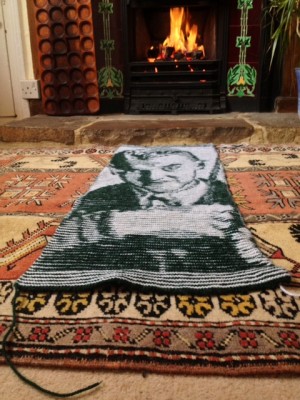 I haven't put the wall-hanging on Draco Malfoy yet, and I took the one on Harry off so that I could do them the same. Here they are, side-by-side! Grumpy will hang them opposite each other – after all, arch-nemesis' must be able to duel to their hearts content.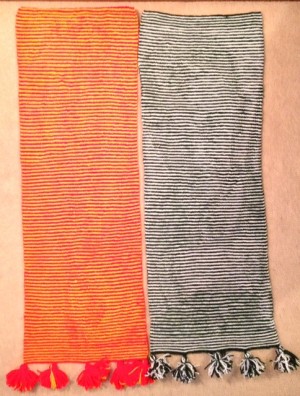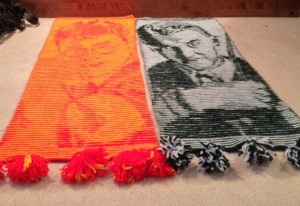 I swear off illusion knitting for a very long time. I vowed after I finished Harry that I would never do another again – well, that was a waste of time, but honestly, I've had enough. Just ten lines of knitting takes an hour and a half. Progress is too slow for that.
I'm so excited that I can start doing other projects that it's taken me a while to decide what to start! Any thoughts?
Much love,
Corrie xx
Harry Potter project on Ravelry
Draco Malfoy project on Ravelry