I've spent a few days working 0n email, Excel spreadsheets and (lo and behold!) blog posts. It's been a successful week – and I've also managed to work on my box of odds and ends that need upcycling, so there are slightly fewer things on my to-do list today. Hurrah! I really enjoyed doing Five on Friday last week, so here's the next instalment.
I'm also linking with Planet Penny and "Happy Friday" because all of these things have made me happy.
1. Keeping the blog updated
If I do say so myself, I've been more successful with the blog this week than I have in several months! Here are my posts from the last seven days. I am particularly enjoying checking out "Hot Right Now" on Ravelry with the purpose of featuring patterns – it is making me actually look at them more than I normally would.
2. Upcycling old clothes
I took one of John's old waistcoats and converted it into a pillow this week. He used to love this item of clothing, and it sadly got felted in the wash (I will hastily say that I had nothing to do with that particular cycle)! It was such a well-loved part of his wardrobe that I wanted to do something that would keep it in our lives. Searching his cupboard revealed a slightly stained shirt – it was perfect!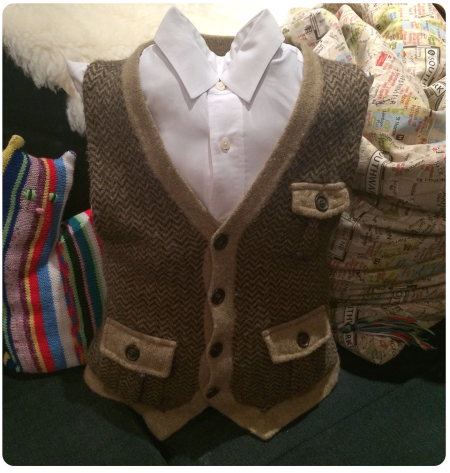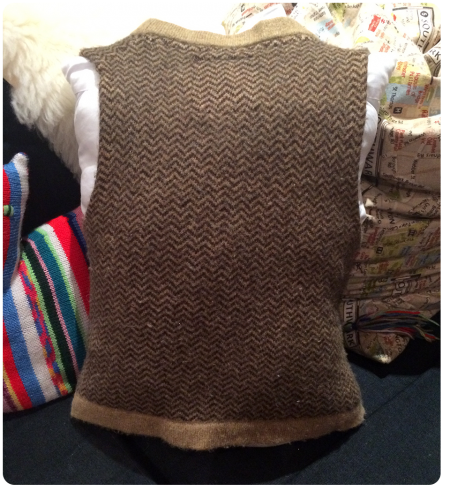 I basically just turned the shirt inside out, traced the shape of the waistcoat onto it with a 3cm seam allowance, sewed it up, cut away the excess, then stuffed it. The last step was sewing up the collar so the stuffing didn't stick out, and then dressing him! The buttons remain part of the functioning pillow, so I can wash the pillow and replace the stuffing if I ever need to.
3. Running a full 5 km
Not quite without breaking a sweat, I have to say….but I've got my 5 km down to 33 minutes, and I start increasing distance on Saturday. I'm still a long, long way from 21 km – but I'll take it. My training regime is now running five times a week (!!!) so you'll be hearing about this a lot for the next few months. I hope you don't mind!
4. Simply Knitting
I treated myself to a magazine this week, and I was absolutely thrilled with it. The style of Simply Knitting has changed hugely since the last time I read it, as knitting becomes more mainstream and the trends the designers, bloggers and podcasters focus on are making their way into print. I really adore Kath Garner's column (her latest question focused on UFOs, and how it takes a bit of a learning curve to realise we aren't actually talking about aliens), and there was a fabulous article on Juniper Askew, the 'bendy knitter'. I won't get a new subscription to any magazines, because I believe it's nice to treat myself only occasionally – but I fully recommend Issue 131 of Simply Knitting.
I wasn't told to say that! Personal opinion.
5. Berroco Ultra Alpaca
I've been knitting a hat in worsted weight Berroco Ultra Alpaca, and I have been loving the way the yarn has flowed through my fingers. I knit a Weasley Sweater out of the yarn (this hat is actually from the remnants of that project) and I enjoyed working with it so much the last time, I made my RSI flare up and had to take a month off knitting. There will be more alpaca yarn in my future.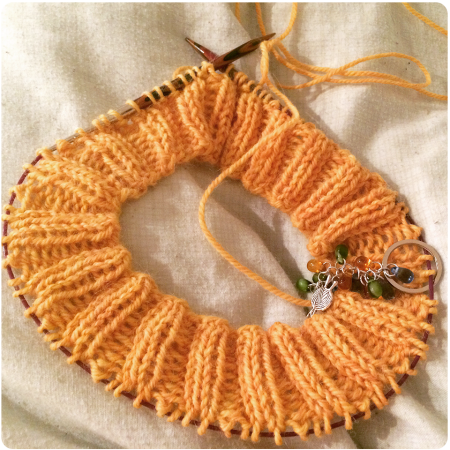 ---
It's been a thoroughly productive week! I'm off to two events this weekend…sit tight, you'll find out all about them next week!
Much love,
Corrie xx