I have finally finished working on the Draco Malfoy wall-hanging and am now knitting myself a penguin hat! I used to have one called Beth the Penguin, but she went missing after I visited my parents for a while – either she is in a box in Devon somewhere, or has gone on to bigger and better places.
Beth the Penguin was bought as part of a trio, at Towersey Festival – here I am with TJB and JS, who are modelling "Joe-O" and "Tiger Tom". They haven't lost their hats – I'm the only dumb klutz!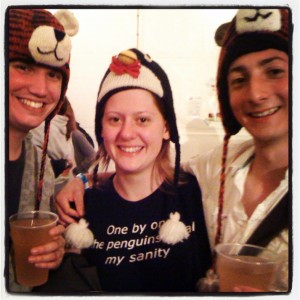 Penguin Hat
This pattern is from Rachel Henderson's book "Animal Hats – 25 fun projects to knit, crochet or make from fleece." I'll do a more in-depth review of this book soon, but there are some fantastic patterns in it. The front cover project is an adorable polar-bear hat that I may have to make for someone unsuspecting.
Rachel recommends using Rowan Creative Focus Worsted, a wool-alpaca blend. Well, despite travelling to Manchester, Unravel 2013 and a number of other places where I thought I might find this yarn in the required colours, I was unable to find someone who stocked it in red, orange and black.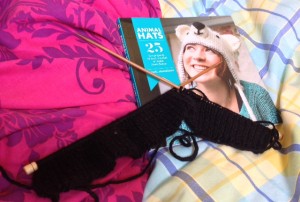 While at Unravel I found a stall by "Aragon Yarns", with a selection of roughly worsted weight Romney Wool. They didn't have orange, but there was a very pale orange/yellow, and I decided to just bite the bullet and buy them. The yarn is gorgeously soft, and obviously a non-mass-produced yarn (I keep finding bits of vegetation in it!) Unfortunately the dye doesn't appear to be colour-fast – my hands have come out black while I've been knitting, so I'm going to have to email the company and see if this is to be expected or I just got a pack that was…wrong.
I'm loving it, though. I can imagine this hat is going to be incredibly warm and comfortable, and I can't wait to put it on! I hope progress will be quick, but I do have a lot of other things on the go at the moment and as always, personal projects always suffer.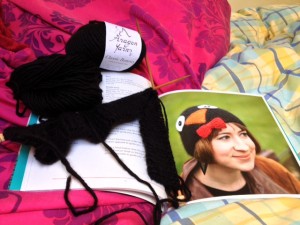 I'm linking up to Yarnalong for the first time this week – head to Ginny's and also Tami's to see more projects in progress!
Much love,
Corrie xx