I have been wrestling with myself this week, making a tough decision: the best dress for my cotton yarn?
Let's rewind a moment – you remember when I went to Brazil? I bought a huge amount of yarn for a tiny amount of money…8,000m to be exact. It was cotton, as wool is a bit of a rare commodity where we were, and I thought 'no problem, I will just knit a dress, all fine'.
That was in October – we are now three months later, and I thought I had found the perfect pattern, thanks to a friend from my knitting group…
Lace Dress
This pattern is from Vogue Knitting Early Fall 2013, and is literally called #7 Lace Dress, by Mari Lynn Patrick. The recommended yarn is Koigu Premium Merino in 4 ply. My cotton yarn was 4 ply and the dress is gorgeous. I thought this would be perfect (and I can see you more experienced knitters groaning).
I swatched the light green yarn for the dress and was thrilled to discover that the gauge was perfect. As I was going along, I was tweeting my progress…I can't remember how it came out, but my more experienced, better knitting buddies all immediately told me to stop what I was doing.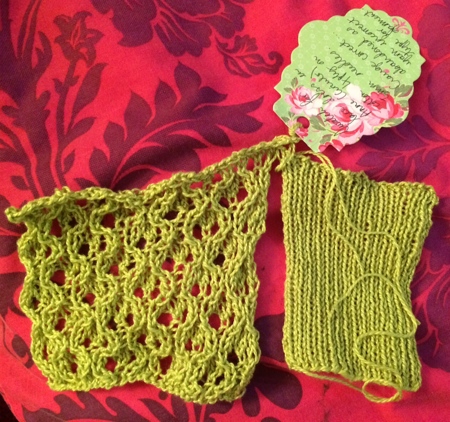 I was so determined to keep going. So determined that I finished swatching and put off casting off only because I would have had to do it on the train. I was fairly decided on the fact that I was going to knit the lace dress in cotton whether or not it was a massive mistake – I figure I will only ever learn exactly how cotton behaves in a dress if I knit it myself. I knew it was probably a mistake, but I want to learn.
And then, as you do when you don't jump straight into something stupid, I started having doubts. I asked the question on Ravelry, and the response was unanimous…so I put the needles down and stepped away from the project.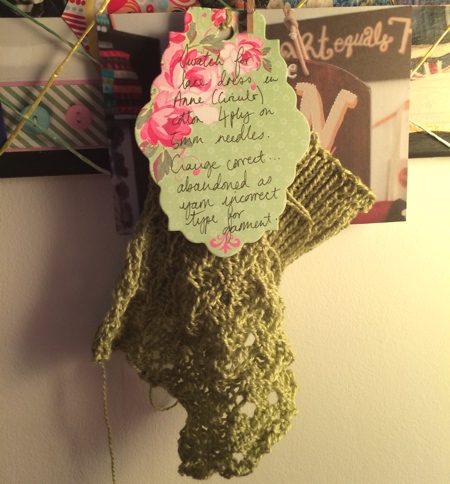 Erquy (dress?)
I have now decided to knit Erquy with my cotton yarn instead. A cotton yarn is recommended for the pattern, and I didn't bother swatching because you effectively have to knit the pattern while you swatch anyway – so I will check when I have a long enough length and see. I am doing it on smaller needles than recommended because I am knitting the largest size. I'm not that big, but my bust is rather unfortunately disproportionately large compared to my body, so I'm hoping it will be stretchy enough to not look like a tent, while covering up the essentials.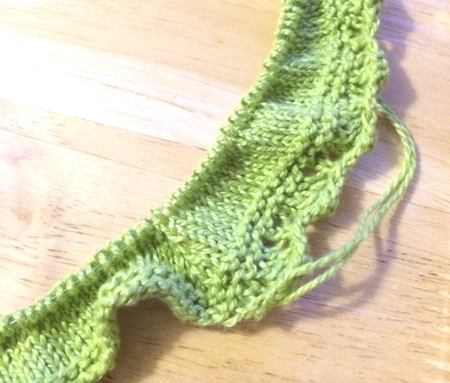 This is effectively an experiment similar to the 'shall I knit a cotton dress' educational experiment, with slightly less work going into a project that will *probably* fail. So, if it doesn't work, I won't be too upset (it is looking very large at the moment).
Erquy is meant to be a top, but if the gauge fits, I will probably knit it until it is knee length. I will decide this as I go along, though.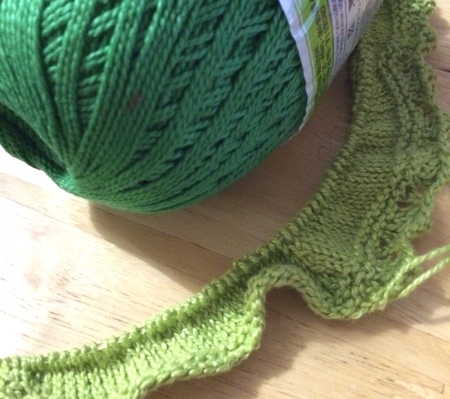 That's it from me for today. I've found this process really exhausting, and frankly, upsetting. JS promised me that if I keep running (been for my second one of the year today!) then he will buy me merino yarn for the dress…so I'd better keep my running shoes on!
Any insights to share me on this question of knitting a dress?
Much love,
Corrie xx