Living in London, I am sometimes gripped by a fear that we don't take advantage of being here as much as we should. I know there are so many people who envy the fact that I live in one of the greatest cities in the world – yet it is all so easy to spend evenings and weekends sitting around watching TV and knitting.
(While we are on that note, I finished swatching for a lace dress as per my January Resolutions this weekend. They look a bit…ruffled here, but it was about 1 am and I was desperate for bed when I took the photo. The gauge is perfect and I will cast on tonight.)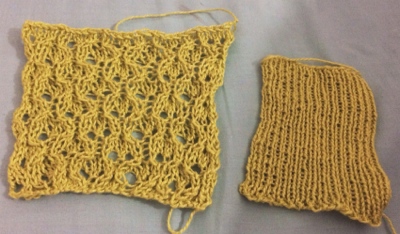 Making the most of London
This weekend, we made the most of London. On Friday night, JS and I took our wonderful friend, Granule, out for fish and chips in a local pub, where we enjoyed ale from the local London Fields Brewery. We then went back home and while I went to bed, the boys watched "The Thick of It".
On Saturday, we decided to take Granule out to Borough Market. If you've never heard of it, this is an incredible food market in Southwark, on the south bank of the Thames at London Bridge. We were all absolutely starving as we hadn't eaten anything all day and we got to the market in the early afternoon – so the first order of the day was food.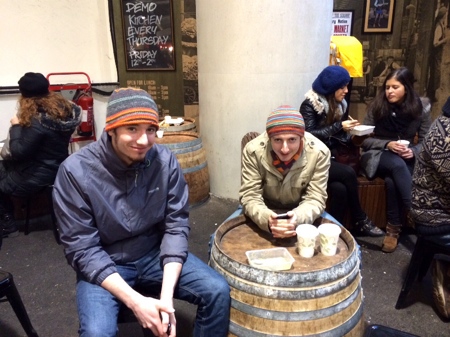 Once we had satisfied our hunger, it was time to buy some snacks. I bought Austrian biltong, which is a dried meat snack originating in South Africa; Granule bought some amazing cheese, which was deliciously nutty and smooth. Om! We also had hot apple juice, which as it was a very cold day, was very welcome.
If you have a chance to get to Borough Market, whether you are a tourist or a resident who has never gone, I thoroughly recommend the trip! Hundreds of vendors selling thousands of bits of speciality food – from risotto to truffles, French wines to Scottish squid. The tasters themselves make it worth the trip – and just you try not to be lured into buying something! Recommend you take cash.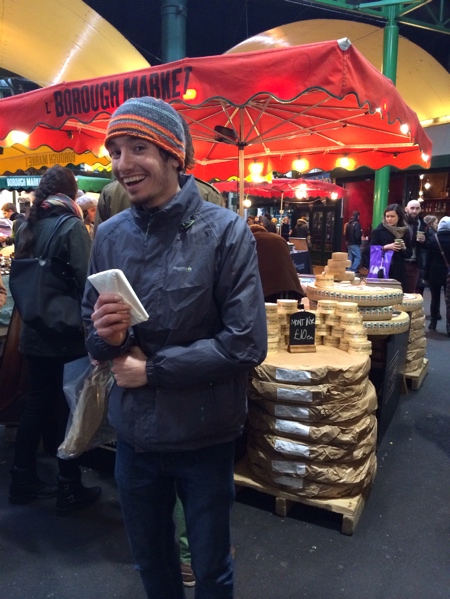 We then wandered around the area for a while, which included a visit to the Whiskey Exchange, an incredible retail area in Vinopolis where they sell whiskey from your ordinary Glenfiddich, to bottles of 1937 vintage at £15,000 a pop. Walking back from that, we went to The Clink Museum, a museum showing at the site of an original jail in London – the jail which gave all jails the nickname the clink. It kept us occupied and amused for a while – here's a prisoner in 'The Hole' crawling out to give JS a fright!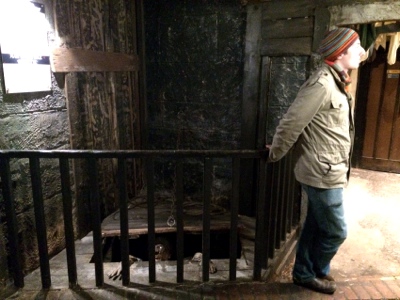 It was JS' and my second anniversary on the first of Jan, and our anniversary treat to ourselves, organised by me this year, was a trip up the Shard. Well worth the rather high ticket price – JS' brain got rewired, we spotted our house in the telescope and we saw a guy propose to his girlfriend. It was fantastic!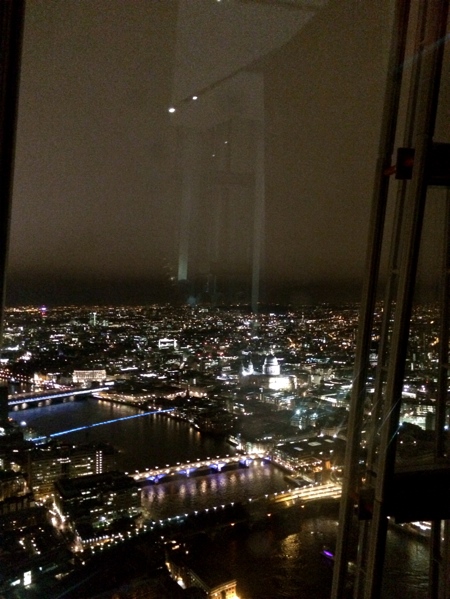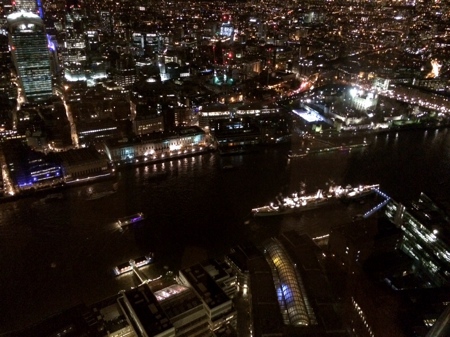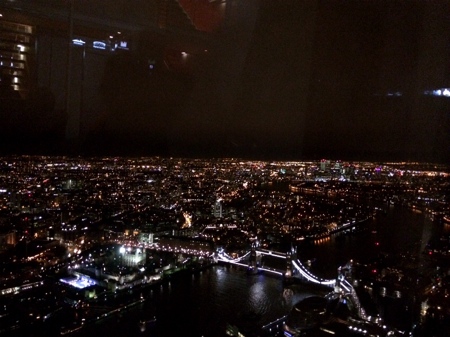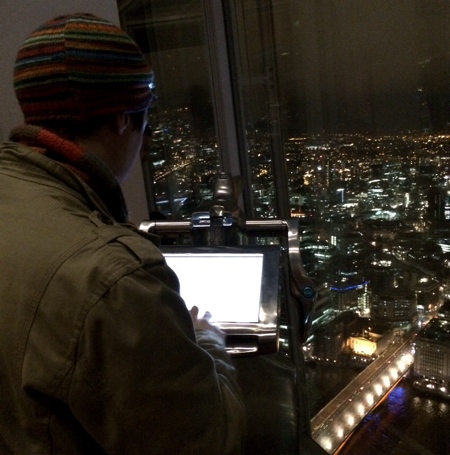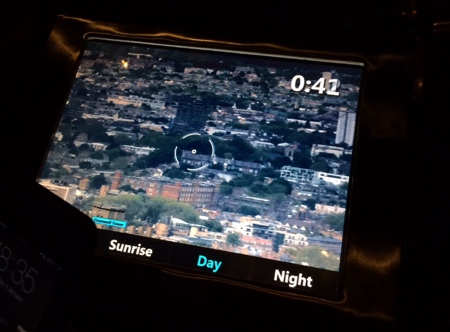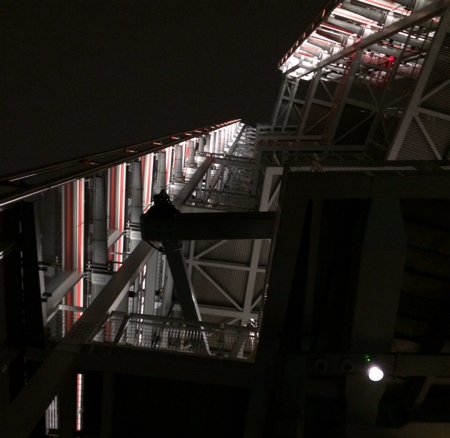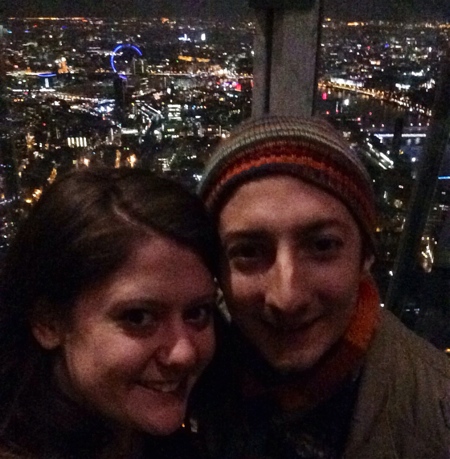 We rejoined Granule and went to the Roxy Bar and Screen for a bit of 90's classic film in the form of The Naked Gun 2 1/2, along with dinner and a couple drinks. This cinema is amazing – it's just in the back of an unassuming bar near Borough Tube Station, and you sit on sofas etc, with a bar at the back and table service for food.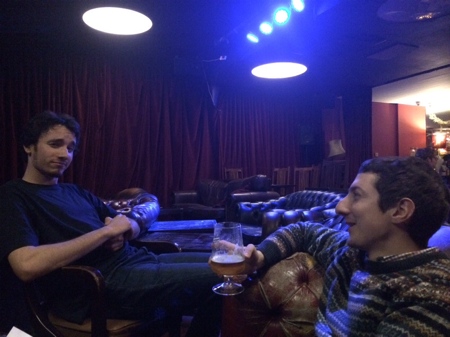 I had a burger, which was tasty good. If they aren't showing films, the football is projected onto the cinema screen, and I can imagine that would be amazing (if indeed I was a football fan…) After the film, the boys had another drink while I carried on working on Garland – how is this for a few hours work?! This is going to take me forever.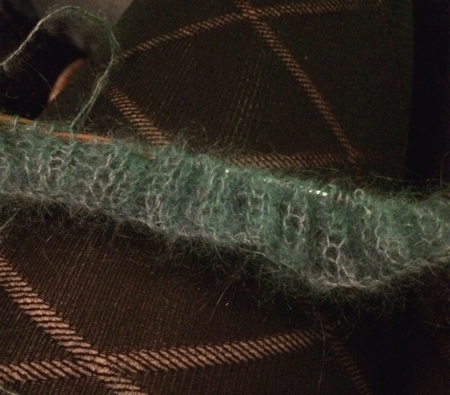 The last of our 'making the most' weekend happened on Sunday – after dropping Granule at the train station to go back up north, JS and I took Tommy to Finsbury Park, where we got a couple of pain au chocolat's and a cuppa each, and took a wander through the park. It was fun – although I threw the ball for the lovely dog so much he got incredibly muddy in the rain-saturated ground and we had to give him a bath when we got home!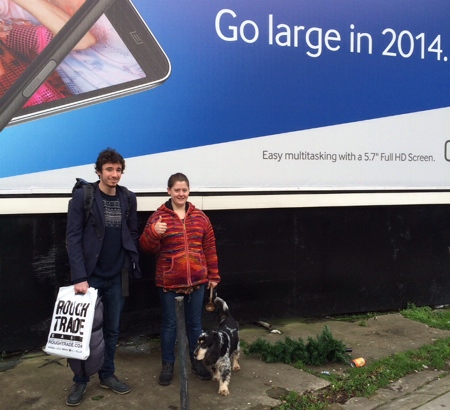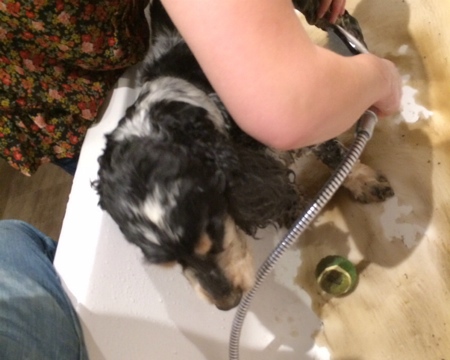 Finsbury Park, although only eight minutes walk away from our flat, is a place I have never really been to, apart from the odd run where I've been concentrating too hard on not letting my legs fall off to notice the scenery. There are a lot more amenities and so forth than I ever expected, and a gorgeous cafe – which serves Teapigs tea! We also found a duck pond. I cannot wait to come here in the spring to see the baby birds and enjoy the view. It's fairly far away from central, but again if you ever fancy a trip out, you should definitely come for a looksie – Arsenal football stadium is a stones throw away as well!

That's it from me for now. I have a lot of knitting to do and this is now getting a bit long and boasty…sorry! I just wanted to share that we do try enjoy living where we live as much as we can…
Do you have any places in London that you recommend going to? I'd love to know…
Much love,
Corrie xx