I cast on "My Favourite Things" by Jill McGee on the last day of August, and I am really enjoying this project! It's slow going and quite heavy – and I'm using magic loop on needles with a cable that is too short – but I'm really enjoying the project and finding it just as addictive as everyone warned!
My Favourite Things
My Favourite Things is a knitalong that Martine of iMake is hosting. It started mid-August, and there are loads of people going with it. Some of the projects they are producing are absolutely gorgeous – you can see these in the iMake Ravelry thread about the project here.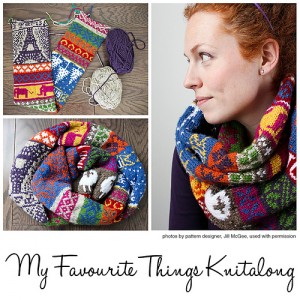 There is no real deadline to the KAL, which is part of the reason I was so desperate to join in – I have been finding deadline knitting too stressful, which is also part of the reason I've decided I'm not doing any Christmas knitting this year. It's also FUN. I have a brainstorm going in one of my sketchbooks (which contains absolutely NO sketching) with all the things I wanted to included in it. I think I'm going to have to knit at least three of these projects to fit all the ideas on!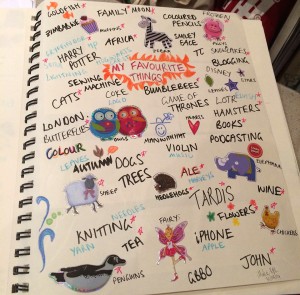 I've mentioned that I'm finding the knitting quite heavy-going – I'm using 4 mm Chiagoo circular needles with a 55 cm cable. This is not quite short enough to have a continuous round, but it's not quite long enough to comfortably use the magic loop method. I haven't quite decided what to do. I entertained the idea of switching to dpns, but I couldn't bear the thought of trying to juggle 108 stitches on four needles. Argh! I think I will buy a longer cable when I am in Loop tomorrow, and just increase the cable length so things are a bit more comfy.
I'm using scrap yarn that I found in my stash, as I am on a major yarn diet until I have used my bits all up. It took me about a week to decide what type of yarn I was going to use, and I needed the needles that I was using in Zigzag Jumper*, so after what felt like forever of umming and ahhing, I went for double knitting wool and forced myself to finish the jumper. The choice of weight was mainly because I had a better variety of colours – although it would appear that when I bought all of this yarn, I went for autumnal colours!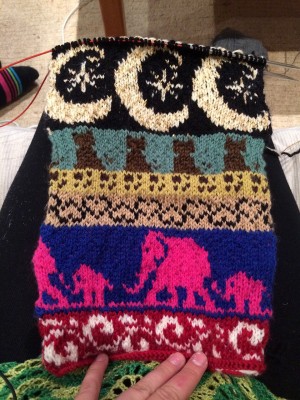 The colours of my yarns are a bit dull for my taste – but I will figure this out as I go – you can see I used a fingering weight in pale yellow and some gold Anchor Artiste Metallic for the moon and star to add some pop to the yellow!
As for sourcing the patterns – I'm using a variety of sources, from "200 Fair Isle Motifs" to The Internet (Tricksy Knitter is great). I'm editing a lot of the patterns I am finding to fit into a 36/18/12/6 stitch repeat, and keeping track of this in my sketchbook too. It's a very absorbing project.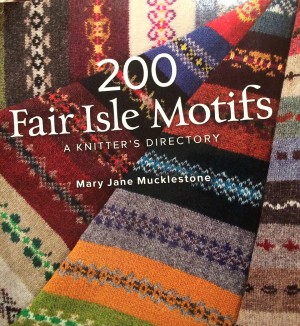 That said, I have had to cast on some other, simpler knitting, because with my mental health in the state it is currently in, I have been finding MFT quite hard to concentrate on. I'll work through it!
Better head to bed…it's late round these parts!
Much love,
Corrie xx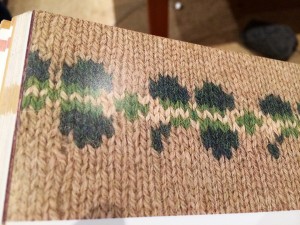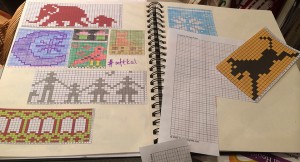 * John has decided he quite likes Zigzag Jumper. It doesn't really suit him!