I met Amanda of Owl Print Panda for the second time when I was at Edinburgh Yarn Festival. Don't ask me when the first time was, I can't remember – I just know I did! Amanda is an amazing knitter who lives in Glasgow, and makes the most incredible stitch markers. She has also just had a pattern published in the latest issue of Pompom Quarterly – she is the designer behind Talavera, a glorious lacy number.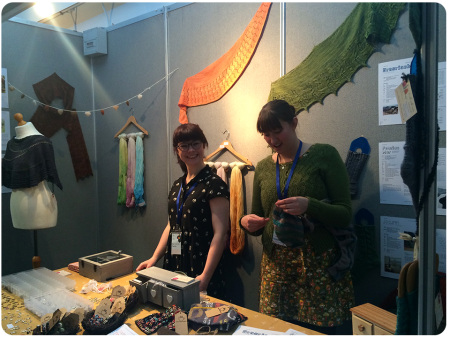 I have a small thing for stitch markers, as I have found they are the ideal way to have a few jewellery type bits and pieces around when you're just lying around in the house chilling with your knitting. My collection of broken childhood pendants have all been turned into stitch markers, and I've spent a little bit of time browsing the web looking for interesting charms with which to adorn my knitting.
Owl Print Panda – Stitch Markers
This is where Amanda comes in: the woman has a skill. She has the most amazing collection of stitch markers that I've ever found, in the charm/pendant style. I almost had a meltdown when I was at the EYF and saw her selection laid out. I bought a few, although I was watching the pennies. I ended up with these guys.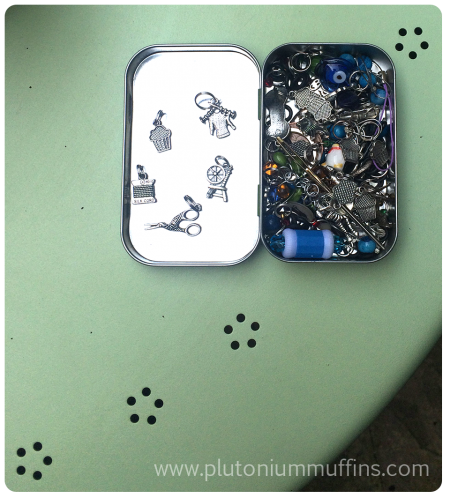 Now that I've had a couple of months to calm down, I decided I wanted to order a few more from Amanda. Although I adored all of them, I decided to go for the cupcake/muffin – this is the most 'muffinish' charm I've seen, and I wanted to make sure I had plenty of them so I can have my cake and knit with it too. In the process of talking through how many of the pieces she could get her hands on, Amanda offered up a set of her beautiful stitch markers for a Plutonium Muffins giveaway!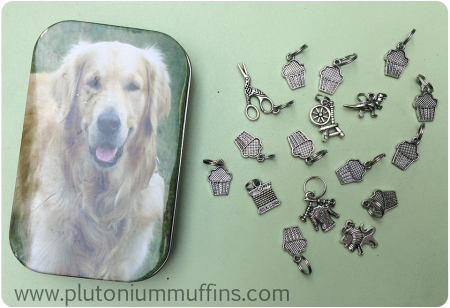 As well as ten new muffins to adorn my work, Amanda included an adorable dinosaur, and a lion that reminds me of the drawing that Rafiki does of Simba in "The Lion King". I love my new stitch markers, and am happily planning a new lace project to make sure I have them in my hands a lot in the next few weeks!
The Giveaway
So, here's the method of entry. Head over to Amanda's Etsy Shop here and have a look at what she's got in there! It's updated regularly, but if it's empty when you look or you just want to admire more of Amanda's work, you can check her design catalogue on Ravelry here. Leave a comment on this blog post saying what your favourite thing is – anybody who shares the giveaway on social media can get an extra entry provided you let me know you've shared it!
The winner of the stitch markers will get the set of stitch markers shown below, which Amanda picked especially for you. Included is a dinosaur, a Russian doll, a Scottie dog, an owl, a fox and a little bird – the rings are snag-free in my experience, and I've used them with up to 4 mm needles.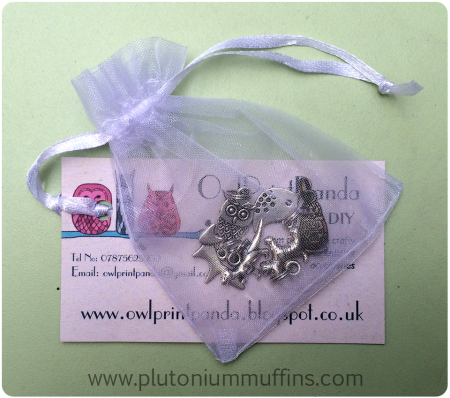 The giveaway will run until the 31st of May. Entries made after 5pm GMT on this date will not be included in the draw. The giveaway is open to all entrants, provided a valid email address or Ravelry username is left with the entry so I can contact the winner. If the prize is not claimed one week after the initial email is sent, I will re-draw. There is a maximum of two entries per entrant.
Good luck everyone, and many thanks to Amanda of Owl Print Panda for her generosity!
Much love,
Corrie xx
PS If you're interested in the tin I keep my stitch markers in, I bought it from a Pound Shop. It's actually part of a smoking kit – I had had a couple of glasses of wine when I saw the tin, and decided to buy the kit for the sake of the golden retriever. The smoking paraphernalia made its way to the recycling bin, and I have a great container for my stitch markers!