This giveaway is now closed. The winner is Beth! You've been emailed.
That's right folks, it's time for the March Giveaway – Lesley Stanfield's "100 flowers to knit & crochet".
Here in Kent, Spring is having an initial attempt at springing – the rabbits in the garden are chasing each other around like mad things, snowdrops, daffodils and bluebells are hesitantly blooming, and the weather is…about one or two degrees warmer than it was during the worst of the winter! I thought this book appropriate.
100 flowers to knit & crochet
So, before I tell you how you can win the book, a quick review.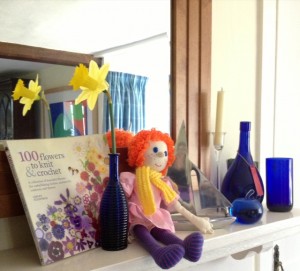 The first section of the book shows absolutely gorgeous photos of the flowers as they are when completed, with page numbers directing you to the pattern. Lesley has thrown in a few critters too – a bumblebee is the one that immediately jumps out at me. The flowers are arranged primarily in colour order, with a section at the end to do with leaves, fruit and vegetables.
I think that the flowers are mostly British – I am by no means a gardening expert, but I do recognise the majority of the flowers in it, so that leads me to believe they must be. Lesley also lives in England, so it would make sense!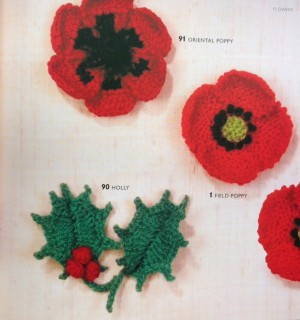 The flowers themselves are extraordinarily fun to make, and lovely stash-busting projects. They are ideal to use as embellishments or ornaments – I have made a few which I have stuck brooch pins to, and used to hide missing buttons or similar!
The knitting patterns are lovely, and I think they are doable for most beginner knitters. It's definitely a good way of developing your skills as a knitter, in any case. As for the crochet flowers, I unfortunately can't comment on how easy they are – they include written instructions and charts, and that's as far as I can go in describing them!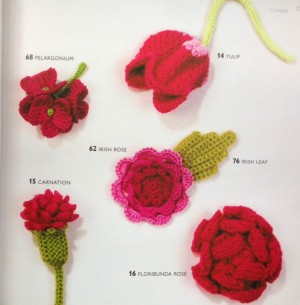 The final chapter of the book has a few projects, where it gives examples of how you can use the flowers once you've made them.
My mum gave me this book for Christmas in 2011, with the instruction "Bring the garden inside". This is certainly a good way of doing so!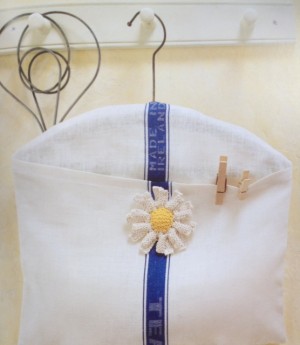 How can I win "100 flowers to knit & crochet"?
It's easy! Simply comment on this post, tweet about the giveaway, pin one of the photos, like and share on Facebook, or use some other platform to share it. You have a maximum of four entries by using these methods, provided you prove to me that you have done so!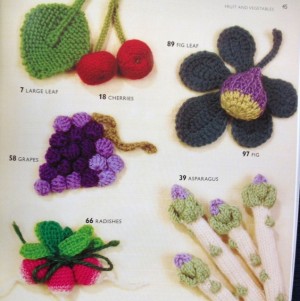 I will be running giveaways alongside this one in the next three weeks, where you will have a chance to win some of the knitted items from the book, so keep an eye on my Facebook page, or on Twitter!
The giveaway will close on the 31st of March, 2013.
Good luck to everyone, I will be crossing my fingers for you!
Much love,
Corrie xx
This giveaway is open to anyone, anywhere.