I have exciting news…from Wednesday next week, Plutonium Muffins HQ will be the home of a miniature flock of Greyface Dartmoor sheep. That's right, stitches, we are going rural!
I thought I would do a sheep breeds feature on these sheep, partly for the podcast and partly for my own pleasure. I haven't seen them yet, and it doesn't really feel like real life – my parents are the ones who have arranged it all (it is, after all, their farm) and it has all felt like a bit of a dream….but one that will very quickly become reality!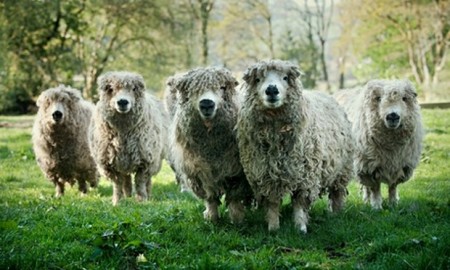 So, without further ado…
Greyface Dartmoor Sheep
Before I launch into a big explanation of what is special about this breed, I should tell you all a bit about Dartmoor. I spent my formative years in Devon, went to school on the edge of Dartmoor, lived about three miles away from it, and spent many a happy hour rambling on it as a teenager. 'It' is a piece of moorland that is located in Central Devon, and is also a National Park – Wikipedia calls it a 'mountain' range, although this is going a bit far.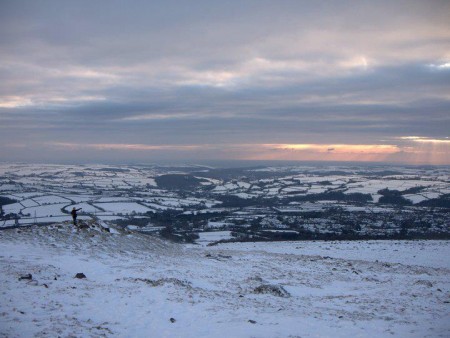 The underlying ground is mostly granite, and for those who don't know what moorland is, it's mostly grassland with areas of shrubbery (think bracken and gorse), moss, big ole piles of granite rocks, and lots of streams, ponds, lakes and bogs. It has appeared in a number of cultural references – perhaps most famously, "The Hound of the Baskervilles" by Conan Doyle, and "We Bought a Zoo", a recent movie starring Matt Damon that was based on the Dartmoor Zoological Park, just a couple of miles down the road from mum and dad's farm. If you want to know more about Dartmoor, check out Wikipedia – I think I've got a bit overenthusiastic here, and need to get back to the sheep…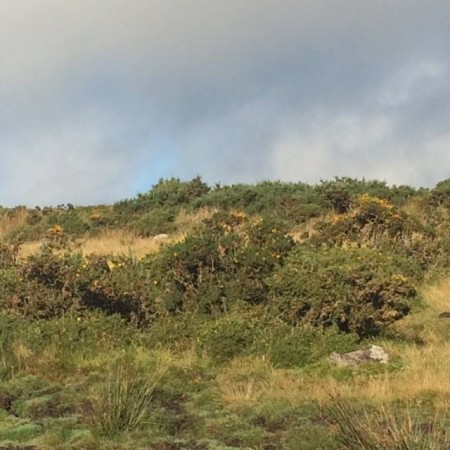 The area has had a number of breeds of sheep grazing the lowland grass for thousands of years. The main reference I can find to an old ancestor is the Soay sheep, an Ice Age breed – but it is thought that sheep have lived in the area since prehistoric times. Clearly they have been here long enough that they are now named for the area! The Greyface Dartmoor differs from the other local sheep breeds, the Whiteface Dartmoor and the Dartmoor Scotch Blackface, as a result of recent selective breeding with other types of sheep to try improve them for various purposes.
In the 19th Century, they were crossbred with local Longwools, as well as varieties from Leicester, and in 1909 a breeders association was set up to ensure the standardisation, improvement and promotion of these animals. Flocks are now found all over the United Kingdom, and some have also been exported to other countries! They are still a rare breed sheep though, and great for smallholders or 'hobbyists'.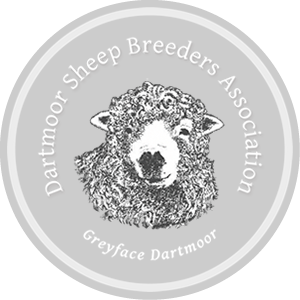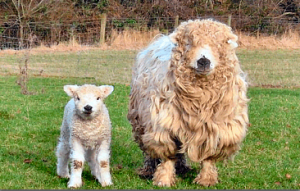 In the late 90's, there were estimated to be 1,800 breeding ewes; however, the UK was hit by a terrible foot and mouth disease epidemic in 2001, and hundreds of thousands of animals from sheep to cattle to horses were slaughtered in an attempt to prevent the disease spreading even more. A census of the Greyface's has not been done since, but numbers would have been really badly affected.
Greyface Dartmoors thrive in Dartmoor-type locations as they do well off mountain grazing, and their dense fleeces mean they can withstand adverse weather conditions. Dartmoor is a place that tends to be rather wet, windy and cold, and as children we were warned never to go for a walk on the moor unprepared. Even on what seems to be a lovely sunny day, a chilly mist can suddenly descend reducing visibility to nothing and leaving the stray caught out in it quite vulnerable!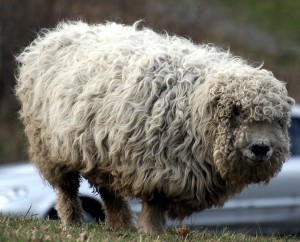 I've been reading up on the breed (oh I love 'research') and new keepers of the breed seem to get worried that the sheep pant a lot! I guess this is a result of fleeces having evolved to deal with Dartmoor – when they get into a more cushy situation than they were bred for, all of that extra wool becomes unwanted insulation… They are typically only shorn once a season, although if they are shorn very early in the spring, they can be shorn again later on in the year without getting too cold in the winter.
In appearance, the sheep can be described as nothing but cuddly, from the photos that I have seen. They have these amazing hairdos, with floppy locks hanging in their eyes when they are nearing shearing time, and fleeces that I would love to sink my hands into. I'm looking forward to having a flock of our own to cuddle…I know they aren't pet animals, but I'll have them feeding out of my hands in no time, just wait and see!

Each ewe yields 7 to 7.5kg of fleece, while rams can produce up to 15kg.  The wool is classified as 'lustre longwool' and is used for blankets, carpets and cloth. The sheep tend to be quite docile, are great mothers who are very capable of rearing twins as they have a lot of milk, and are typically shorn before the beginning of July.
(You all know I'm going to get involved in sheep shearing…right?)
This slideshow requires JavaScript.
I can't wait to start a new chapter of my woolly adventure. It's not only Greyfaces that we are getting – but I'll leave that revelation for another day!
Much love,
Corrie xx
---
Sources