I'm sure if you have been reading this blog for any length of time, you know that I recently worked on Icon Dress in John Arbon "Knit by Numbers" double-knitting wool. I seriously love this yarn – and here's more about the company behind it!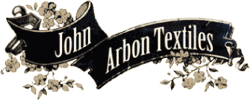 John Arbon Textiles
Have you happened to listen to Episode One of the podcast? At one point I went off on one about John Arbon Textiles, and their display at Unravel 2014, which was beautiful and graded and just super stunning. The display prompted me to buy the yarn for the Icon Dress.
John Arbon's Mill is based in Devon, which is where I spent my teenage years, so rather close to home for me. The actual location of the mill is North Devon (I was south) in South Molton on an industrial estate. The yarn shop is based in Lynton at 19 Queen Street, Lynton, Devon EX35 6AA – it is open Monday to Friday from 10 am to 4:30 pm; for more information, check out their website.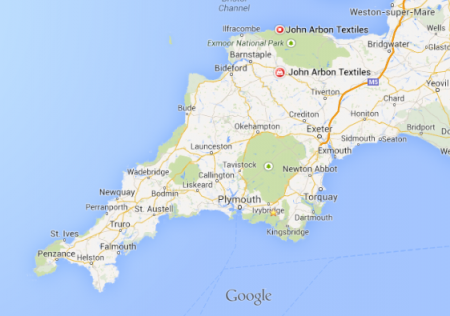 Excitingly, you can visit the spinning mill! This is simply amazing, and the next time I go home I am intending to stop off on the way. Especially as this is all around Exmoor and the North Devon coast – exciting places to visit. In case you never get the chance to do this, they have produced the best video I have seen of a spinning mill so far. Isn't the music incredible??
Obviously, there is a lot of spinning and production that goes on with all of this, and not only do John Arbon Textiles spin their yarn and sell it to us fibre-hungry knitters, but they also knit socks for those who cannot so they can have the feel of lovely homespun, handmade socks without having to learn a new skill. (I know what I would prefer, but each to their own!)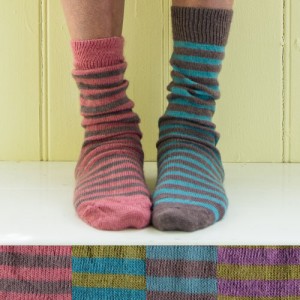 Not only this, but some of the yarn they spin comes from the fleece of their own flock of Exmoor Blue-Face Sheep, a breed which combines the strength and durability of the Exmoor Sheep with the softness and handling of the Blue-Faced Leicester fleece. I cannot find a high resolution photo of the flock, but here's one from an article in the Western Morning News about the fact that the mill provides this wool to Saville Row.
I have met the team behind the wool a number of times, and you still have the chance to do so in 2014. They will exhibit at Yarndale, Selvedge Winter Fair and Country Living Christmas Fair – more information here. I will not make it to any of these, unfortunately, but am looking forward to my next encounter with this fantastic British wool company.
There you have it – John Arbon Textiles. Check them out if you're interested in knitting British, and definitely watch the video if you want to gain some insight into how a traditional worsted wool mill works.
Much love,
Corrie xx