One of my favourite Christmas projects this year was the Spanish Dress by Debbie Bliss, a beautiful cotton dress that incorporates a bit of knitting, a bit of sewing, and a lot of cute factor! When I was shopping in Social Fabric in Totnes, I saw a sample of this pattern knitted up in the shop, and I knew I absolutely had to buy it. The universe seemed to agree, as a few short hours after I cast on the project, baby Cara was born!
Spanish Dress
The incredible pattern is Debbie Bliss, and an absolute delight from start to finish. I started knitting it while watching a TV programme about the development of a baby in the womb, receiving a text from John's sister shortly after midnight saying that Cara had made it into the world!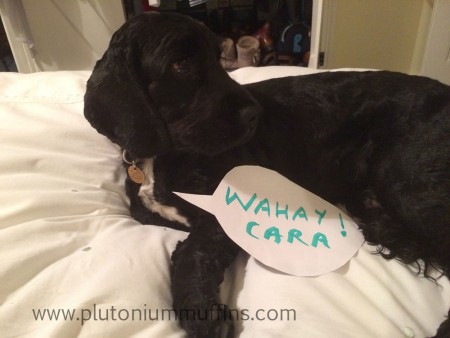 I used Rico Design yarn in Baby Cotton Soft DK, in the Cardinal colourway. This was matched to some fabric that I absolutely had to buy on the basis that it was so adorable, and ideal for a baby girl who they didn't want overwhelmed with pink clothing. The knitting itself was a joy – nice and simple, with some moss stitch and cables, and only picking up some edge stitches presented any issues. I don't like picking up stitches, and had to ask Vicky from Hulu for help.
I don't really like knitting with cotton yarn – the last time I did was another baby product, and it made my RSI flare up really badly. I had to bear this in mind while I was knitting, and did it a small amount at a time, which seemed to work. I didn't end up absolutely hating the yarn by the end of it, at least!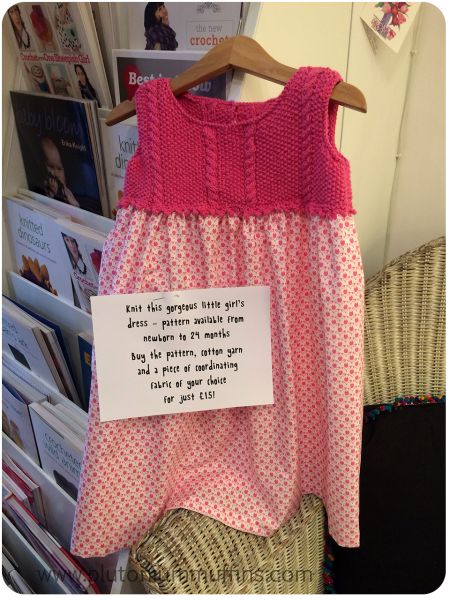 When I had completed the bodice, it sat in my WIP basket for a couple of months, as I was unwilling to hand-stitch the skirt, and wasn't sure where my sewing machine was. Eventually I had to admit defeat and borrow my mum's, before realising that the majority of the sewing had to be done by hand anyway. It took about five hours to completely finish, and with some buttons hand-picked from John's mums button stash (aka Nana), it was done!
Without a baby to model it on, I had to use my teddy bear. Here is the dress as modelled by teddy, and below of Cara wearing it the day after she got it! She's with her lovely daddy, and I love this photo.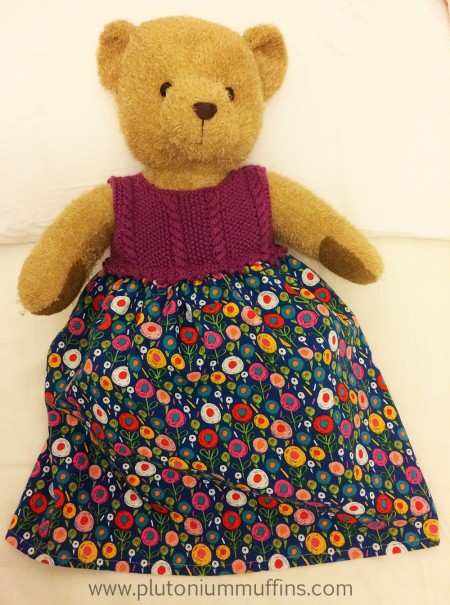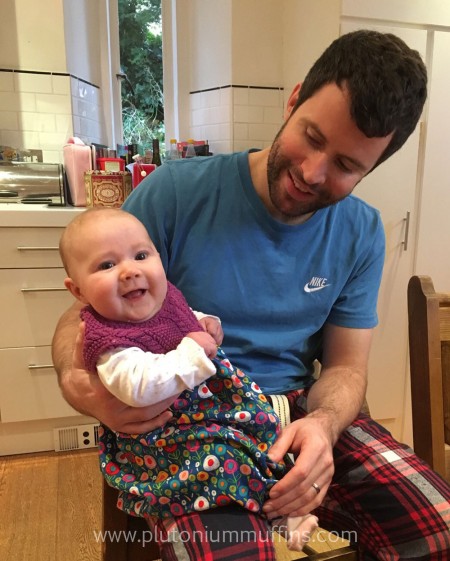 This was a great project, a fantastic dress for a little girl, and hugely recommended as it's a wonderful blend between sewing, knitting, cottons and usefulness. Cara is 3 months now and it is just about ready to fit her, and should last for a good amount of time unless her arms bulk out massively! We estimate at least three months, if not more as the skirt is nice and long, and it may be useful for longer.
I've been so excited to give this, and the reception was well worth it. This is definitely one knitworthy family! I hope the dress will become an heirloom, and that one day Cara's daughter will wear it. Perhaps that's going a bit too far though!
Much love,
Corrie xx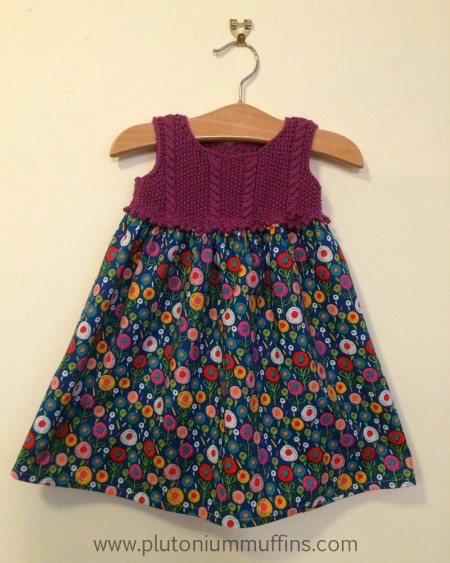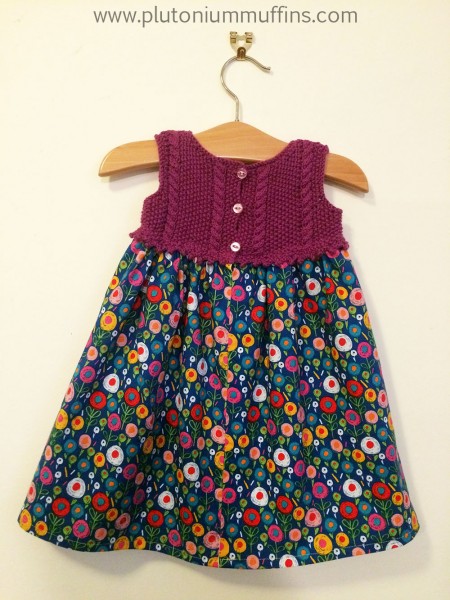 Shared with: Keep Calm, Craft On, Oombawka Crochet Design, Winthrop Chronicles, Ginny, Merry Monday