This is Part Two of the Big Reveal, and this time it's about the Rainbow Trout I made for my Daddy. I departed from yarny things again, and this time concentrated on sewing with felt…and machine embroidery!
I have no idea where the inspiration for this idea came from. If you have any insights as to an article I could have seen in passing or such like, I would love it if you could let me know what it is! Daddy is a keen fisherman, so I decided this was perfect for him.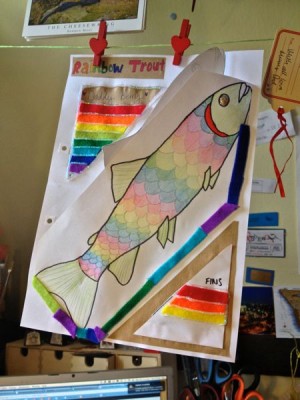 Rainbow Trout
I started out hand-sewing the trout with gold thread – however, before very long I realised that this was going to take me a r-e-a-l-l-y long time, and I abandoned ship. This entailed me driving to Tunbridge Wells to buy a set of machine embroidery equipment so I could convert my sewing machine into something magical.
That was the theory, anyway. By the time I had worked out how to actually use the new foot and embroidery hoops, I probably could have hand-sewn the trout. I won't talk you through this one like I did the last – suffice to say that I caused a royal mess, broke two sewing needles and eventually managed to get a fully stuffed rainbow trout sitting on my desk.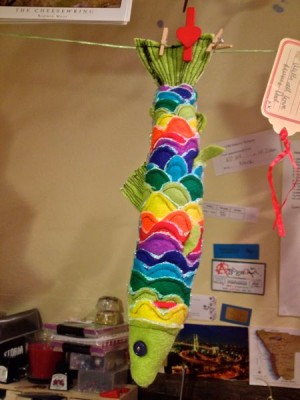 The next challenge I was presented with was how to mount it. I decided to make a mount out of a cardboard box and a whole lot of PVA glue. When I say a lot, I mean about a 200 ml bottle. I covered the whole thing with brown Kraft paper, made a polymer clay sign with "Rainbow Trout" on it and proudly stuck the trout on. With magnets.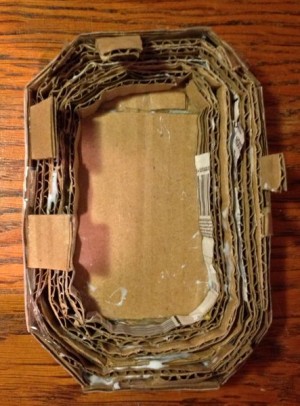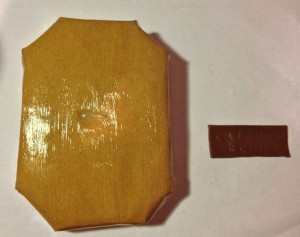 I'd made such a mess with the embroidery that I decided I must use glitter glue to cover it up. I used a clear glitter in glue that dries clear (I got it from Hobbycraft, would you ever guess?) and it came out fantastic in my opinion!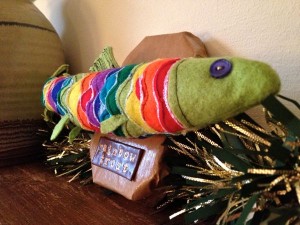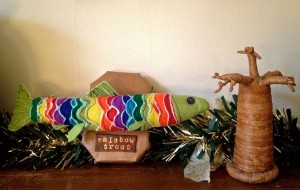 What do you think? Daddy loved it, and displays it in the window looking out onto Burgh Island in the flat!
Much love,
Corrie xx