I've just finished editing my photos, and it's time to tell you all about the Spring Knitting and Stitching Show which was held at Kensington Olympia from the 8th to the 11th of March 2015! I took over 300 photos, but even edited down and cut to the best, there are far too many to share in just one post, so there will be a few posts spread out over this week.
The full story of the Knitting and Stitching Show is spread over parts one, two, three and four.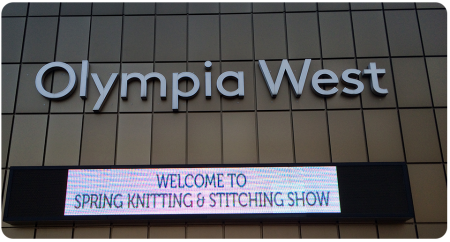 I know some of you are keen to hear about Edinburgh Yarn Festival! I'll do a podcast later this week once I've got home (I'm still in Edinburgh) and make sure all the craic is recorded for future reference.
The Spring Knitting and Stitching Show
After meeting the lovely Louise at Unravel, I offered her a bit of help on her stand for this show, which found me with an exhibitors pass at the Sincerely Louise stand on Friday and Saturday. It was really nice to spend some time with a designer who came to knitting in a totally different way to me. I enjoyed getting to know Louise better, as well as meeting all of the people who were enthusiastic about her book!
Louise had the book, "Faux Taxidermy Knits", as well as all the samples to show people during the show. She also had her taxidermy heads on the walls of her stand, which stopped at least half of the people who walked past the stand. It was wonderful to be part of that, and to bask in some of Louise's glory…having done none of the hard work!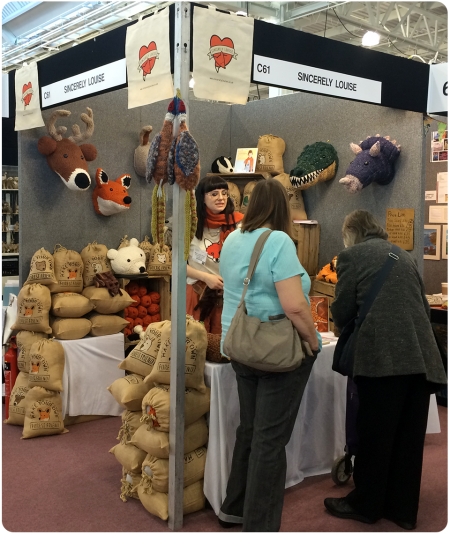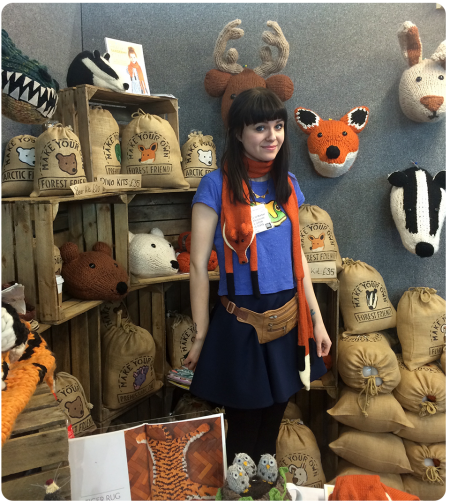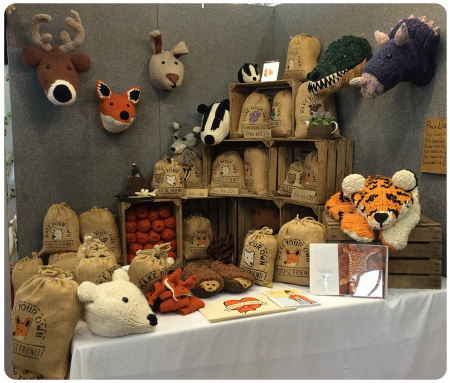 On Friday, I did a bit of exploring of the rest of the exhibition; particularly the individual exhibitions that had been prepared for show during the course of the weekend. Those which I took particular interest in were "The National Fashion Textiles Competition", "The Knitted Farm" and "The Crochet Jungle".
It was hard to miss the National Fashion Textiles Competition, as it was right in the passageway between the two main sections of the hall which the exhibition was split over. Even so, it caught my eye for sure – particularly the winning entry, which I believe my cousin would look stunning in. I wish I had the skills to translate my half-crazed mind's eye into clothing! The exhibition was certainly inspiring.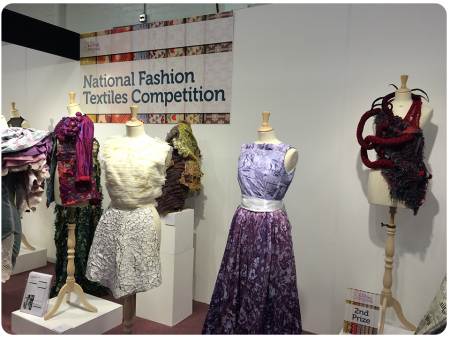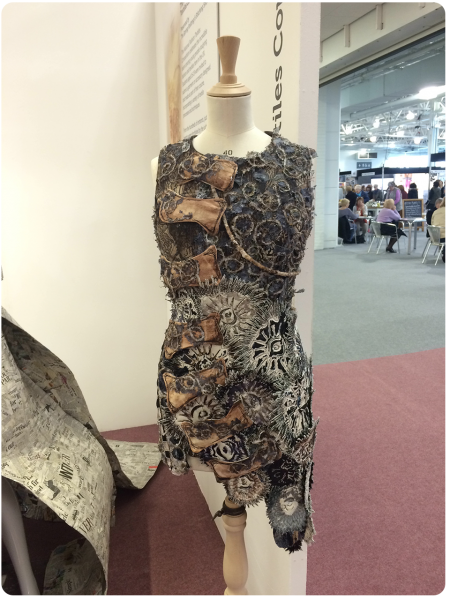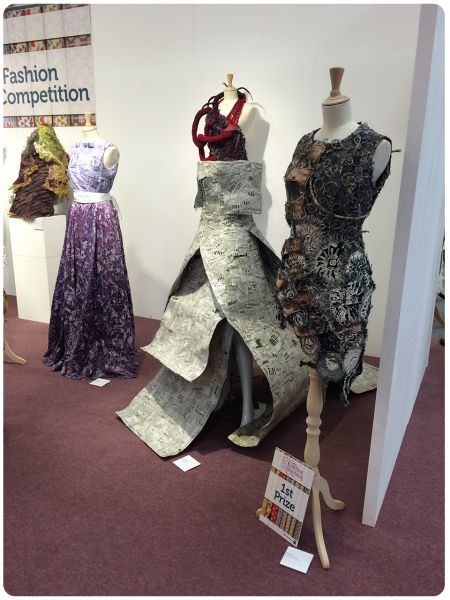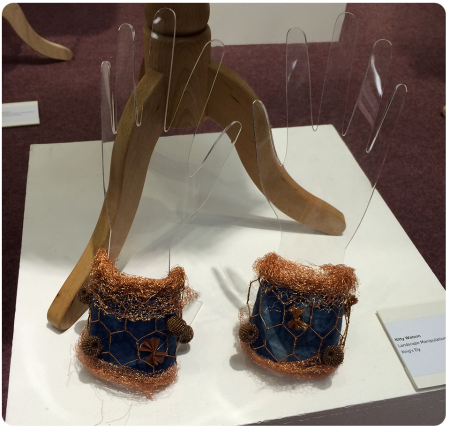 The Knitted Farm was obviously of interest because it was the main knitting exhibit at the show. Conceived by Sally Muir and Joanna Osbourne, the authors of "Knit Your Own Farm", a knitted farm was arranged on a pedestal, with some of the cutest knitted farm creatures I have ever seen. All of the critters were knitted as part of a competition, and the winners were highly deserving: this turkey knitted by Deborah Ireland came first, followed by Anne Zoyroydi's beautiful piggys, and in third place was a knitted horse with attitude by Gillian Earle.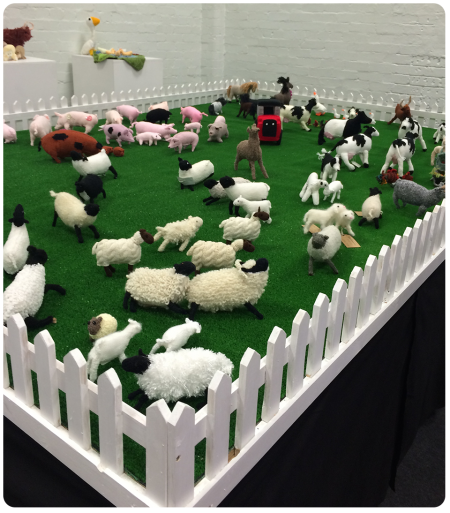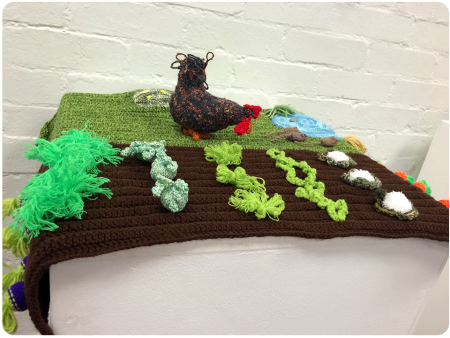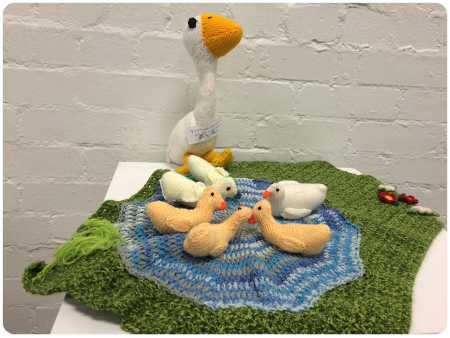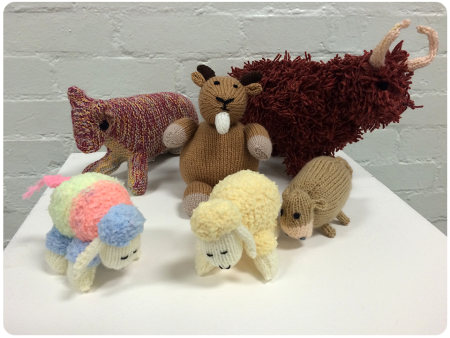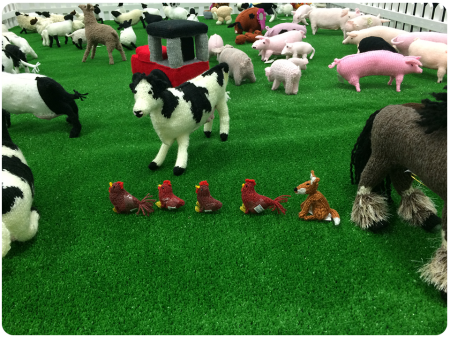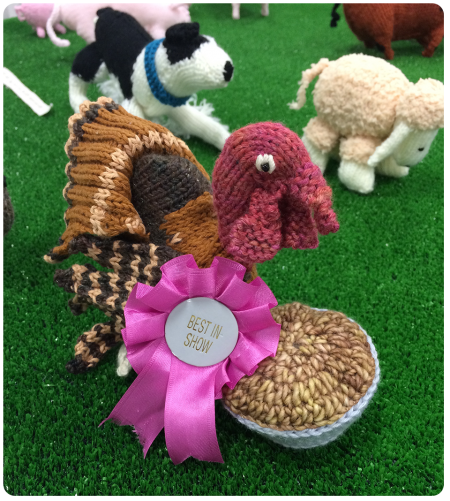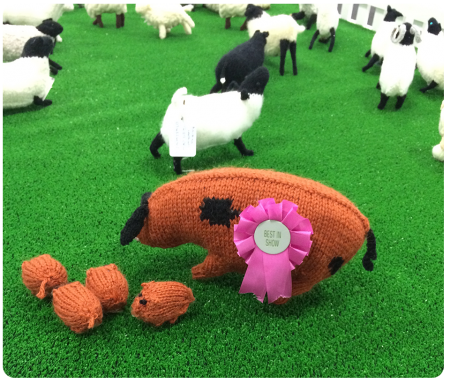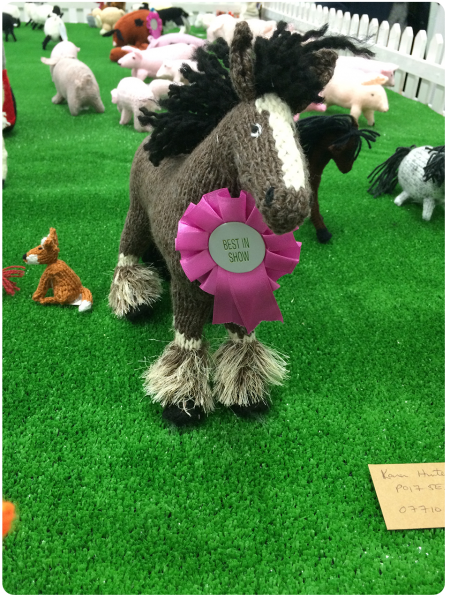 I lost myself in these for a little while, and nearly bought the book…but with hundreds of books in my shelves, I decided not to add another one before I've read some of the others…
The Crochet Jungle is a project by one of the designers over at TOFT Alpaca – Kerry Lord – and aims to inspire children and adults to take up crochet by igniting their imaginations. It looked like a magical wonderland, with crocheted vines everywhere, and a giant crocheted monkey presiding over things. It was fabulous! I also wanted the Edward's Menagerie book, but see the above comment – and the fact that I can't crochet (yet)!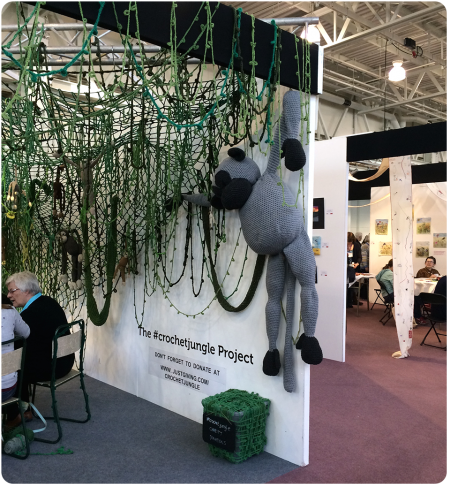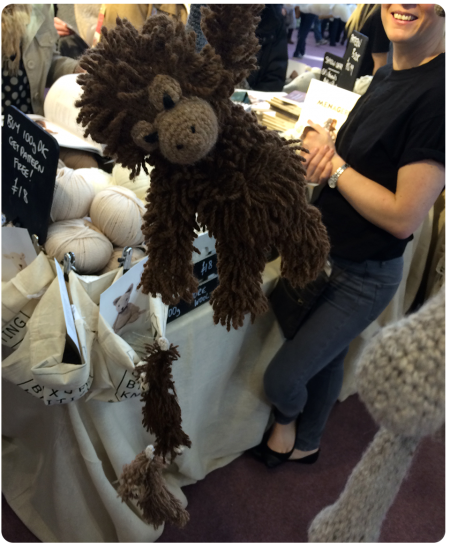 For the rest of the day, apart from spending time helping Louise out, I met up with Kelly, one of the volunteers from last year's Great London Yarn Crawl, and had a natter with her. I also spent some time with the ladies at Purl Alpaca Designs, who have almost become family after the amount of time I've spent with them this year! Kari-Helene is the designer of the amazing Icon Dress, which I wore on Friday to show off to her.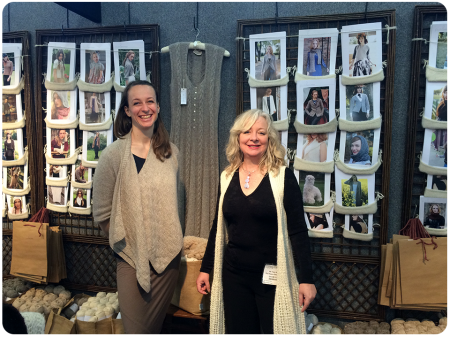 Popping along to say hi to Belinda Harris-Reid, I got her to pose next to the fabulous Strawberry Pi Shawl, which she designed and takes to every show. Just a stunning sampler shawl, this is one for which I have all of the yarn and needles, but not the courage to start yet. You'll see it as a finished object around these parts one of these days.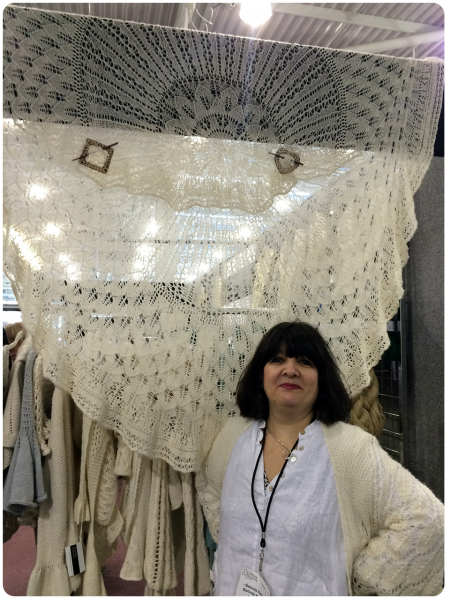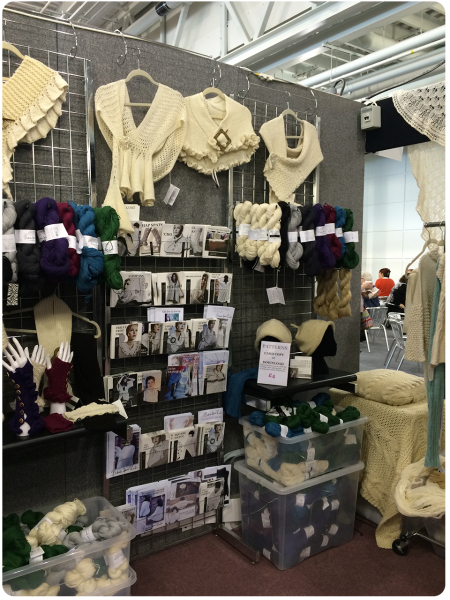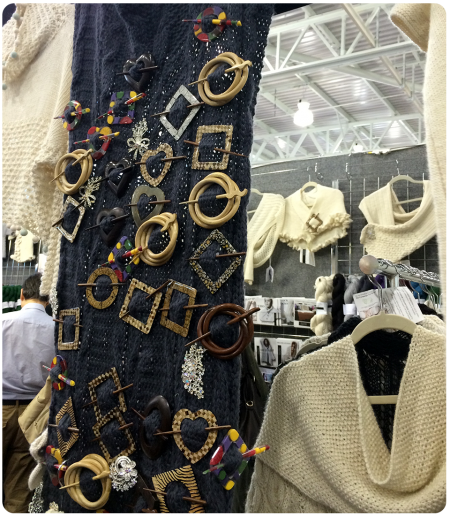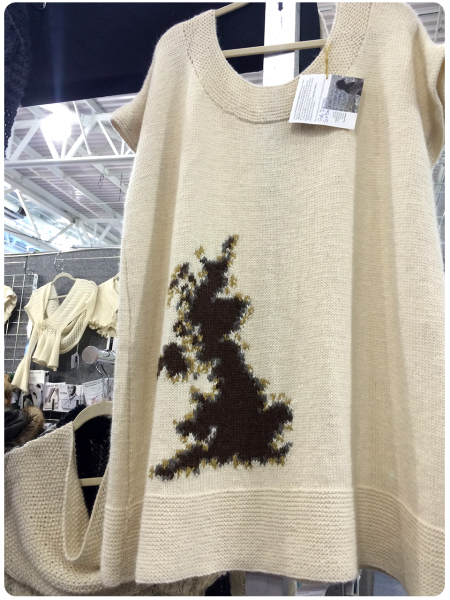 Excitingly, on Saturday all of the contestants from "The Great British Sewing Bee" were wandering around the show. I wanted to go say 'hello', until I remembered that they are essentially also just normal people! So I left it. But I did go and say hello to Mr X Stitch, who I have really respected for a very long time.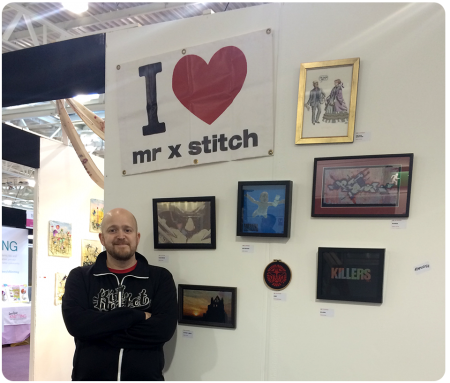 I saw a lot more people, and will talk about specific vendors when I post my photos of them over the next couple of days (if they ever upload…) I really hope you've had a bit of a taste of the show anyway, and enjoyed it even if you couldn't go. I thought the quality of the knitting vendors at the show this year was a marked step up from previous years, and I'm looking forward to seeing how the show grows.
Much love,
Corrie xx
The full story of the Knitting and Stitching Show is spread over parts one, two, three and four.
Clicking on the Amazon affiliate links will help keep the lights on at Plutonium Muffins HQ if you choose to buy one of the brilliant books I've linked to.