I have to try remember to be careful about Tonks and plastic bags – she finds them, sits in them and loves them to death. I am well aware of the dangers of suffocation, and she normally has no opportunity to cuddle up in a bag while I'm out.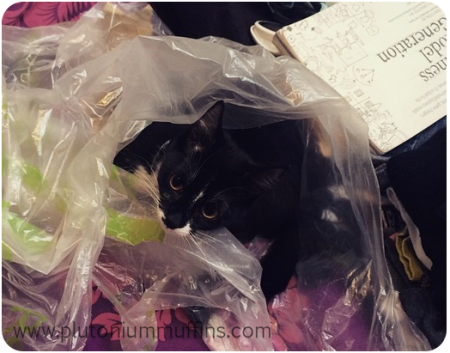 I haven't taken advantage of the term "Caturday" nearly enough since we got Tonks, so here's a Caturday post for you!
Alpaca Fluff
I'm busily sorting the fleece for Follow Me Down Cousin Jack (the spinning project's name is inspired by the song in the video at the bottom of this post) and the picked fluff goes into a bag, ready for carding. I had just finished picking my clump for the day, and put it down for a second to go get myself a cuppa. When I turned around, this is what I saw.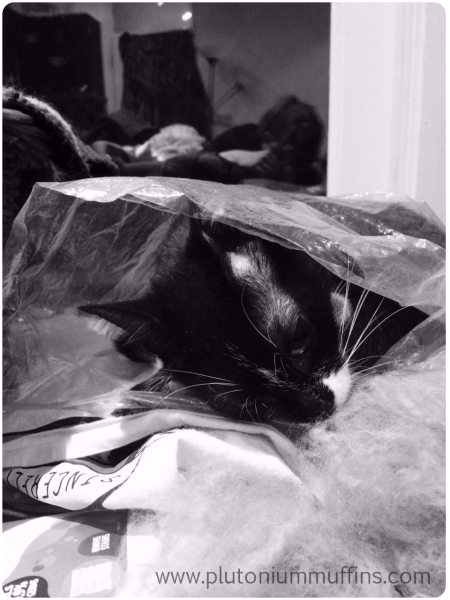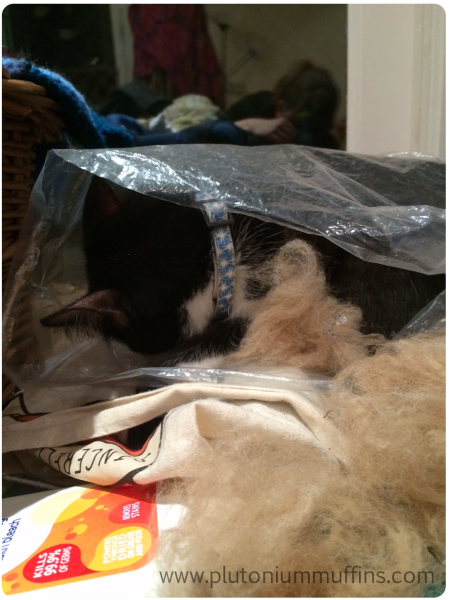 I think Tonks is very unsubtly asking me to make her a bed out of alpaca fleece. She has already commandeered my sheepskin rug and my patchwork blanket…this is one battle she won't win!
Tonks has been very involved in the process since she arrived, and we have a nice rhythm going at the moment. I get up in the morning, eat my breakfast and answer some emails. Then, we go out into the garden and while I'm drinking my second cup of tea of the day, I catch up on blogs and sort through the fleece.
This is working amazingly while the weather is good – sorting the fibre is quite a messy process, it's very dusty and good to do outside as it means I don't have to clean the flat after each session. Let's hope the weather holds, at least until I finish.
I'm trying to sort through the remaining bag of fibre at a rate of a big handful per day so that I actually finish it by the time the year is up. A very scientific method, you see! You'll have to stay tuned to see how successful I am…
Cat Crafts
While we're cat it (hur, get it?!) – John sent me a link for this book the other day. He thought I would absolutely love it, but I have to admit that I'm on the fence. What do you think? (The picture is an affiliate link that will take you to Amazon.)
You won't find me buying it anytime soon…though I probably wouldn't return it if I got given it, hehe.
Have a great Caturday.
Much love,
Corrie xx
PS if you're wondering what I'm on about w.r.t. phone filter and colour theory, read this post.