I have two WIPs that I'm actively working on at the moment – Color Affection and Sideways. They are both presents, and I'm desperate to get them done so I can move on with something else that I want to cast on (a wizard's hat! Yeeeah).
Color Affection
Carrying on with the iMake KAL, I am now 95% done on the first two striped sections. It is getting tedious. I'll be honest – I was really looking forward to this, but each row of garter stitch is now taking about fifteen minutes each. That feels like a really long time! I asked the Ravelry group for some advice and Martine told me to get to the third and last section. At this point, the rows get shorter and hence a lot faster.
I can't wait.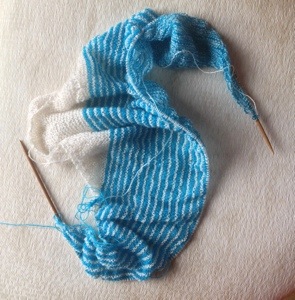 I had decided I would finish the second row last night, and I was falling asleep in my chair as I knitted. I eventually stopped five rows before the end of the section because my hand started hurting and I'm really scared of getting RSI. I think it was the right thing to do.
I love this pattern, don't get me wrong. I just don't think I would ever do it in laceweight again, given the option. Also, I think this is the last shawl I'm going to do for a while as I'd like to move on to something else.
Sideways
I'm making these for TJB as I have explained a number of times. Here is the progress shot. I'll be finished these by the end of today, so I'll have an FO Friday!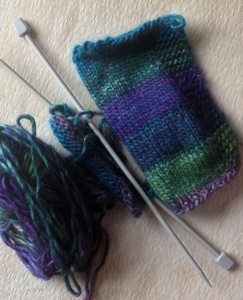 In other news, Super-Granny sent me a gift from South Africa after my dad went out to see them. Her name is Skinny Liz and I absolutely adore her. The first thing I did (as you always do with dolls) was undress her – I was thrilled to find out that her clothes are totally removable. This is great news, I'm going to practice some sewing – and definitely make her a sweater.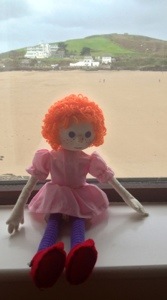 I haven't had a new doll since I was about…eight. I never imagined I would get one in my early twenties, nor that I would fall in love with it. Super-Granny has done it again!
Don't you love Skinny Liz? Look at that shy little smile.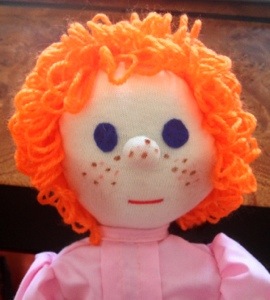 What WIPs are you working on? Head over to Tami's Amis for more WIP Wednesday posts.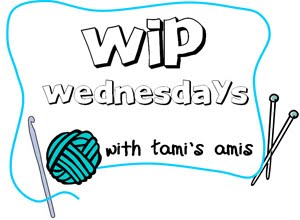 Much love,
Corrie xx