I'm still working on my Zigzag Jumper, as I'm sure many of you are aware – progress has again been slow as I have misplaced all seven (!!) of my tape measures. This is a common problem for me – and apparently for many of you on Twitter too! Anyway, here follows the update, fuelled by a brand new Costa just down the road from me and a mint mocha.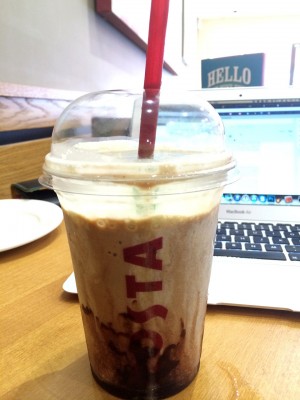 Zigzag Jumper
I have just picked this up again after its hiatus that was a result of misplaced patterns, tape measures and spare yarn. I had forgotten how much fun it was to work on! I spent a large proportion of yesterday in Corrieland with a documentary about communication between animals* and alternately working on Gigantic Blankie and the Zigzag Jumper.
I have done the shoulder-shaping on the back and am nearly done with the whole back piece – while working on it, I have also been listening to the Must Stash Podcast (when I wasn't watching nature documentaries). In Episode 48 Part One they spent quite some time talking about fitting jumpers to flatter. I haven't done any flattering modifications on Zigzag Jumper – mainly because I don't feel comfortable enough with that and knitting a jumper is still a significantly big project for me to feel that ripping it out is a Big Tragedy.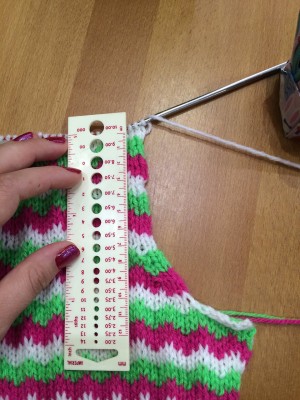 The pattern does try to include some shaping, you switch from a 4mm needle to a 3.75mm for some of it, so hopefully that will be enough..!? I think the Amy Herzog classes on Craftsy that Stacie and Steph recommended may be on my wishlist for when I'm feeling a little deeper in the pocket.
Anyway, I really can't wait to finish Zigzag Jumper and I'm sure it will be off the needles soon. I'm going through a back-catalogue of documentaries and podcasts that I haven't listened to before (you know – the first, second and third episodes from shows I'm already well familiar with – worth a gander, entertaining, sweet and so totally inspiring) so there is plenty to keep me going.
Progress on my other projects is zipping along – I have two finished objects to talk about in another blogpost…I'm especially excited about what the Sherbert Yarn has become! Icon Dress is currently in Time Out as it came with John and me on holiday with the Zigzag Jumper, and ZJ didn't get a look-in because I was too occupied with my cabling.
Very brief service announcement
In other news, my brain has taken a brief vacation, so I'm finding things a little bit tough to deal with at the moment and am spending a lot of time in my rocking chair, trying to cope with my depression. I have so many wonderful ideas for the blog and podcast (my document with notes for Episode Two is currently 2,000 words long) and I'm hoping they will give me the motivation to climb out of this current hole.
I have been signed off work and am finding my days incredibly dull – the longing to go back to work and immerse myself back into my Excel spreadsheets has even spread to my dreams! However, with eating and drinking enough water to get through a sedentary day being a challenge, I appreciate the pressure that has been lifted off, and my boss and colleagues have been absolutely brilliant.
I know this is a topic that is at the forefront of the media at the moment because of what has happened to Robin Williams, and I just wanted to reach out to everyone who may be struggling with the quote that keeps me going through the hardest moments:
Don't give up on tomorrow because today has been tough.
I'm sure I'll be back up to operational soon, although I might get Splash spun up a lot quicker than I thought!
Anyway, that's it from me for now. Watch out on Friday for my finished objects!
Much love,
Corrie xx
* A wonderful programme on BBC iPlayer here, called "Talk to the Animals". It's got a sign language interpreter as well as audio description, so suitable in places where other documentaries aren't!