I have a very unexpected FO today – Mitts for Granny! It's JS' Granny's 93rd birthday tomorrow, and I didn't realise until last night (communication is not so hot in the household…something to work on!) I immediately dropped all my work and cobbled together a pair of Fingerless Mitts (Sideways by Sydney Crabaugh), the ones I plan to make TJB that I discussed on Tuesday.
Mitts for Granny
I had these yarns in my stash – the red is from a hat I planned to make for a colleague but never got round to doing (I bought her needles and yarn and taught her to knit instead!) The orange I bought purely because I walked into a LYS in Brixton and saw the fluorescent orange glaring at me from the shelf. I didn't own any orange yarn before, so I decided I Must Buy It. (You understand, right?)
The two colours work well together, and the pattern is incredibly easy. I started on the train yesterday, and about four to five hours of work produced these beauties.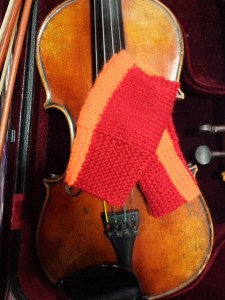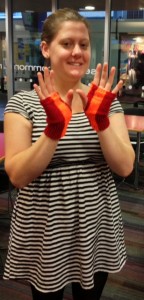 I've decided I actually hate the orange yarn – it's so bright that it actually hurts to look at. This may be because my eyes are damaged (long story), but JS looked at it and said "don't put too much of the orange in it". This disturbed my colour-scheme somewhat, but never mind. I'm pleased with how they came out, and both yarns are superwash, so she will be able to put them in the washing machine. I don't know the exact brands – they were in my 'superwash' bag without labels on them.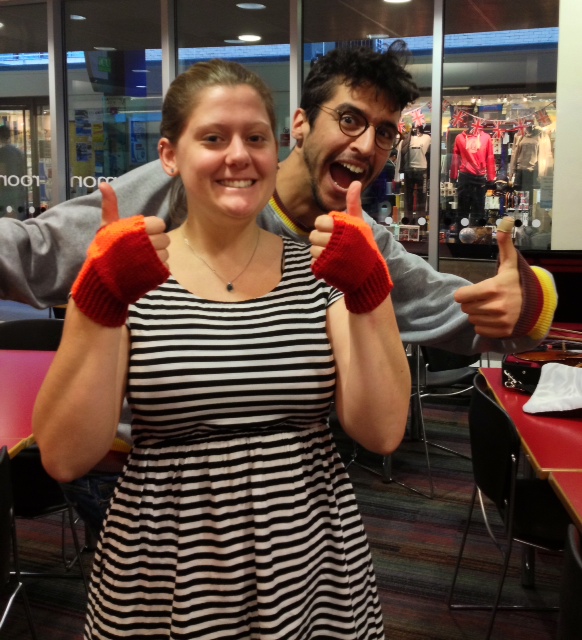 The guy posing with me is Sleepy, who I am also set to make some mittens for as soon as his yarn arrives. You will see more of him in the future!
I'm off to eat pizza now (ignore the dairy allergy for now) and will present the mitts to Granny tomorrow. I am excited!
Much love,
Corrie xx