If you don't know yet, I'm one of the biggest Harry Potter nerds to walk the streets of North London circa 2007. I've been doing some pattern searching on Ravelry, as I'm supposed to be knitting 12 pairs of socks this year and have not yet started my second pair, let alone third…and inspiration struck when I debated knitting Hermione's Everyday Socks again.
The designer of these socks, Erica Lueder, has got the best range of Harry Potter inspired socks that I have found so far. Get ready for some amazing designs…
Harry Potter Inspired Socks
Hermione's Everyday Socks
The first set of HP socks that springs to mind when you mention Harry Potter are Hermione's Everyday Socks. I'm pretty sure most sock knitters have at least cast these on the past, even if they haven't necessarily finished them. My dad was the recipient of my pair, in a lovely navy blue Fyberspates skein. The pattern is available in French and German, as well as English, and is a solid knit for anyone looking for a project to just wizz around.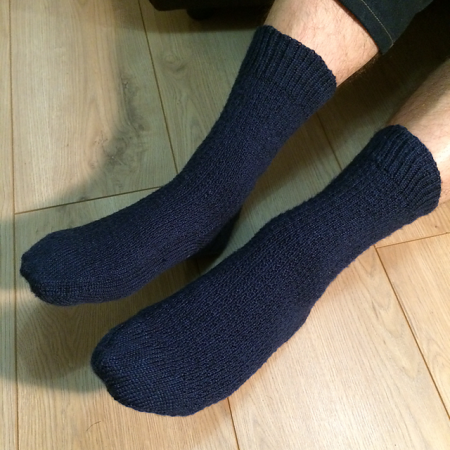 The pattern is very basic, alternating between knit rows, then K1, P1 rows to create a sort of edited moss stitch pattern. They're fabulous, a good, rugged pair of socks. At the time of writing, they are a free design on Ravelry.
Devil's Snare Socks
Next up is a lacy pair of socks where the panel of lace has been inspired by Devil's Snare. The pattern is available in English and French, and is currently free on Ravelry. I can't make any other comment, as I haven't knitted them…yet.
They're for a fingering weight yarn on US 2/2.75 mm needles.
Dumbledore's Christmas Stockings
One of the most notable lines for knitters in Harry Potter and the Philosopher's Stone is "one can never have enough socks". Erica has taken this as her inspiration, and created a gorgeous design, which looks to me almost like a chessboard. They're open to interpretation – I've mainly included them because of their inspiration! This is another free pattern on Ravelry, available in English.
The Weasley Homestead
Erica states that these socks were inspired by the colourway, which is a Weasley inspired yarn, Flesh from the Cauldron Sock SW. I love the patchwork effect, and the colour really puts me in mind of the lounge in the Burrow (in the films). The pattern is free on Ravelry and available in French and English.
Hidden Stairways
The last of the Erica patterns that I wanted to showcase is Hidden Stairways, a whimsical pair of socks which I love the look of. The stairways at Hogwarts are something I have spent hours thinking about (I lived in a small town, OK?!) and I think she's captured the spirit fairly well in the stitch pattern. Guess what? It's free on Ravelry!
---
From Erica, my Harry Potter eye naturally led me on a journey to find other inspired designs…here's a list of some of my favourites, found by searching "Harry Potter Socks".
Fred and George Socks by Rachael Coopey, found in The Unofficial Harry Potter Knits, Special Issue 2014.
House Elf Socks by Ashwinder, free on Ravelry.
Nagini by Monkey Toes, free on Ravelry.
The Whomping Willow by Angela Tennant, US$5 on Ravelry.
---
So, there you have it! A very Harry Potter-ey Saturday treat for you. I'm off to unpack my (new) knitting machine, and immerse myself in learning how to use it for the next two days. Have a great weekend!
Much love,
Corrie xx