I'm learning to spin, as you should all know by now. Before I show you my first yarn, I wanted to demonstrate how not to dye fleece – I tried it yesterday, and it completely failed. I know this is out of the order of things, but I promised some people on Ravelry
I did have a relatively successful attempt at dying some fleece green, but when it came to yellow, I just don't know what happened. I watched a lot of videos on YouTube, and used this one as my template as I didn't want to buy a lot of fabric dye.
Corrie dyes some fleece
I bought Dr Oetker food colouring for 79 p in the local Costcutter and decided to use that. I had green, yellow, blue and red, and wanted to give it a go with the yellow and green. I did the green, and it was relatively successful, although the dye wasn't all absorbed. Frustrated, I gave it a go with yellow. JS caught it all on camera. It's a long video (7 minutes) – I did try cut it down, but I talked quite a lot, apparently.
My analysis of things that I may have done wrong:
I used the wrong vinegar, and I neutralised it with soap.
The food colouring has fewer artificial ingredients in it than American food colouring does.
I may not have left it in the heat for long enough.
I used yellow. I think yellow may dye poorly. I might use a darker colour later (this doesn't explain the green though).
I've tried again and eliminated two of these factors – I didn't neutralise the vinegar this time, and I used white wine vinegar. I also nuclear-blasted it for bloody ages.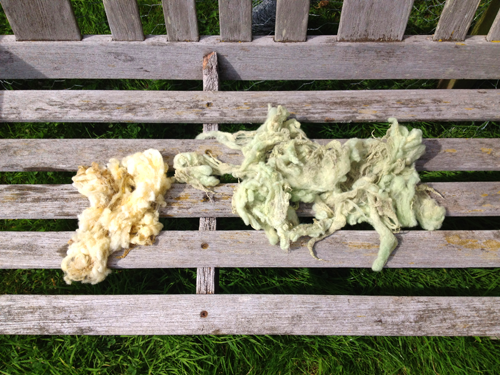 It didn't work, not really. It's drying at the moment, it does look more yellow than it did before. I would really love any advice, especially if you've used Dr Oetker. You can comment here, or there is a thread over at Ravelry.
Much love,
Corrie xx