I'm here to talk about Country Crafts of Stroud, a shop I visited last week while in the town with John and his family. If you missed the Bluestocking Wool Shop review from this same visit, you can find it here – otherwise, read on!
Just one note before I start, Country Crafts does not have a website, otherwise I would have linked to it. It does have a phone and I have included the number at the bottom of this post.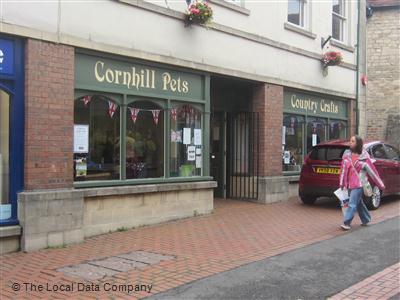 Country Crafts
As I mentioned in the BWS blog, John and I met up with a couple of friends for a coffee and bowling, and I mentioned to them that I wanted to go to the local sewing shop. What they took me to was much, much better. I almost had to be restrained from running straight through the window into the shop when I saw the display – spindles, spinning wheels, the Campaign for Wool sign, and, of course, wool.
The Country Crafts full name is Cornhill Pets and Country Crafts, and it's found in Threadneedle Street, Stroud. It is exactly what it says – a pet shop on one half, and an incredibly well stocked wool shop on the other. After introducing myself to the owner, we had a small chat, during which she was keen to point out that she only sells British wool, and many of the fleeces she had on the shelves were from the local area.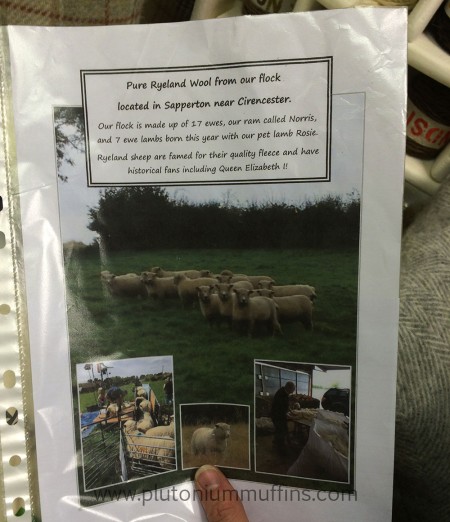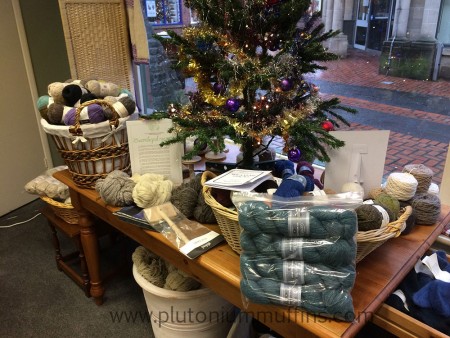 I was then let loose to peruse the incredible range of items. There were plenty of spinning wheels in the line-up including Ashfords, as well as some beautiful accessories. Among these were niddy-noddys, hand carders and lazy kates to name the common ones, and drum carders, spinning stools, bobbins and more among the less common.
Even more exciting were the fleeces. A big display showed off a range of rolled up fleeces, many of which were Welsh, all were labelled, and all were just £10! The fleeces were all different colours and skirted to get all the worst of the muck off. However, it is worth mentioning that these were not washed fleeces, and you'd either be spinning in the grease from a raw fleece, or having to do some preparation yourself.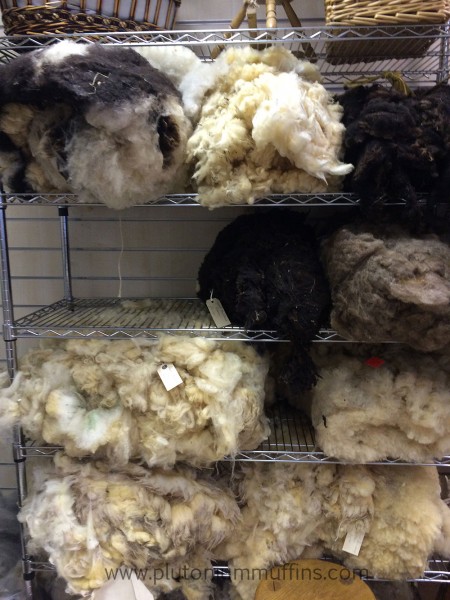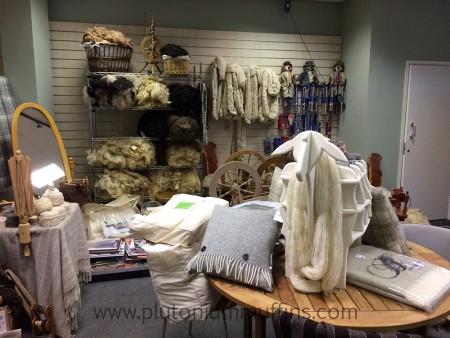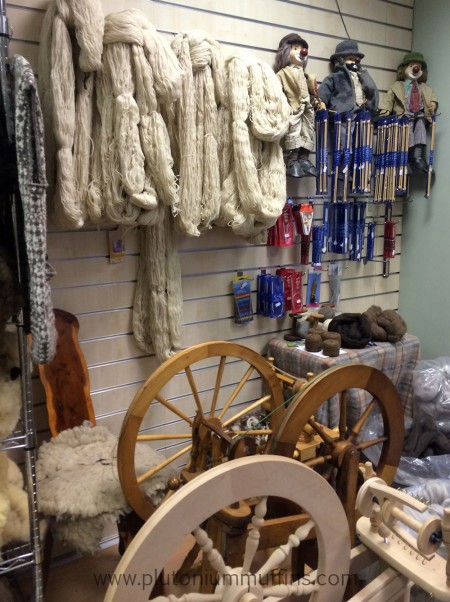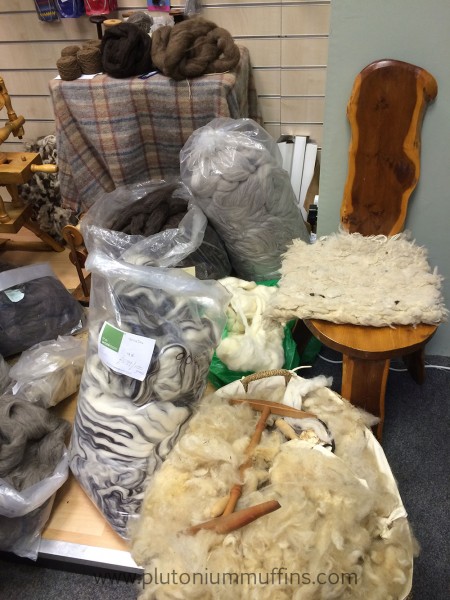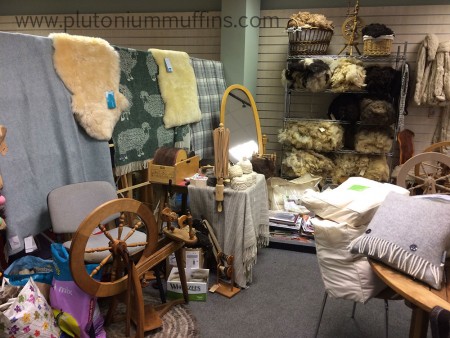 Amongst the fleeces, equipment and spinning wheels were scattered a variety of wool products. Wool has got incredibly good properties and makes fantastic household furnishings; and Country Crafts sell products that allow you to try this out yourself! From blankets to cushions and many things in between, if I wasn't getting the train back to Plymouth the next day I would probably have bought a lot more than I did.
Now, the good stuff if you're not interested in the spinning. The yarn. Oh boy, the yarn. There was a lot of handspun yarn, everywhere, from full skeins hanging on display to a beautiful little sheep display with cakes of handspun on it. It was all natural colours, beautifully spun, and just made my fingers itch to get back home and on my spinning wheel. I didn't look at the prices, which in hindsight I probably should have done – sorry!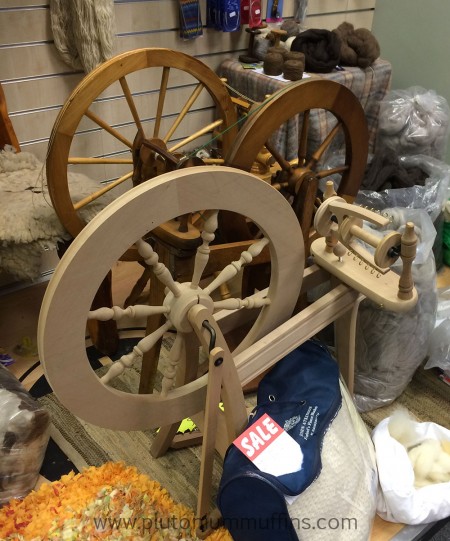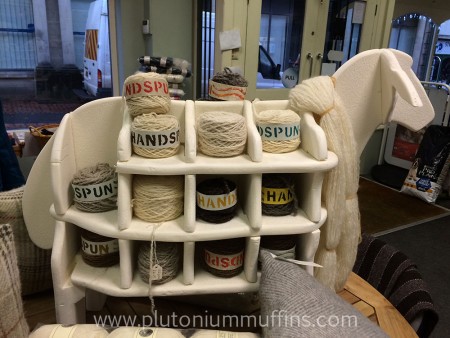 As well as handspun, my jaw almost dropped when I noticed the last thing I wanted to talk about. Country Crafts is a stockist for Blacker Yarns, a truly outstanding British brand that deals with British wool and is one of the really premier yarns. There were big baskets of the stuff, with a range of options available, and absolutely the last thing I expected to see in a little pet-shop-come-craft-shop with no website that I happened upon on holiday.
If you're a Blacker fan, you'll know about Cornish Tin, the one-of-a-kind, limited edition yarn that had one production run to celebrate the Mills 10th birthday. It's not in many places – but it is here! It's even out of stock on the Blacker website, and this was an incredible find. I'm currently regretting not buying a skein, as the shop doesn't do web sales – so if you are looking for some Cornish Tin, give them a call and see what they can do for you!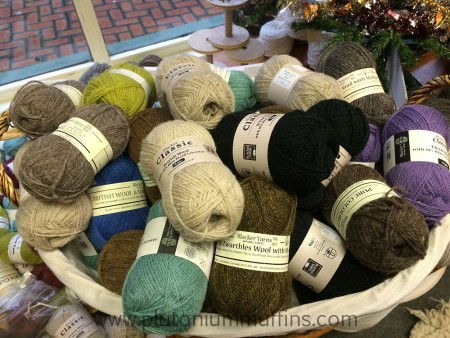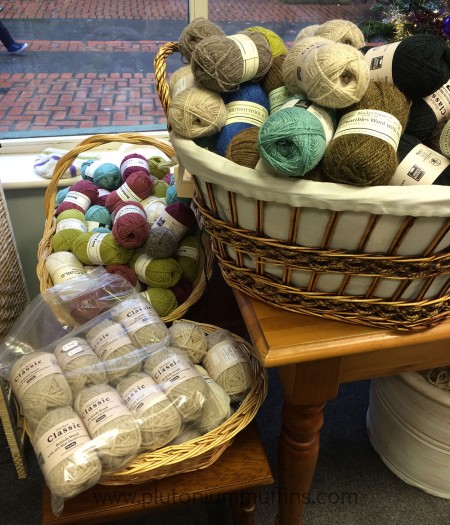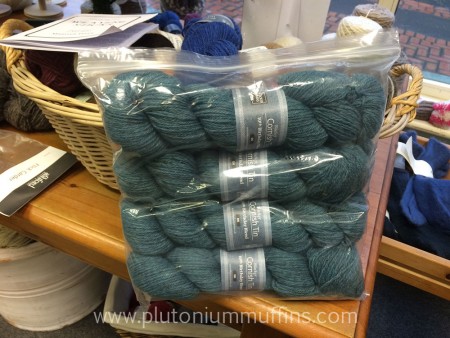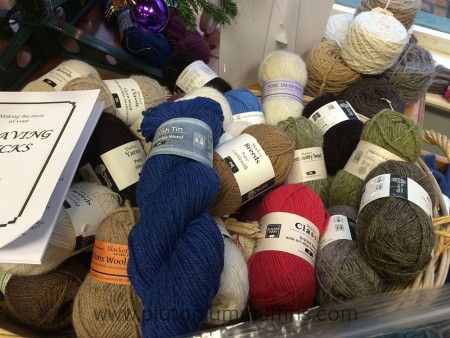 I did end up buying a fleece – a Ryeland shearling, with the sheep itself coming from the nearby Forest of Dean, and owned by the lady who was in the shop on the day. I couldn't spin it in the house we were in in Slad as there were babies, old dogs and people with asthma around and the fleece is unwashed – but I'm looking forward to sitting down with it in the very near future!
This is a gem in an unexpected place, and if you are ever in Stroud, I urge you to look for Cornhill Pets and Country Crafts in Threadneedle Street. The phone number is 01453 757322 in case you want to give them a call.
I left Stroud that evening pleased as pie, and walked past a sewing shop as we left…so when I next visit, there'll be yet another review of craft shops from this town to come!
Much love,
Corrie xx