I'm on my way back to London at the moment, thinking about the sheep and how much I'm going to miss them. It's OK though, I've taken loads of film of them, and put together a little video for you to meet them all too! If you're keen to see more of the farm, let me know – I've got loads of footage because I just cannot resist filming them and taking hundreds of hours of video.
Meet the Sheep
I know in the video, I say that they don't have names yet, but they actually do. The mule lamb is called Yarn, and was named by Ross F. The two ouessant lambs are Kiss Ewe (the youngest) and Miss Ewe (the larger), named by the wonderful Joanne Scrace of Not So Granny.
As you can tell, I'm doing a lot of travelling between Devon and London. John and I are staying in a flat for a month, and after we have finished up there, we will be on the househunting wagon again. My studio is still in Devon, so there's a lot of up and down going on. It's so frustrating realising you need something that is at least a four hour drive away, let me tell you.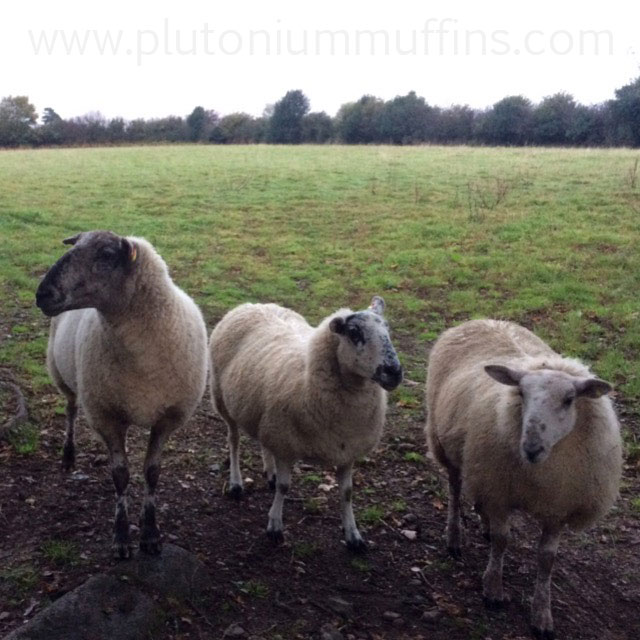 In terms of craft, I'm doing a lot of cross stitch at the moment, and have a finished object to show you all! I lost the orifice hook for my spinning wheel a few weeks ago, so now I'm on the hunt for some thick wire so I can make my own and spin all the yarn. My knitting is not inspiring me right now – any thoughts on how to get back into the groove would be massively appreciated. I'm working for my parents as well, so things at Plutonium Muffins are busy, busy, busy!
I also posted a video about our chickens the other day, and if you're interested in this and other videos like it, check out my YouTube channel, which is going a bit crazy at the moment (as in, I'm putting up loads of videos). I got together with Wonder Gran and Super Granny yesterday and we recorded some stuff that I'm uploading at the moment. It's golden.
I will be at the Tavistock Arts Market with my stall next Saturday the 7th of November. Do come along if you're in the area…there will be loads of free Haribo!
Subscribe to the YouTube channel if you like it!
Much love,
Corrie xx