I'm in Devon…and I have a studio!! In case you missed the news, I have moved down to South Dartmoor to live with my parents for a month or so while we get things in London figured out (more here). Mum and dad have just moved to a small farm…and as we all know, with farms come barns.
The 'swallow barn' as m&d were calling it is where the chickens are currently housed. However, they take up a tiny proportion of the whole building, the rest of which has recently only been used as a home for swallows and bats. Itching to find a place to store my equipment (and The Stash), I was given free reign to go to town with a broom.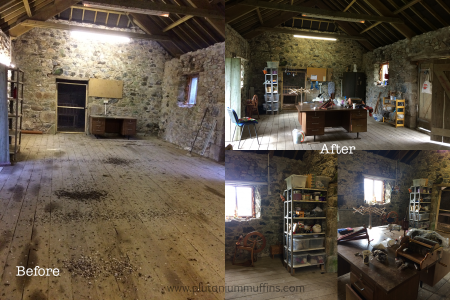 The Studio
I'm not going to lie. The clean-up job was disgusting. Here's the before photo, complete with bat and swallow guano, and years and years of dust and dirt. The furniture that has been left behind obviously belonged to some sort of office in a past time – it was abandoned complete with a teapot and five mugs for tea lovers, not to mention an entire drawer filled with drawing pins.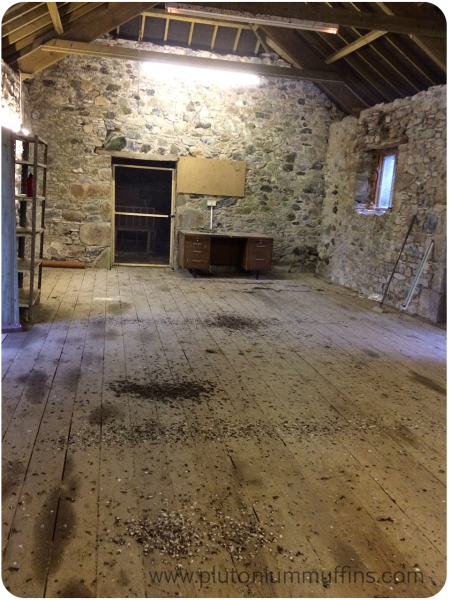 It took me almost a full 24 hours of scraping, sweeping, brushing, hoovering, mopping, wiping, disinfecting and furniture moving before I got it to a state that I am happy with. In the process, I removed three bin bags full of dust, countless rusty nails, pins and other fixing devices, tubes of paint, panes of glass and one dead sparrow. However, I am now happy. Very, very happy.
I have a huge table space, which at the moment is taken up by my drum carder (currently being rented from www.handspinner.co.uk) and a yarn swift. This will be ideal for cutting fabric and sewing on, and also allows me to take up as much space as I like without fretting about it.
I have two bookcases which I am currently storing all things washable, as well as fibre sealed in plastic bins. This has to be sealed as there are still swallows and bats in the barn, and the door to the inside part of the chicken enclosure is through the door by the Stash Trunk. Books and fabrics are in a lockable cupboard.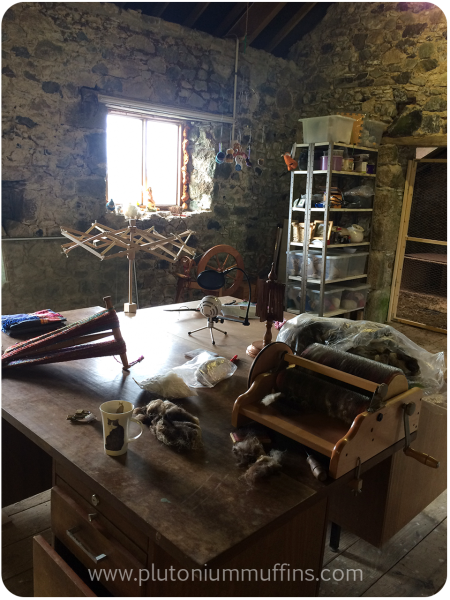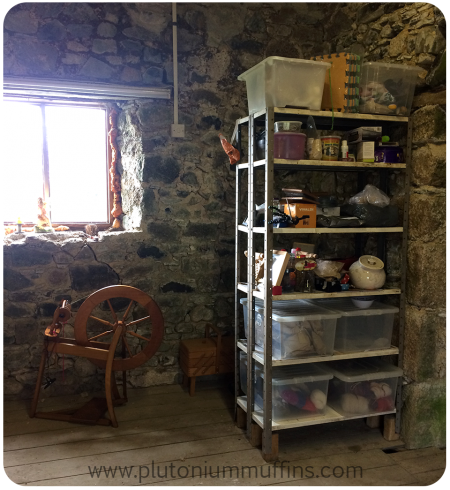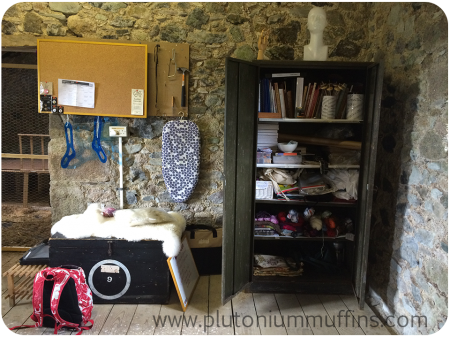 I love it. There is so much space, lots of natural light, and best of all I can make as much mess as I like with my fibre and not feel guilty about it! There are two downsides…there is no heating and the building is full of drafts, which will make it very cold. There is also no running water, so if I start getting more raw fleeces, washing them will be even harder than it was in London…hmmm.
As it stands, this is a temporary solution until I can get a studio in London. But it's a great Plutonium Muffins Studio Mach 1, and I am super happy!
Much love,
Corrie xx