When I went to Unravel this year I bought some Romney Sheep yarn to make a penguin hat from – I made a start on the hat and very quickly decided the yarn was wrong. I knew little about judging the weight of yarn by sight at the time (spinning has changed that) and I mistakenly thought this would be OK for a pattern that called for an aran.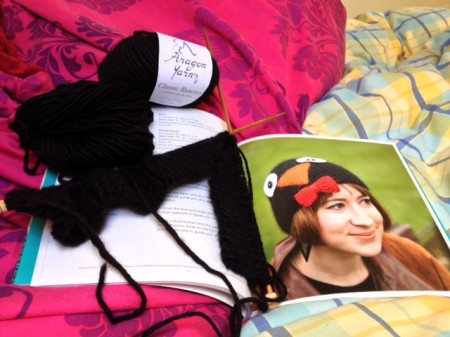 I frogged the hat last weekend, an extremely cathartic process as it had been weighing on my mind a lot, and started again.
Romney Hat
This will be a Christmas present. I'm just not sure who for yet – the person who I originally intended it for may not be into this style, and I hadn't realised the pattern I picked out would come out as a 'cloche' type hat.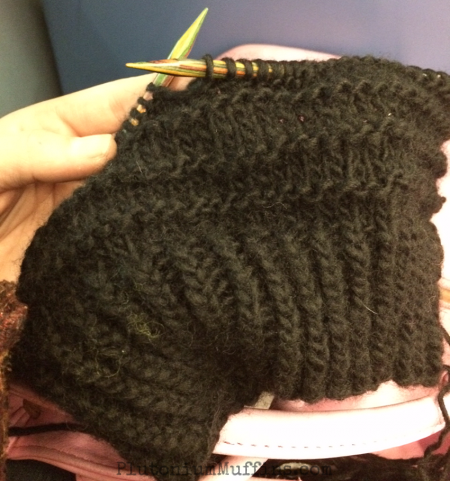 The pattern is "keep your head to the sky", free from Ravelry and designed by Annalisa Dione. I wanted something simple and quick. This certainly fits the bill, and I expect I will finish it tonight, having started on Monday.
I just have to decide who to give it to now!
Romney Hat yarn
I did want to talk about the yarn, which is Classic Romney Aragon Yarn. Romney wool is important to me as it is the sheep native to the Romney Marshes, an area of Kent. As I lived in Kent for a while and my better half is from there, it feels like I'm knitting with a piece of home.
The yarn is clearly organic, and it sheds bits of fluff and organic matter as you knit with it. I have been reading a book as I knit and I have to blow before I turn each page to get the bits out of it. This is fine, I don't mind and it is a good reminder of where wool comes from.
What I can't cope with is the dye. I don't know what they have done to the wool when dying it black, but it is not colourfast. Even as I knit my hands come out absolutely covered in black, and if I was knitting anything bigger than a hat I would have given up by now and probably sent the yarn back.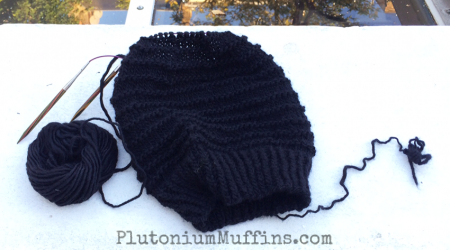 I don't know what I'm going to do to try ensure the recipient doesn't get black water running down their face every time it rains – probably soak the heck out of the hat once I've finished in the hopes that the excess dye will come out.
It has totally ruined my experience of this yarn and I've let them know in case they weren't aware that this is a problem.
Do you or anyone you know have experience of this yarn?
Much love,
Corrie xx