The socks have seen some major progress, with the heel turned over the weekend (in some rather unusual circumstances).
Before I move on to that, I have started yet another blog! Yes, I know, I'm addicted – but I'm also trying to lose weight, and I've learned that the best way to keep something up [in my case] is to blog about it. So, you can find out exactly how I'm losing my muffins over HERE.
Don't forget these beauties either!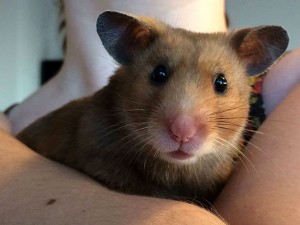 Sock Success
I turned the heel on my Two at a Time Socks over last week and this weekend. I did this all while I was commuting and dog-sitting in Kent, and there were a few major errors.
When turning the heels on these socks, you do one and then the other. Simple, right? Wrong.
I use a row-counter on my phone to keep track of where I am in a pattern and I was finding it near impossible to remember while on the tube, juggling my knitting bag, my handbag, my umbrella, my jumper and my phone, to click the row counter. It confused me the first time – cue frogging the first heel and starting again.
The second time, I tried to remember it all. I did well with my decreasing rows…got to the increasing rows (and between these I had got off the tube, walked to work, had a day at work and then got on the bus home), completely forgot where I was, and ripped back again.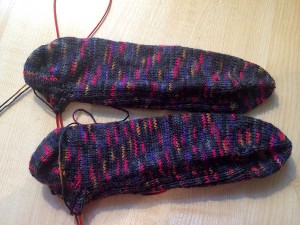 I then turned both heels successfully first time – you are required to put eight stitches on stitch markers so that when you start knitting in the round again, you can access the stitches you need to. Did I do this? Of course not!
I then went for a walk with the dogs and my knitting. That's right, I was walking through the woods working on my socks. This would have been a normal affair for me – except those darn eight stitches kept beating me! Arghhh.
Eventually, I had to stop, sit on a big log and work it out. Then I put the knitting away and walked to the house, sat on the sofa in front of the football and finished turning both heels, using paperclips as my stitch-markers.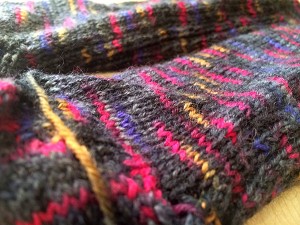 It was definitely unconventional – and I find myself yet again reminding myself to read the pattern properly! Sigh.
Anyway, they're nearly done – I just have to decide how long to make them and I will be ready to get going on the next project.
Much love,
Corrie xx