The baby boom is (almost) over! The last one of my friends to leave work on maternity leave has gone, and with her all my requirements for baby knitting. I haven't blogged about this for a little while because I've moved house again (how many times is that in the life of this blog…? Eight by my count in the last six years…) so here is all the knitting I've done since finishing the crochet blanket I wrote about here.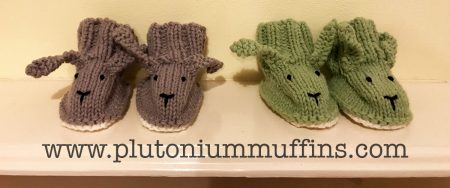 Rabbit Bootees
I spent some time over Christmas knitting some booties for two of the pregnancies, one of whom was my line manager and expecting a little girl, and the other expecting a baby of unidentified gender, who is going to be living in a grellow nursery. This pattern was extremely easy to knit up, and very quick indeed, and from a book that, if you are expecting any sort of baby boom in any part of your life, I thoroughly recommend.
The pattern is from "Knitted Animal Nursery*" by Fiona Goble, and I genuinely love it so much that I bought it on my Kindle as well as the physical copy so that I could have it with me when I was brainstorming ideas even if I hadn't taken the actual book with me. Find the pattern on page 60 – "rabbit bootees".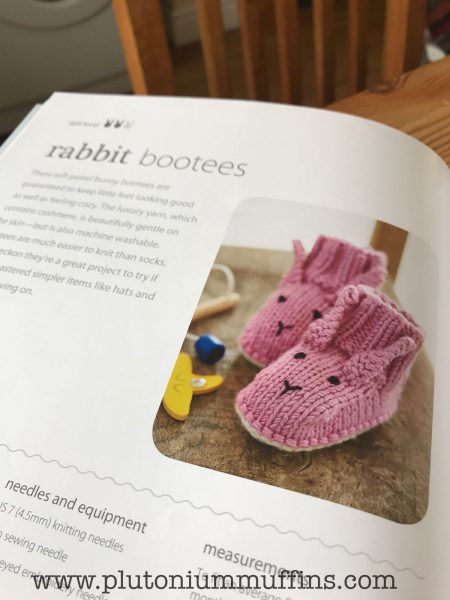 The recommended yarn is Debbie Bliss Baby Cashmerino, but I used Sirdar Snuggly DK, and the first pair in green was for the little girl, because I don't conform to colour/gender stereotypes haha. The grey was for the other, and the second pair I knitted – each one took me about half an hour, and are so ridiculously cute that I've had requests for adult sized ones after I took them into work!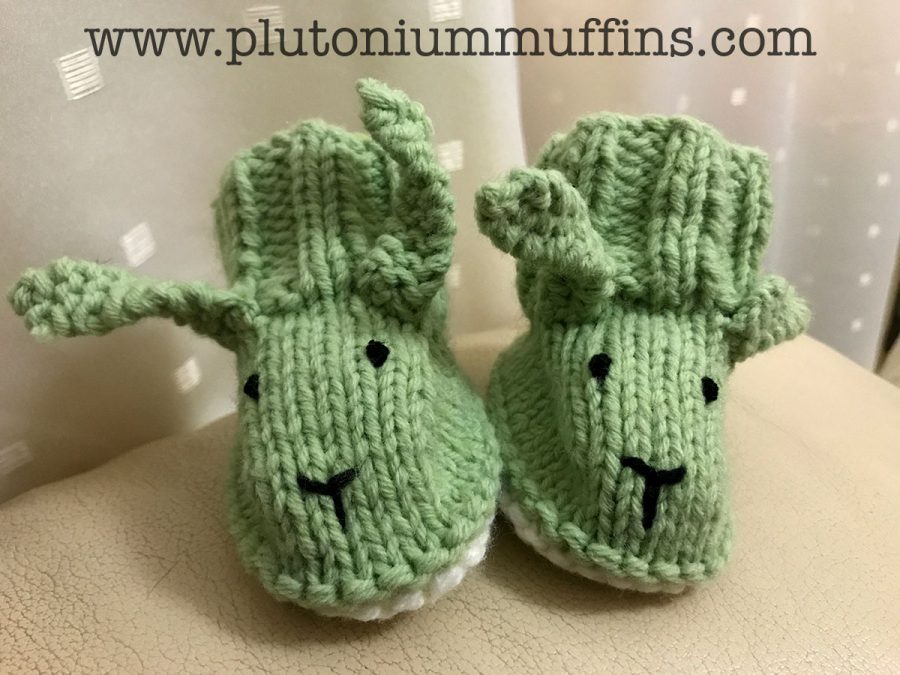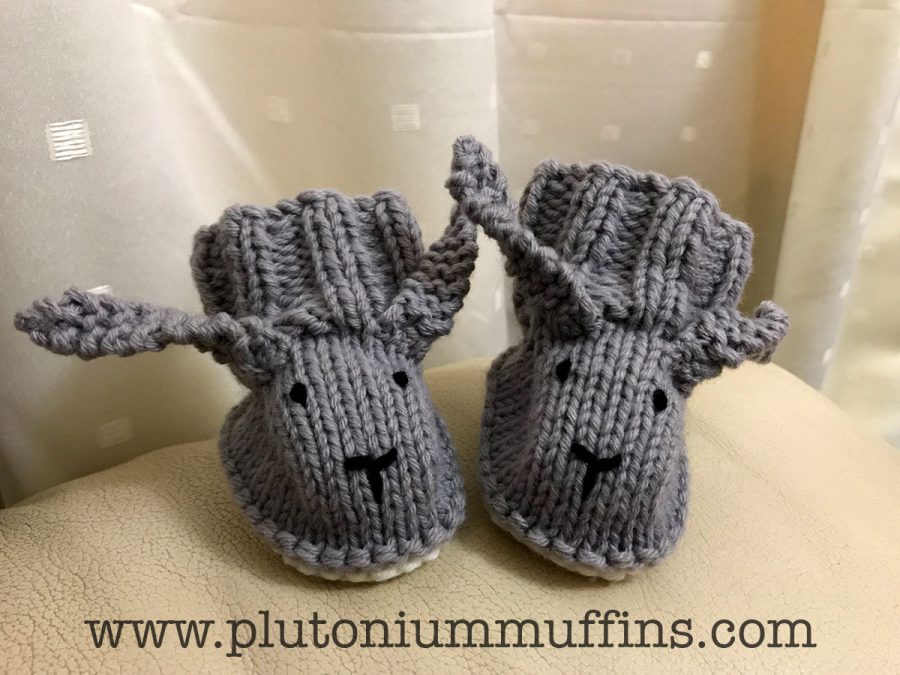 They were well received, and I can't wait to see them on the babies when they are eventually in the world.
Fuss Free Baby Cardigan
The Fuss Free Baby Cardigan was the second project I knitted for the grellow baby. I went for this because I wanted something that was quick and could tie in with the bootees. We'd also bought a lot of yarn for the crochet blanket, and as the mother of this baby was the person who crocheted half the squares for the blanket with me, I thought it was a great homage to that work.
The pattern is "Fuss Free Baby Cardigan" and it's by one of my favourite ever designers, Louise Tilbrook. No nonsense, quick to knit up, and endlessly customisable, it took me about a month of knitting for five or ten minutes here and there while rushing between climbing lessons, house viewings and board game nights. Again, this was using the Sirdar Snuggly, and despite having plenty of warning, I only finished it the morning I gave it to the expectant mum, so it was unblocked to my absolute horror…
I put a row of full buttonholes in, but when I sewed the top button on, loved the look with just that one, so I left it without any of the others. I think this might become my go-to pattern, especially because I have so many scraps of yarn that would be perfect for making lots of stripes. Plenty of sewing in of ends coming for me!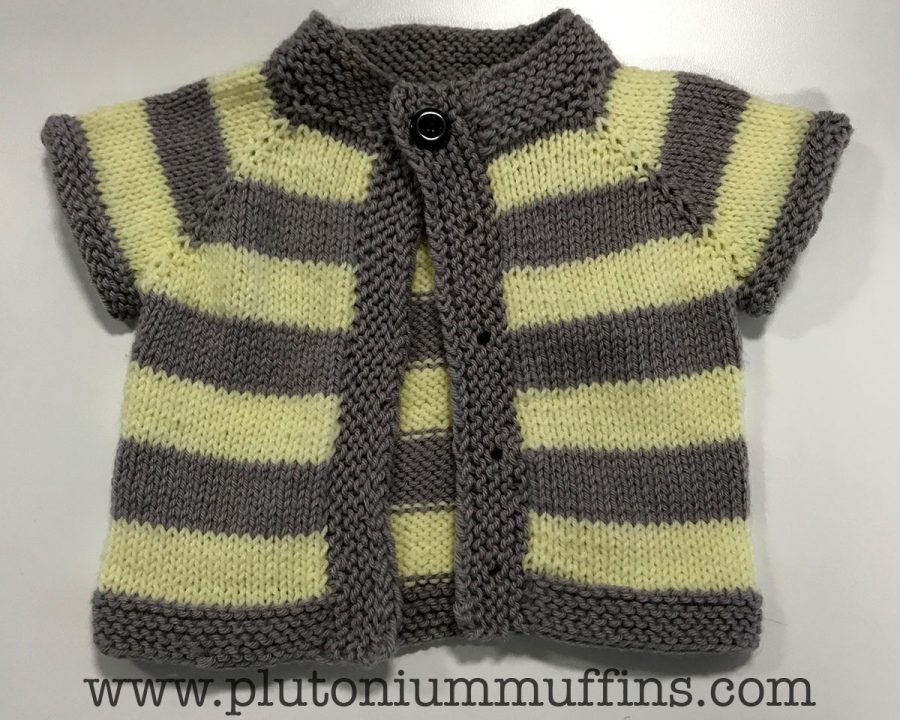 What is your go to knitting pattern for fuss free baby stuff? I'd love to know!
Much love,
Corrie
Year of Giveaways update
I've fallen a bit behind on my year of giveaways, so these were the winners, doubled up to make up for my missed weeks.
Deadlines wooshing by: A Stitch Too Far and Asteride
One year late is better than never: Janine and CathieJ
This post also sits in the Year of Giveaways – for more information, click here, and if you'd like to enter please leave a comment on this post!


*This post contains affiliate links