Lucky enough to live a few hundred metres away from the Handweavers Studio, I have never got round to actually reviewing it. Well, my friends, that has all changed! I went in a few weeks ago and spent a good long time taking photos and enjoying the vibes of the shop. The layout had recently changed, so I was a little bit lost, which made for a better review as I had to pay proper attention to everything.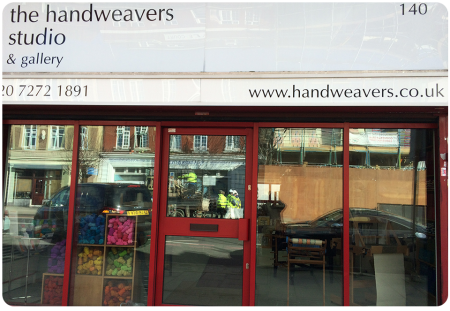 The Handweavers Studio can be found at 140 Seven Sisters Road, London, N7 7NS. The website is here!
The Handweavers Studio
The shop is laid out into three sections, so I'll go through them from front to back for ease of sorting out my photos!
Front of House
Walking into the shop, you are hit by the fact that there is stacks of wool, everywhere. I don't mean that in a haphazard sort of way – more of a mind-boggling array of ordered merino tops, selections of yarn, and woven samples on a number of looms that are arranged around the floor. Display cabinets contain some of the more luxury items, including Turkish spindles and needle felting equipment that has fossilised dinosaur in it (see the photos for information on what this means).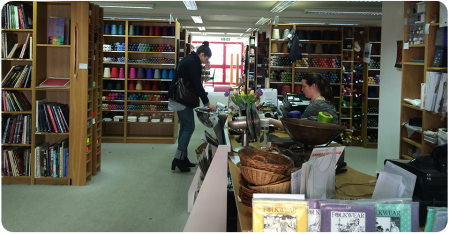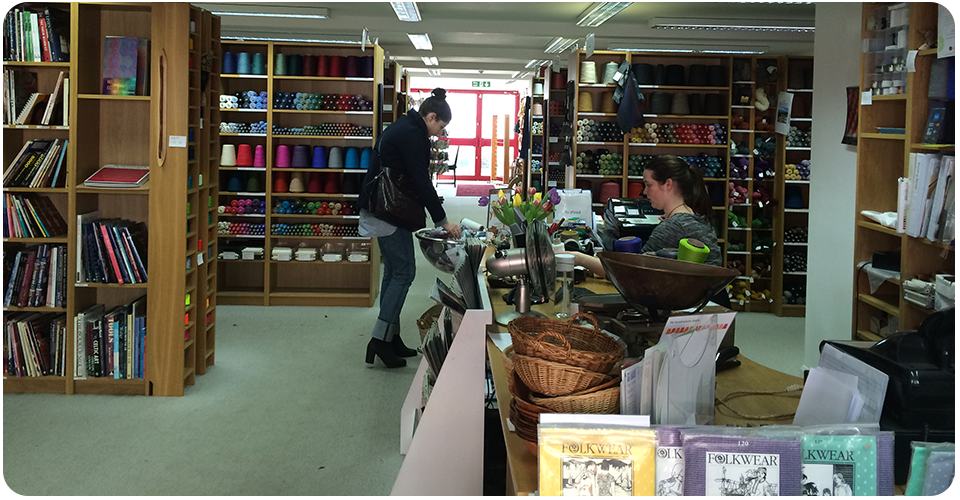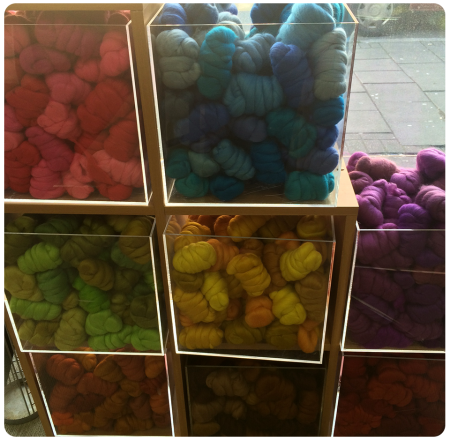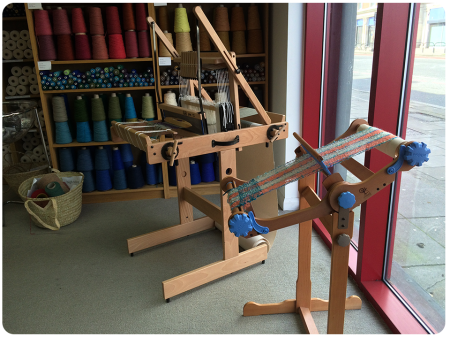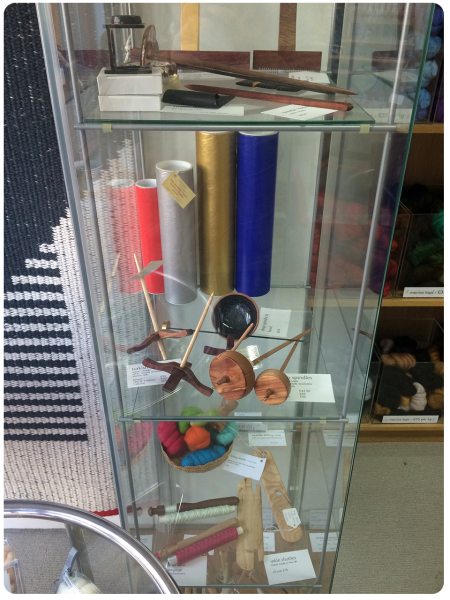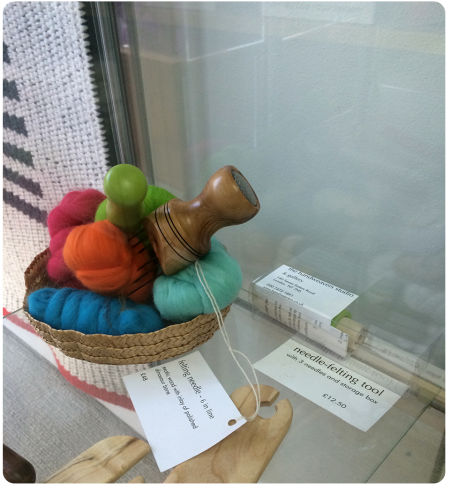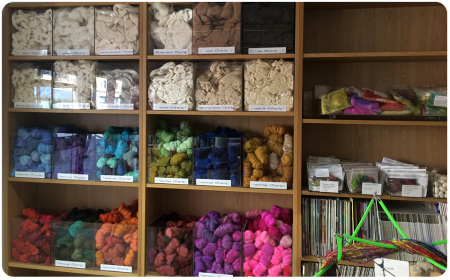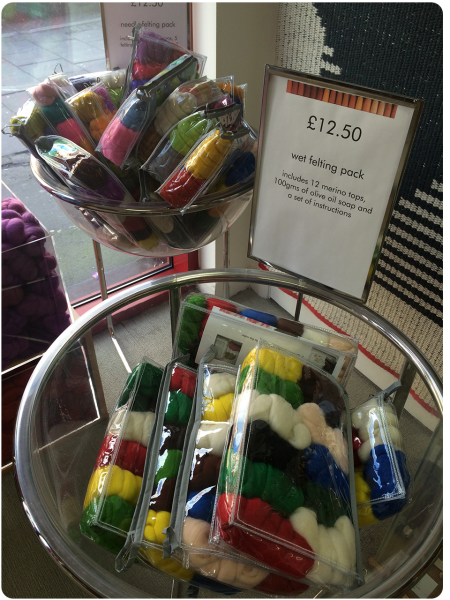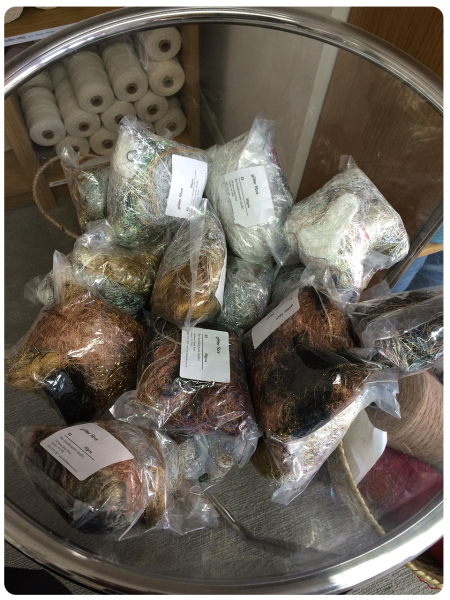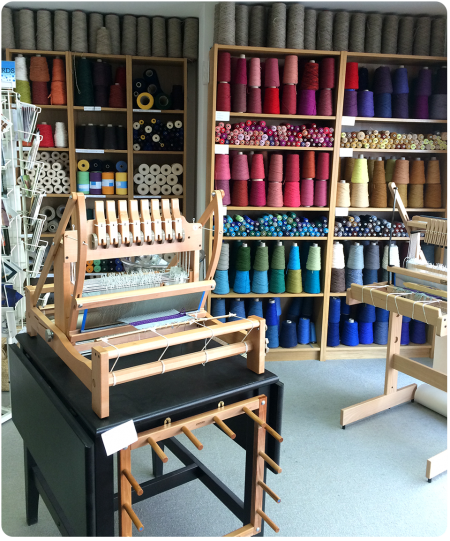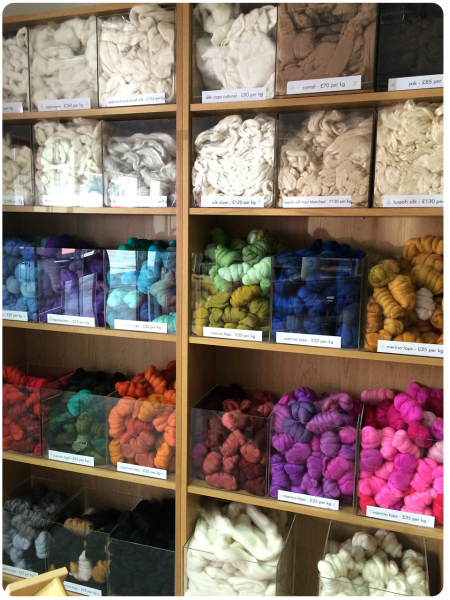 The till is also here, always occupied by a lovely person – all of the staff have some interest in the world of weaving, and I've never yet had an experience where I've asked for advice or help and been unhappy with the response.
Almost the best bit in a shop full of best bits, is the book selection. They have everything you could possibly ask for and more. With a huge range of 'how-to' manuals on all the fibre crafts they cater to, as well as reference material and magazines that I honestly had no idea existed until I really looked at them, every time I go in I have a look at the selection and wish I were a millionaire! I have bought more than my fair share of tomes from here, and no doubt there will be more before I leave London.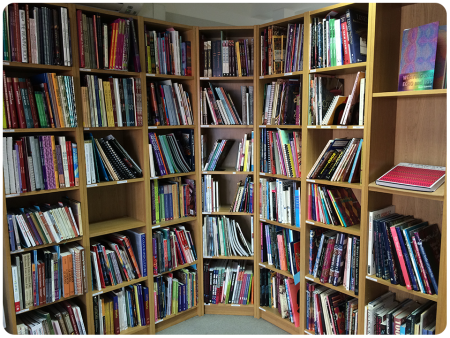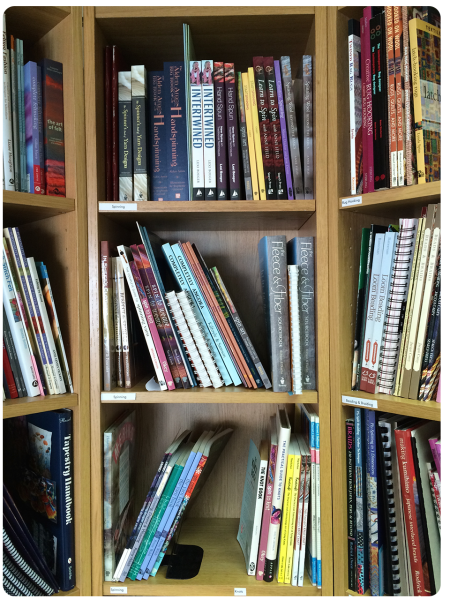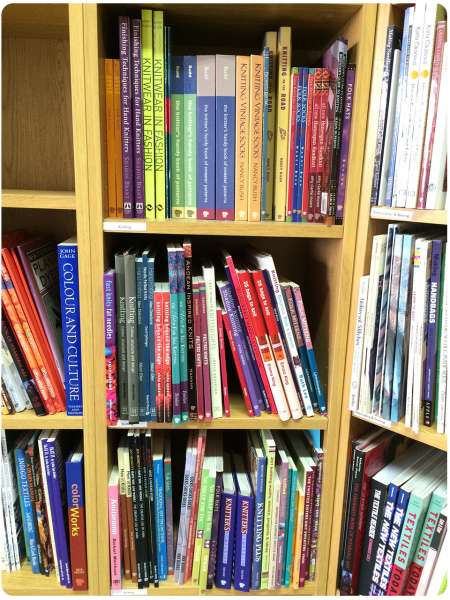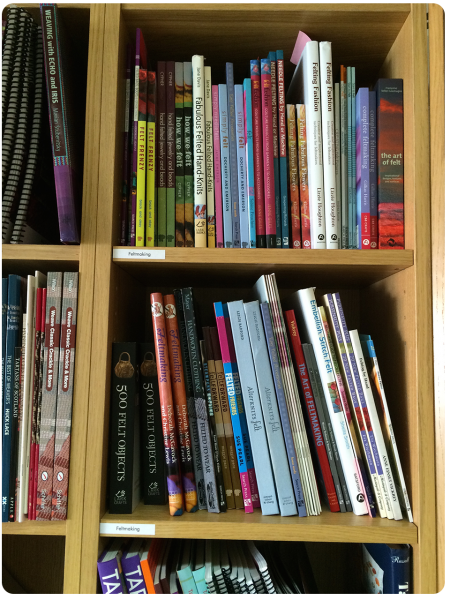 The Middle Aisles
The centre of the shop is where the yarn is. Catering mostly to weavers, the majority of the yarn is on cones, in a bewildering array of fibres, colours and textures. It is quite hard to appreciate how incredible these yarns are as a (primarily) hand-knitter, as I'm so used to skeins – I will have to go back once my weaving skills have improved and have another look to fully appreciate everything. However, the amount of choice of colour alone is fabulous, and there are also beautifully presented samples on each shelf-end and wall to inspire you as you browse.
This section also has yarns that I would consider more 'hand-knitters' yarns, with beautiful hand-painted skeins, pure wool spun in interesting ways, tweedy yarn, fibre blends and 'plain' pure wool. There is colour and texture inspiration here in spades.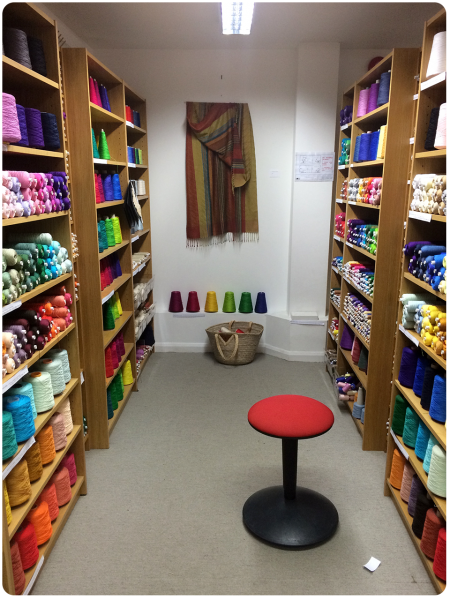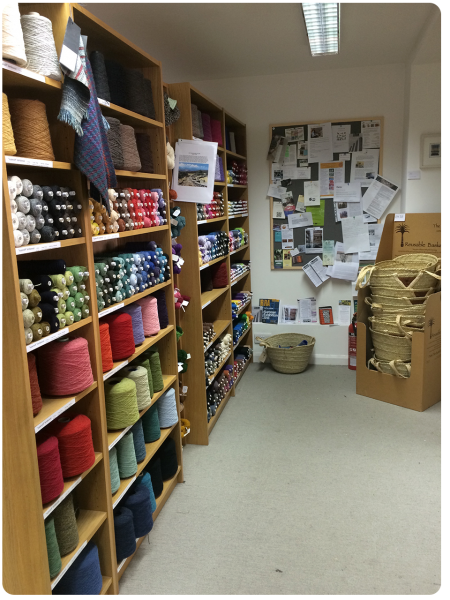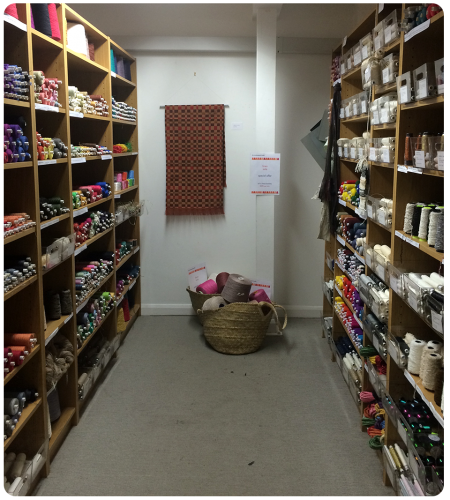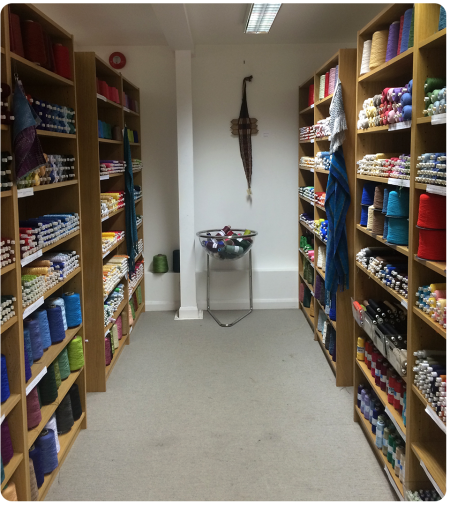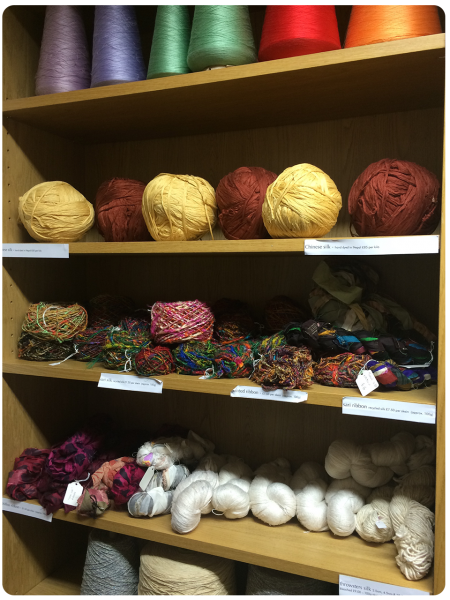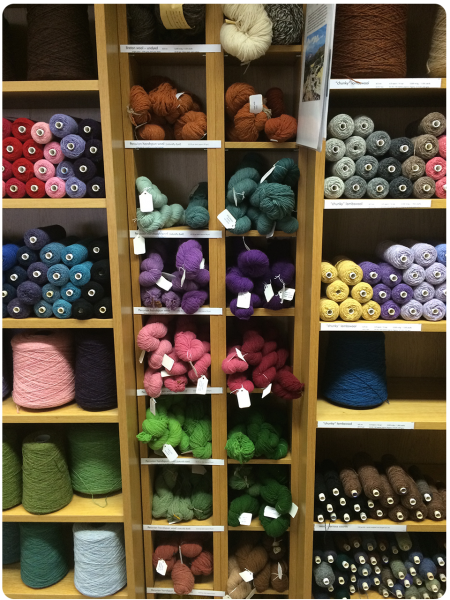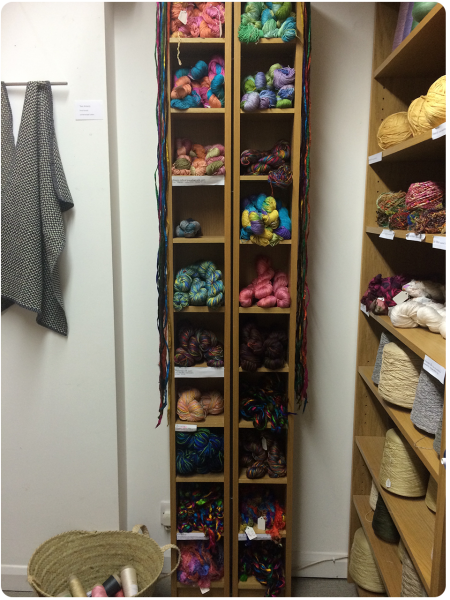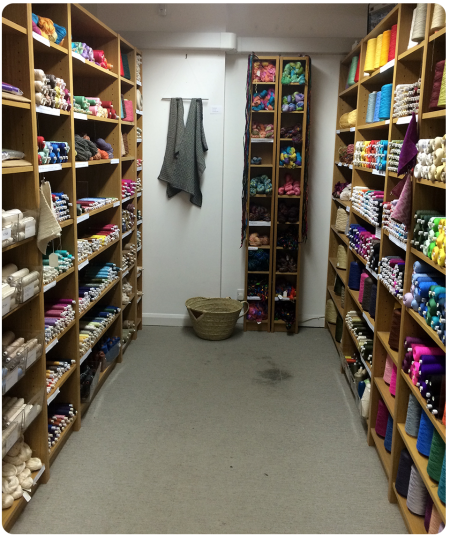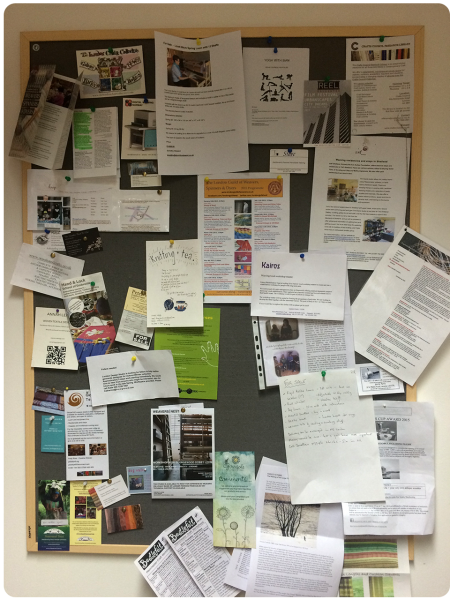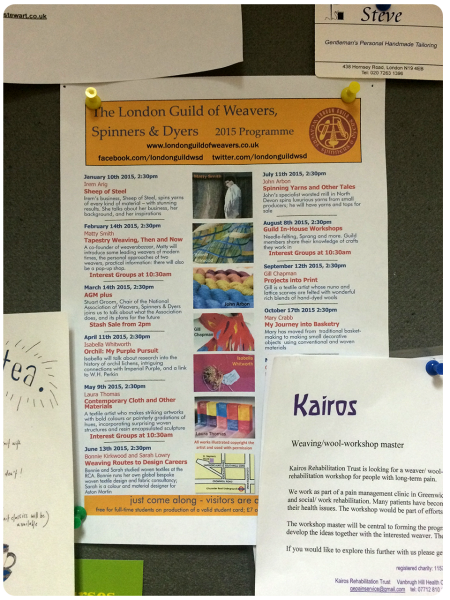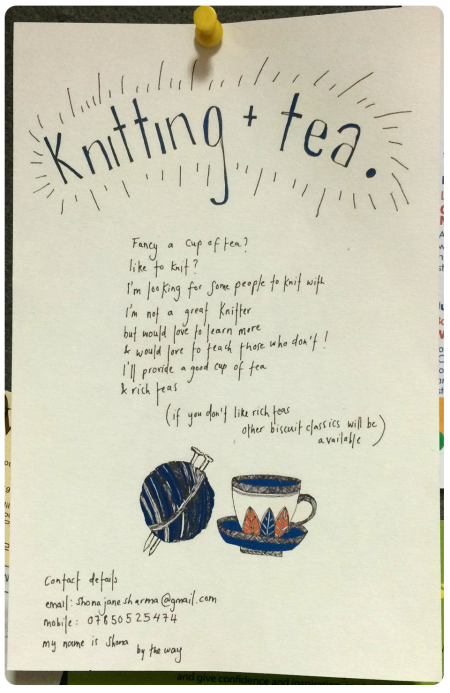 Equipment Shop
The back of the shop is where the majority of the equipment lies. With an army of spinning wheels, big looms and a variety of fibre preparation accessories, I normally head straight here to admire the architecture of my craft. I fairly regularly walk in looking for some random piece of equipment that I need right now that I'm sure I won't find, only to see it nestled on a shelf exactly where I need it.
If by any chance the accessory I need isn't there, asking for it normally produces results – I enquired on a specific size of niddy-noddy on the off-chance once, and within a couple of minutes it had been brought down from the top of the shop. Magic.
Sacks full of roving are also found here, whether it is different varieties of wool, processed tops or artificial fibres.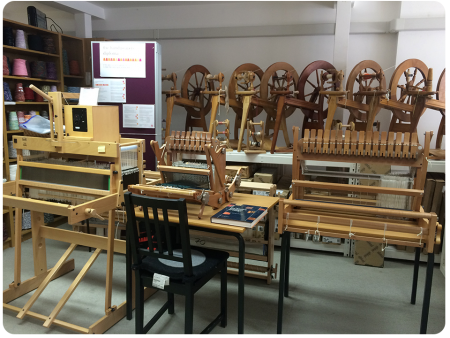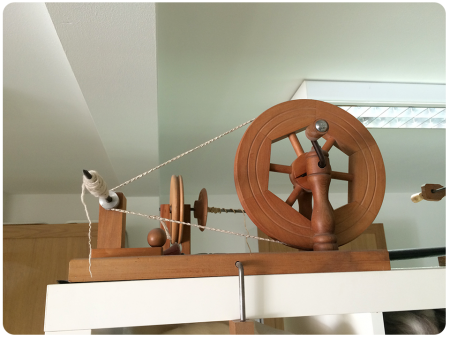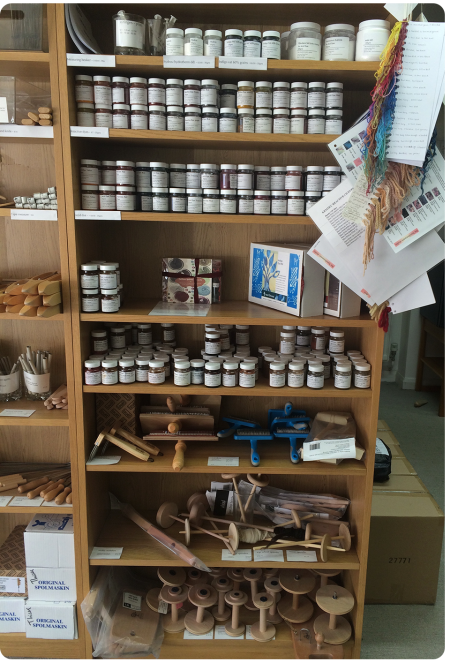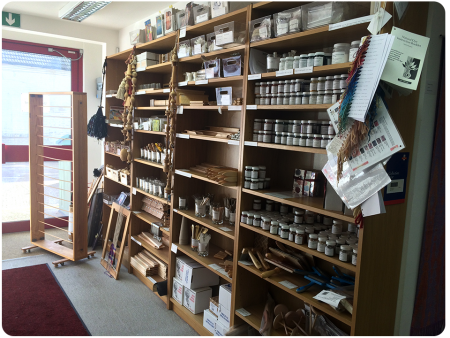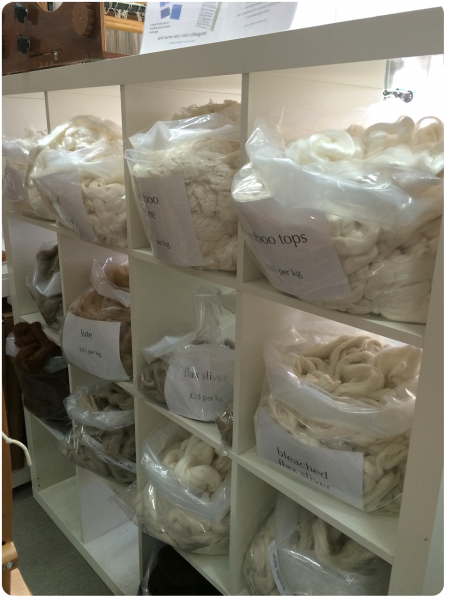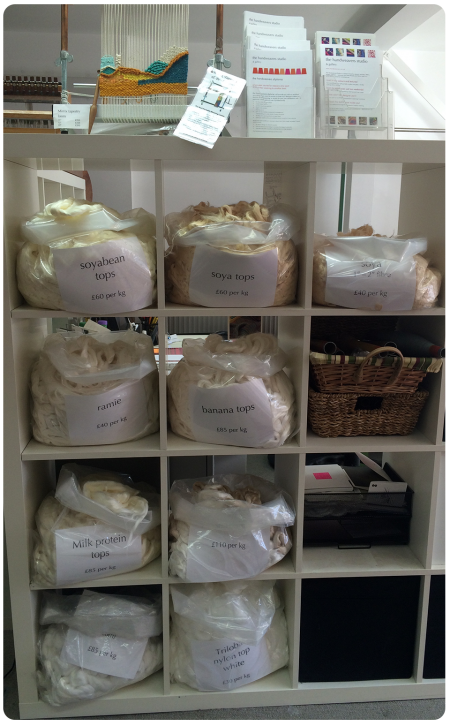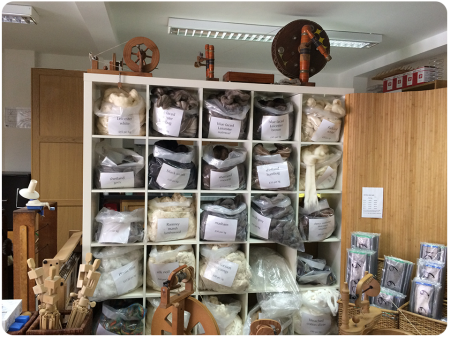 Lessons and Workshops
I have done a spinning workshop at the Handweavers Studio, with the talented Brenda Gibson. (Find out more here.) It took place on the shop floor, and it was great to have the whole shop at our disposal on a Sunday – it was not open to the general public, but we were able to browse as much as we wanted. I understand there is a big weaving classroom upstairs, but I've never been up there – I may ask for a tour the next time I go in, especially as I'm now a weaver too! Heehee.
They have a great range of classes and workshops, and you can also do a handweavers diploma through the shop – the full range and schedule is here.
---
If you hadn't worked it out already, this is one of my favourite places. I would love the shop to have a sofa so that I could go in and just hang out…although I don't think that will be happening anytime soon, just at my request! I have just one comment which I will include for the sake of balance.
First off, the shop is relatively pricey. I understand, as I'm sure most people do, that excellent quality equipment comes at a fair cost; but you can get a lot of the equipment that is sold here cheaper off the Internet. That said, I always prefer to support bricks-and-mortar shops, and I have bought many 'somethings' from the Handweavers Studio in the past when I could have ordered them cheaper off Amazon. It's part of the experience of being able to handle things yourself before you buy them, and also not having to pay post and packaging! The chance to touch my roving and yarn before I buy it is also invaluable to me, really.
I fully recommend you make it your mission to visit the Handweavers Studio if you are a fibre crafter living in London, and have never been. The nearest tube station is Finsbury Park (which is also on the National Rail network…) and bus links are excellent.
If you do head over, let me know! It's a ten minute walk for me to come meet you, and there are some fab places to grab a cuppa on Seven Sisters Road.
Happy Saturday!
Much love,
Corrie xx