Every time I sit down to write my March Resolutions, I get distracted. Today, a full week after confidently declaring online for all the world to see that Lambing 2016 was officially over for us, I walked into the field to meet this little girl, who made her unexpected appearance!
I've been putting together lots of video for "Farm Friday" round-ups. Here's last week's for you.
Anyway, you're not here to learn about sheep, you're here for resolutions!
February 2016 recap
I had no idea what February would throw at me when I set these, and I feel quite triumphant about the progress I did make! Eight lambs and a bad bout of RSI later, here are the results.
Start John's Dr Who scarf – yessir! Check out the blog post here.
Knit commission scarf – I finished it. But it was too short – so I have to add more, and am currently screwing up the courage to do that (see "RSI" above).
Spin some of my beautiful Australian fibre – I think this may have to become a summer project as it's too cold in my studio to spin at the moment.
Knit a Christmas present – I made two but one got given away for a birthday present, handy.
Start mum's Birthday present – Err I think this one was my biggest failure.
Finish next section of bunnymoon cross stitch – DONE.
Finish a section of leopard cross stitch – Yes!
Get fibre onto Etsy – yes! Some of it at least…you can see it here.
Hurrah, a successful month in my book.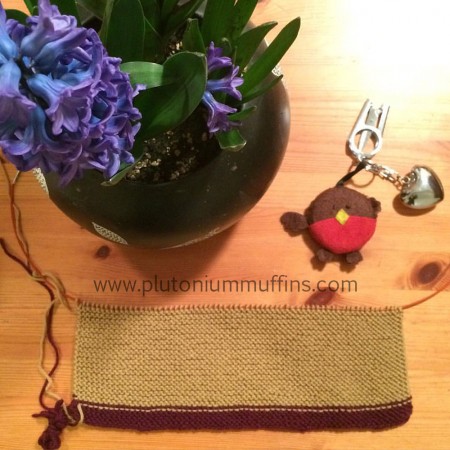 March 2016 Resolutions
I'm going to be a bit conservative here, because I think March is throwing a lot at me.
Make a Christmas present
Lengthen commission scarf
Finish Bunnymoon cross stitch
Blog twice a week
What are your resolutions for March? I always love setting them this month, because I started in March 2013 and it always feels like a fresh start. Happy New Year 2.0 if you will!
Better go rescue my socks from an over-zealous puppy (video introducing her is here!)
Much love,
Corrie xx