I'm a bit late for my resolutions update, having missed the middle of the month, but I'm not going to let that stop me!
Before I proceed, I will let you all know that I spent the weekend at home with my dad and aunty in Devon, eating delicious food, watching programmes about weird and wacky creatures, and visiting my gorgeous grandmothers. I absolutely LOVE those guys!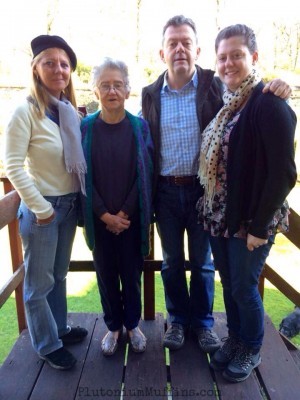 Resolutions Update – mid-January 2014
As always, before I update you, here's a recap of what my resolutions are.
1. Cast on the Weasley Sweater.
2. Cast on Garland.
3. Spin 50 g.
4. Cast on Lace Dress.
I'm doing relatively well for the 20th of the month…
I haven't actually cast on the Weasley Jumper yet – but I have wound the yarn and I intend to do so tonight when I get back home.
I have cast on Garland and am very, very close to actually making some progress on it! I love Kidsilk Haze, and have knit some gloves with it before – in fact they were what got me going on the whole resolutions thing in the first place. Look at where we are now – a group on Ravelry, people getting fit, people knitting jumpers, Secret Santa…
Anyway. Kidsilk Haze is quite hard to knit with. It's an absolutely lovely yarn – definitely one of my favourites and so soft – but woe be you if you drop a stitch!!! I'm doing quite well so far – I've made some mistakes but managed to get through all of them, and nearly done with the body of the jumper. Hurrah!
Spinning is going well – I've done about 25g, which I make half of 50…I'm doing it in gorgeous deep blue merino roving that I bought at Unravel 2013. It's been in storage for a year and has felted slightly…so that's a whole other blog post to come, but let's say for now that I'm not ever going to stash roving again…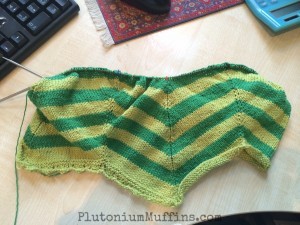 The Lace Dress plan was a Disaster. If we recap back to this post, I realised that I would not be able to knit the dress in the cotton yarn I had set aside for it – instead, I had go change the pattern and go for Erquy instead. I am doing well on Erquy – here's the progress post for that – but I'm 82% sure it won't become a dress.
So, I call January so far a success – now to finish the last ten days of the month on the same high…
Much love,
Corrie xx