I was digging through my yarn box yesterday (putting my New York yarn away!) and decided to pull out all of my handspun. I don't know why – something to do with catching sight of the Sherbert Yarn and wanting to admire my handiwork again.
You can definitely see my progress! I'm loving it – although it's also a bit hard to see the type of progress I've really made between my first few attempts, because the first few were spun woollen and the last few have been spun worsted.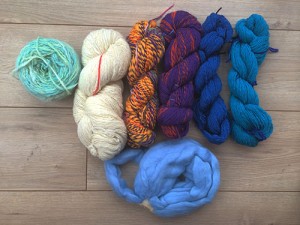 Don't know what that means? Me neither, really – mainly I know that woollen yarn comes from rolags and worsted comes from roving.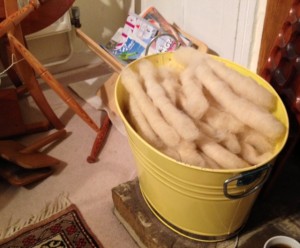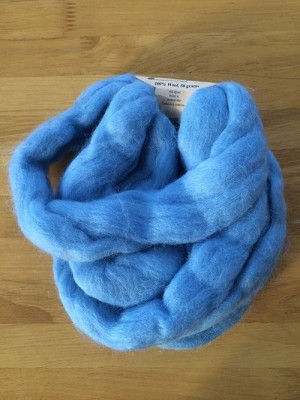 Anyway, I thought I'd better start deciding on patterns for all of this yarn, and before I do that, I want to review the yarn itself!
Sherbert Yarn
This is my first completed skein of yarn*, and with 87 yards I just barely have enough to make anything with it. This is spun from rolags (therefore it is woollen) and it mainly smells of vinegar, indicating I didn't rinse it well enough when I dyed it. I'll have another go when I've finished knitting whatever I'm going to knit!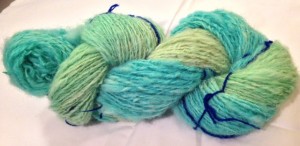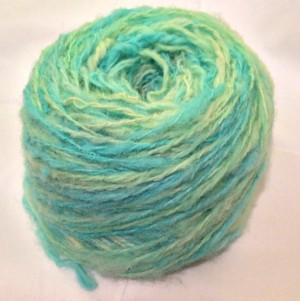 It's from Cheviot fleece that I got from the lady who sold my spinning wheel to me. It's wonky and fun and I can't wait to knit something with it.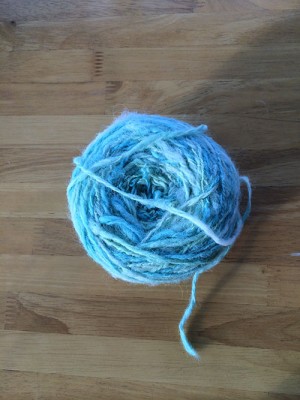 Isn't it incredible how the colour of yarn changes depending on the light you take the photo in?
Resolution Yarn
This Resolution Yarn, so called because it started off the monthly resolutions, was spun in March 2013 and there are a glorious 240 yards of it. This is also woollen cheviot – I spun it with the intention of making a shawl, but shortly after this had a spinning lesson and learned that it takes as long to spin for a project as it does to knit the actual project.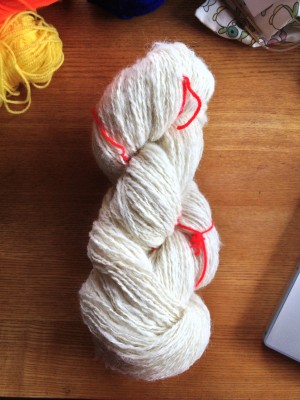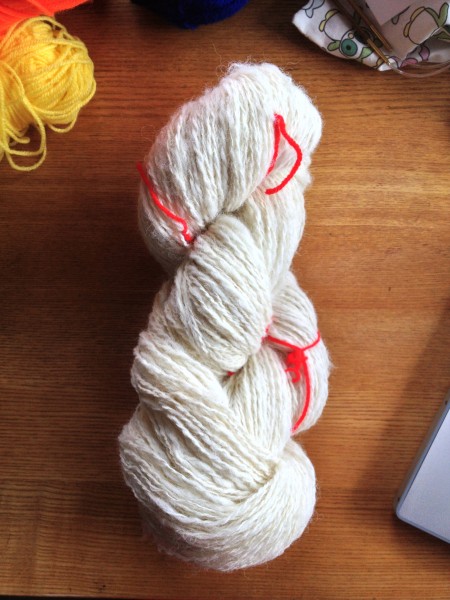 I suspect this may become a hat or something similar, but I really haven't looked into it. It is also a bit sticky, and would be waterproof, haha! At least it will be resilient.
It is about 13 wpi (a rough estimate as it's hard to measure while it's in the skein and I never did it before I skeined it up) so it's got a fair bit of use in it.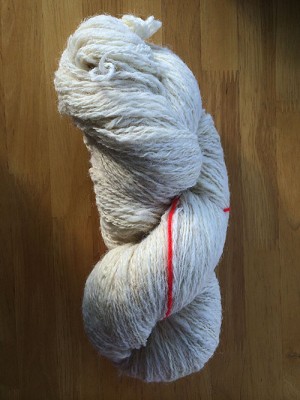 Pharaoh
Pharaoh took me literally months to spin – the singles sat on the spinning wheel for a very long time before they got plied – and the green and grey that you can see was started at my spinning lesson last September. The purple I got from the Campaign for Wool (yay, giveaway prizes) and the orange and yellow came from…somewhere. I have no idea.
The grey is blue faced leicester from my spinning lesson.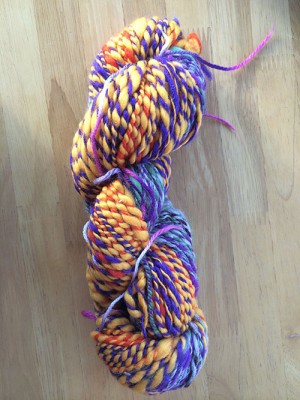 This was the beginning of my trip into the world of worsted spinning. I found it very, very hard. I much prefer it now (my fingers hurt less) but I also felt like I was learning to spin again. There are just 63 yards of this – I'm thinking welly toppers or wrist warmers or something! It is 10 wpi…sort of. I was experimenting with thick and thin spinning so it varies hugely.
Willy Wonka
This was the leftovers of the orange and purple yarn that I had from the above – vastly more purple than orange, so it came out a funky combination. This was also worsted spinning, and took me a lot less time than Pharaoh – if you are confused as to why it is called Willy Wonka, just check this out!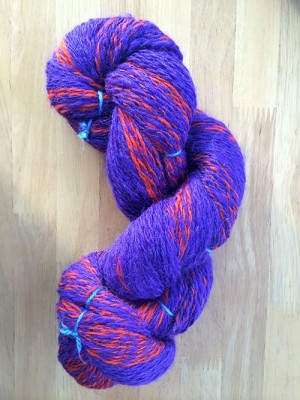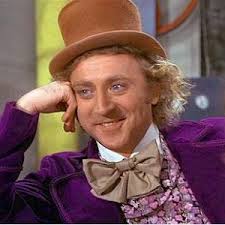 What will this become? Who knows, with 152 yards we will see.
Deep Dive
This was my May/June 2014 spinning – I bought the roving at Unravel 2013 for JS in a set (you'll see the next two soon and the fourth will come at a much later date) and I decided that I had to spin it up for Christmas 2014 or May 2015 (the next birthday).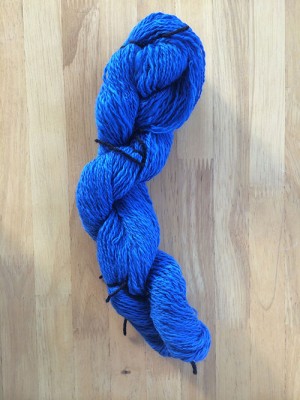 The roving comes from "WoolyKnit" and is '100% wool' – I don't know what type of wool it is, but I was really pleased with my spinning. There are 73 yards of this one.
Lagoon
This was the middle colour of the set that I bought for JS, and is my most recent spinning. This is the best spinning I have ever done, it went really, really well and I'm so excited about it that I basically couldn't go fast enough. I span it in about 4 hours, which is a personal best. It was my July Resolution, (or, one of them), and I was so pleased to finish while I was recuperating from an operation I had last week**.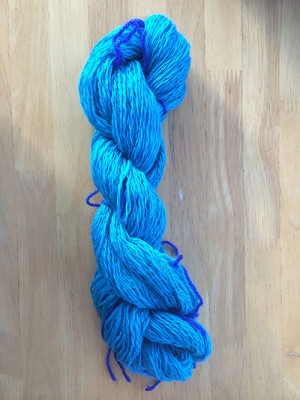 There are 100 yards of this – with the same amount of roving as "Deep Dive", you can see I was practising my thin spinning! This is also WoolyKnit roving.
Splash
This is the third of the four piece set for JS. I have no idea what I'm going to make. It may be destined for a sweater, but a certain life event will have to happen before this will go ahead. (Heard of the curse? You know.)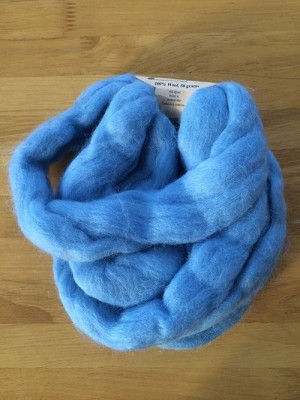 Yes, I believe in the curse.
Oh, you may have notice this is roving? This is my August spinning! Again, it's WoolyKnit roving.
Future for Spinning
I may have to go back to woollen spinning soon as I got a fleece for my birthday from the best sheep in Modbury, Devon!!! But of course I have the Splash from above, and I also have a heck of a lot of other fleece and roving to go. I was a bit enthusiastic at Unravel 2013…
So that's about it from me for today. I'll definitely do some pattern reviews in the future. (By the way have you checked out Stitchpunk's Ravelry Round-Ups? They're amazing.) I've had so much fun learning to spin and if you are a frustrated knitter then you might want to try it out, but equally check out Etsy, because some of the handspun on there is awesome and you'll find your knitting so much more special.
Have a great night!
Much love,
Corrie xx
* Sort of – Big Hat was my first yarn for reals.
** I had a tooth out – I'm OK now, but I had a few days which were a bit rocky. Nerve close to tooth root, general anaesthetic and severe nose-bleed during surgery? Not a good recovery.