I'm very excited about the two new projects that I have on the needles and wheel – my Solomon's Temple socks, and my rainbow fibre. I've talked about them on Episode 5 of the podcast – check it out here! Here follow the latest pictures for you!
Solomon's Temple
When John and I went to Buxton in August, we visited Sew In. While here, I looked for yarn that would be a lovely symbol of our trip, and I found some West Yorkshire Spinners Signature 4 ply. A self-striping yarn, it has two shades of green and three brownish, reddish, earthy tones. There is also a stripe that separates each colour which has light and dark grey speckles in it.
This all serves as a reminder of a very cold and wet journey up a hill – nay, a mountain in Buxton as we headed to explore Solomon's Temple, a fortified hill marker with views of the Peak District. Halfway up the mountain, a giant thunderstorm started. I was stubborn. I refused to go back down. We got to the top and took the obligatory 'on top of a hill in a thunderstorm near a stone tower' selfie, before pretty much running down to a cafe with hot chocolate and a warm place to change out of our wet clothes!
I absolutely adore the colours, although I was a bit unsure about exactly how it would knit up. I bit the bullet and chose my pattern from a book I got for my birthday.  I am more than thrilled with how the yarn is turning out, and I cannot wait to wear them! It is wonderful and soft, and the self-striping is just brilliant.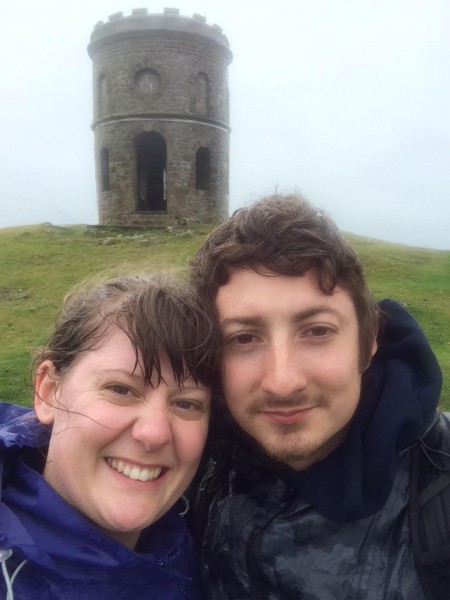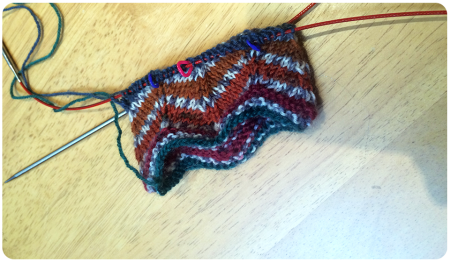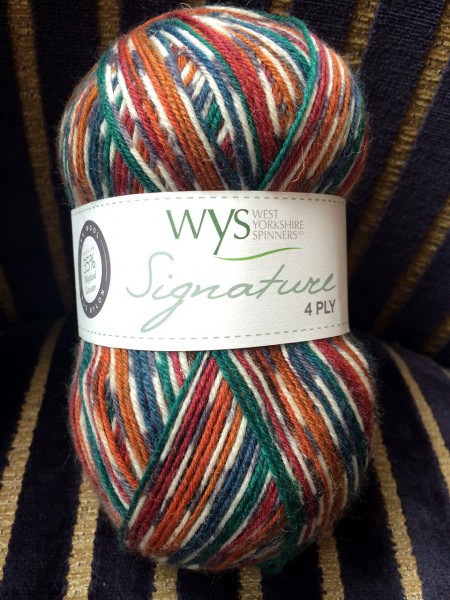 Rainbow Sparkles
My newest spinning project is some nylon yarn that is coloured like a rainbow! It is incredibly sparkly, soft, and is spinning up nicely! It drafts smoothly and the only downside is that I get covered in sparkles while I'm spinning. Is this really a downside, though?!
My plan is to spin some rainbow coloured solid tops into a gradient single, then ply that with the sparkly single. What will it become? No idea! We'll see what yardage I get. I'll have to do a careful swatch to see how it all knits and washes up before I do anything with it.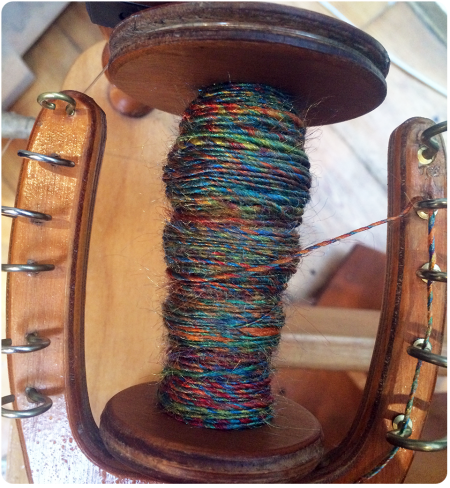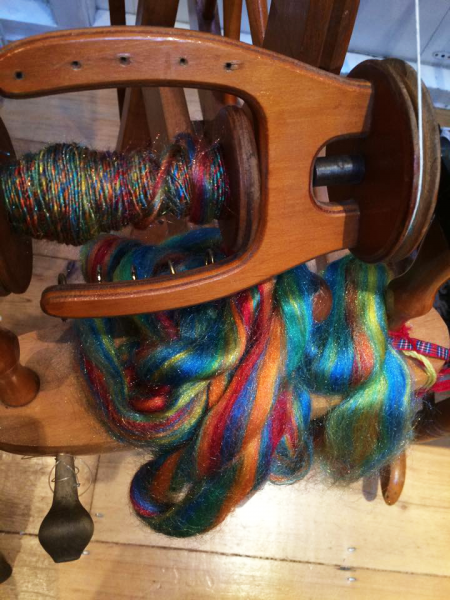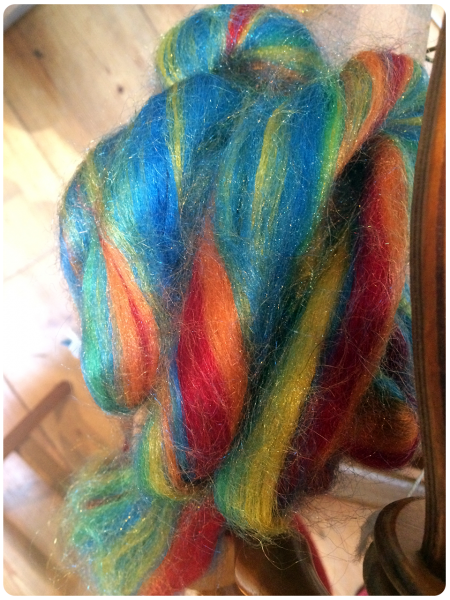 I'm heading out to the Handweavers Studio in a moment to ooh and ahh over their equipment. I'm hoping to pick up more bobbins so I can do more than one project at a time! I've been coveting an Ashford Joy they have for sale – but it's not in budget at the moment, unfortunately.
Much love,
Corrie xx