It's a horrible day in Kent, so while I'm waiting for pages to load (have I ever mentioned that the internet here is absolutely RUBBISH?) I'm knitting hexipuffs. I've been on a massive hexispree the last few days. I think I've doubled my total number of the little joys, and I've been knitting them for years!

I realise we are now some way into April, so it's the perfect time to sit back, take stock and assess what I managed to get done with my March Resolutions! If you want to look at the Resolutions for April, please do – I've also got a Mr Linky going, so you can get involved if you are blogging about this. Yay, link parties!
Resolutions completed in March
So, my four goals were:
Spin prepared Cheviot fibre
Spin purple merino on spindle
Learn how to use spinning equipment properly
Join a spinning guild
I am pleased to say I completed all of these! Sort of…
All of the Cheviot fibre was spun! I made two sets of yarn – the first was dyed and became the Sherbert Yarn, and the second is still skeined up as I intend to spin more cheviot – this is the Resolution Yarn. I have half a Cheviot fleece left, but I specified only the prepared fibre – I still have to pick, clean and card the rest of the fibre. That's a job for later.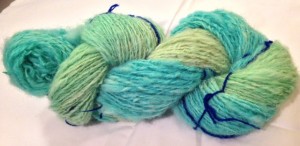 I spun some purple merino on the spindle. Then, I decided I hated the spindle, unravelled all the fibre and will do it on the wheel instead. I don't believe I failed. I learned something and that was the point.
Learn how to use spinning equipment properly – well, I do know how to use all of it now. Properly? Hard to quantify. I think maybe in 60 years time I will be able to answer in the affirmative on this one!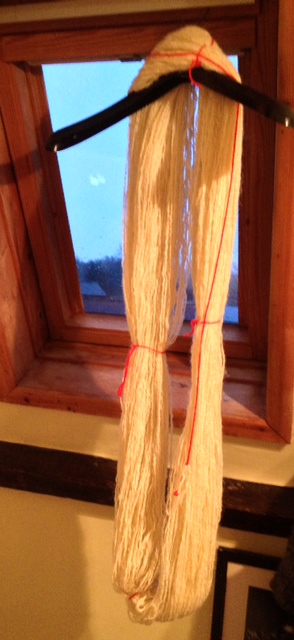 And yes, I joined the London Guild of Weavers, Spinners and Dyers. Success!
I managed to do some other things in March – lots of FO's and also a decision to move. I'm now trying to pack up and have discovered I actually own five dirty sheep fleeces and two dirty alpaca ones. Sigh. Lots of fibre prep in my future – anyone have a drum carder for me? Guess what I'm asking for for my birthday this year!
Anyway that's it for now. Join in with Mr Linky below! I've seen lots and lots of you making resolutions, either on Ravelry or on your blogs. Let's support each other!
Much love,
Corrie xx