When I started knitting seriously, I started making squares – one after the other after another, and when Wonder-Gran heard about this she decided I ought to make a Patchwork Blanket. The darling lady sat in her lounge for many a night, knitting dozens of squares for me. I had no idea about this until she handed them to me when I visited one day and announced I got to sew them all together. Whoop!
Before I continue, some news for you! I'm moving to Devon on Monday. I've always been pretty open about depression and so forth, and it's all got a bit much for me. I'm retreating to the parental homestead (which is currently being renovated so is actually uninhabitable) to take stock and try figure out what is what. I'm going to be leaving my beloved JS behind, but Archie is coming, so it's not all bad. You'll hear more about it as things progress, so back to the WIP.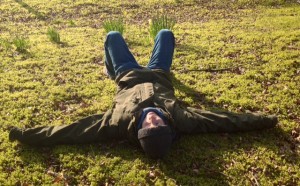 Patchwork Blanket
In keeping with naming my projects after things from Harry Potter, the project name for this on Ravelry is "Honeyduke's Best Chocolate" – because I imagine the chocolate to be warm and comfortable, and the Patchwork Blanket certainly is that!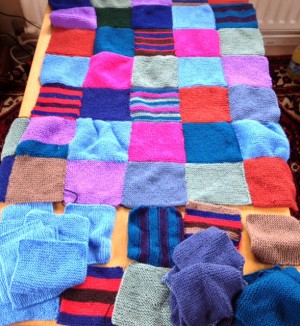 I've been sewing these squares together for more than three years now. It's not that there are many of them – in fact there are surprisingly few. It's more that I will sew one on to the set and get bored, move on to something else. I'm sure you knitters can identify with this – the sewing up is the worst of the worst, in my opinion.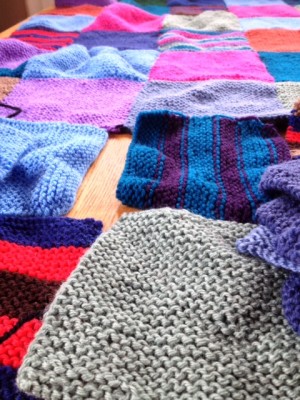 Anyway, this is where I am now. It's certainly been a study in finishing techniques – in fact, I would absolutely love to take a workshop on finishing, because my knitting has been entirely self-taught and YouTube can't show all the finesse! I do have a book as well, but one of the symptoms of my depression in particular is that I basically find it impossible to read things.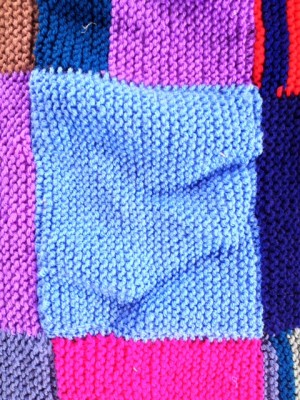 Anyway, that's where I'm at. What are you making this week? Head on over to Tami's and Ginny's for more WIPs.
Much love,
Corrie xx
PS Look, shiny yarn! Part of the Resolutions for April, join in the conversation here.