This post about my lovely craft corner started out as an addition to yesterday's blabbering on about Hobbycraft. When I realised I'd written 1,000 words, I decided to edit it down!
Craft Corner Toys…and wishlist!
The other day, Turtle gave me a little present. She is emigrating to New Zealand, and a lot of her arty stuff has come to me. Jewellery, paints, paper, boxes, trinkets…and, this. The first thing I did was put a hand-warmer on it. Second thing I did was organise my rings…leaving the little finger for stitch-markers. Obviously.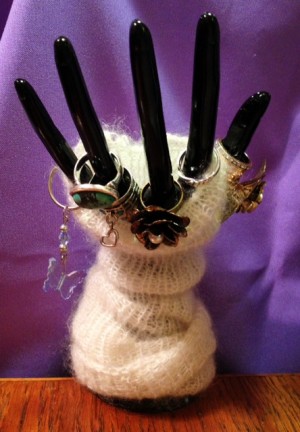 I've always wanted one of these. I couldn't be more thrilled…her Christmas pressie is going to have to be extra special!
The craft corner is moving on. I have a pile of things to tackle today. My next task after that is to scan and print the pattern lists in all my magazines. I've found that very few of these patterns are on Ravelry, and they are actually great and should be easily available to me.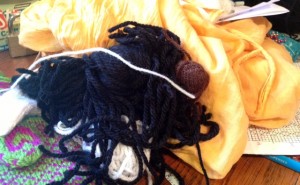 Following on from the discovery (and near completion) of the luxury gloves, I am pleased to say that I have managed to fix a necklace and pin up a dress for modifying this morning. Things with the WIP basket are going well. Left in there are a few things that need to be filed, a WIP that I will never finish and need to frog, loads of squares for a blanket that need their ends sewing in, the dress that needs sewing along the pinning, another that needs repair where my fat arms ripped the arm-holes, and some fibre that needs spinning. Plenty to be getting on with.
If anyone has any ideas for persuading errant OH's from dumping the dirty laundry in ones craft corner, I would be most delighted to hear from you! (I can't complain too much, JS does all the laundry* as I am certifiably allergic…ask my GP, she'll tell you, hehe.)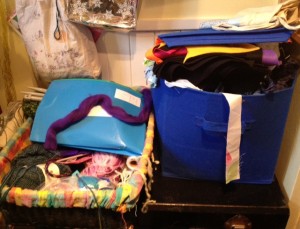 I'm now going to be a bit cheeky and put up my Amazon wishlist, prompted by this wonderful gift of things that I can snaffle off to be used for crafting. This isn't so that you all buy me stuff; please don't, that's not the purpose of it and it would be so incredibly needy of me. It's mainly because I like to keep it updated, and it may interest you if you think your interests are similar to mine. (And if I do know you in real life and you get me for Secret Santa this year…well, handing it to you on a plate. It's a pleasure.)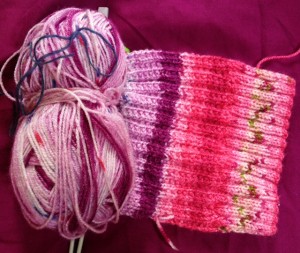 If you have a wishlist – it may be on Ravelry or somewhere other than Amazon – I'd be really interested to see it. I love finding out about new products or sources of inspiration. My shelf can never have too many books on it!
If you wanted to find out how the job is going, please check Facebook or Twitter as I will be putting more regular updates there!
Much love,
Corrie xx
* Except the hand-washing. I won't make him do that when I create most of it!