It was my gorgeous JS' birthday on Monday and I wanted to knit him a pair of boyfriend socks – similar to the boyfriend sweater but with fewer consequences, hopefully! I started out with Business Casual, and pretty quickly decided I hated it – the pattern is fine and my yarn was gorgeous, but the two of them together? No.
I ripped out what I'd done three days before the event, and started again with the Basic Ribbed Sock.
Boyfriend Socks
The yarn I chose following the Business Casual fiasco was a Regia 4-ply in Ombre Stripe – a Kaffe Fassett colourway. I thought I would hate the way it knitted up, so I was very prepared to rip it out once I'd done a few rows. I was very, very pleased to discover that not only did I love the colour and stripe pattern, but that it really suits JS.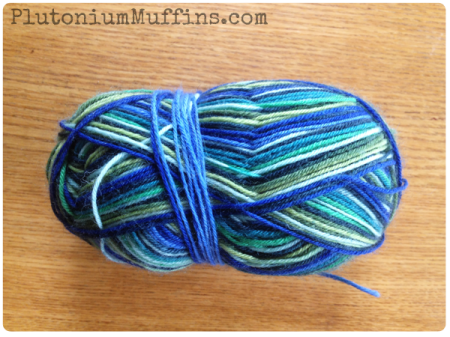 I unveiled them on Monday, and completed the first sock on Tuesday – I was actually quite pleased he knew I was knitting them, because unlike Wonder-Gran and Wonder-Mum, my feet are nowhere near the size of JS', and I couldn't test the size on myself! The first one fits him perfectly, and the second is well underway.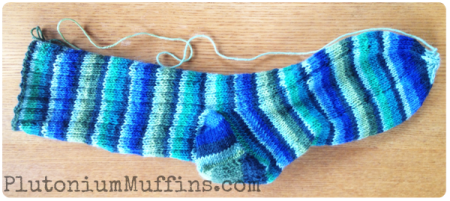 JS is fairly similar to Dobby the House Elf, in that he loves to wear odd socks. This will be impossible with these socks. I hope he adores them, because I do. I definitely think that I will be knitting a million socks from now on, I am well and truly addicted!
Win a beach sarong
So, I'm being a bit cheeky here but this is my little plug for a giveaway I'm doing on Coranda.com! You have to 'like' it on Facebook – when we get to 300 likes we will be giving away one of the fantastic beach sarongs that have been so popular. I will be doing a giveaway on Plutonium Muffins soon – I have it all arranged, I just need to get my act together and send an email to some people to say that I'm sorry for being so disorganised!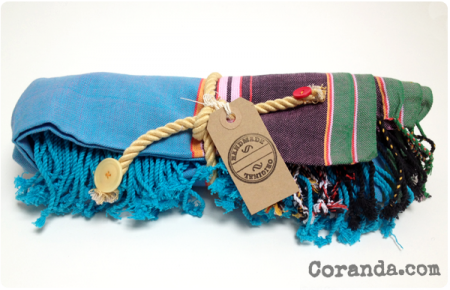 Good luck!
Much love,
Corrie xx