I posted about the first jumper I've attempted in last week's WIPW, and it's all I've worked on since. I started it (for the second time) while I was on holiday in Cornwall with JS and his family. It was a bit odd to be knitting a very heavy aran jumper in the summer sunshine, but things were going well.
WIPW (8) – Jumper as it was last week.
For comparison, here is what it looked like at the time.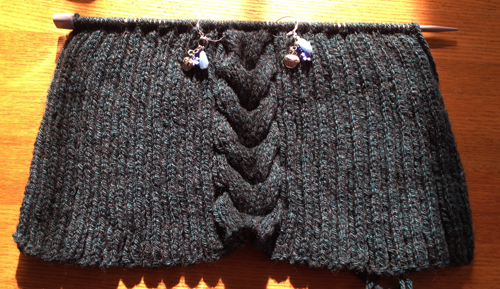 At this point, I lost the pattern (or rather, the whole magazine) and had to write to "Let's Knit" to ask for a spare copy of the pattern. They were very obliging, and emailed it straight over. Customer service was absolutely excellent, and I'm seriously considering subscribing to the magazine in addition to "Knit Today".
WIPW (9) – Jumper as it is today
I've been struggling with my depression recently, and part of my new strategy for coping with it has been setting myself daily "small goats" (derived from a group I'm in on Ravelry). Clearly, they are goals but with a typo.
Anyway, I think one of my goals for the last week has been "knit at least 20 rows on the jumper" on a daily basis. I've done fairly well. JS took me to Towersey Village Festival* and although I carted my knitting with me everywhere I went, I didn't get as much done as I wanted. This is where I was at as I got off the train this morning.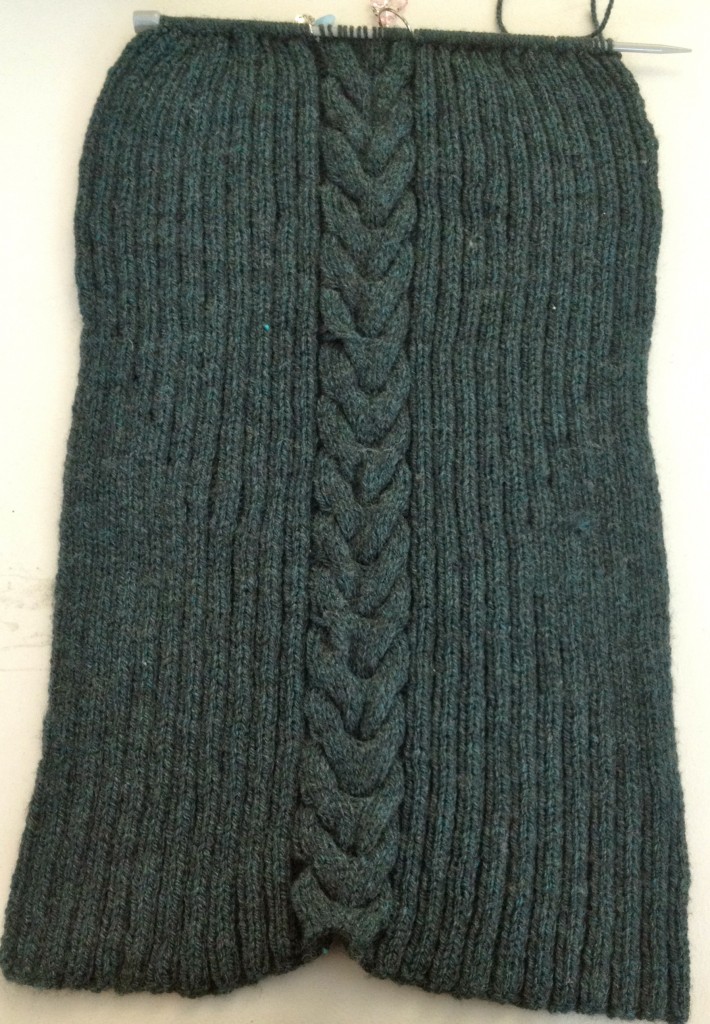 Can you spot one or two errors? These are irritating me, but not enough for me to rip back – don't know if this is a victory over annoying perfectionism, or a symptom of depression. It could also be because I had to rip back after I noticed that I'd done 32 extra rows. Thirty-two!!! That's two days worth of knitting. The frustration when I noticed was immense. Once I'd ripped back, I got to here.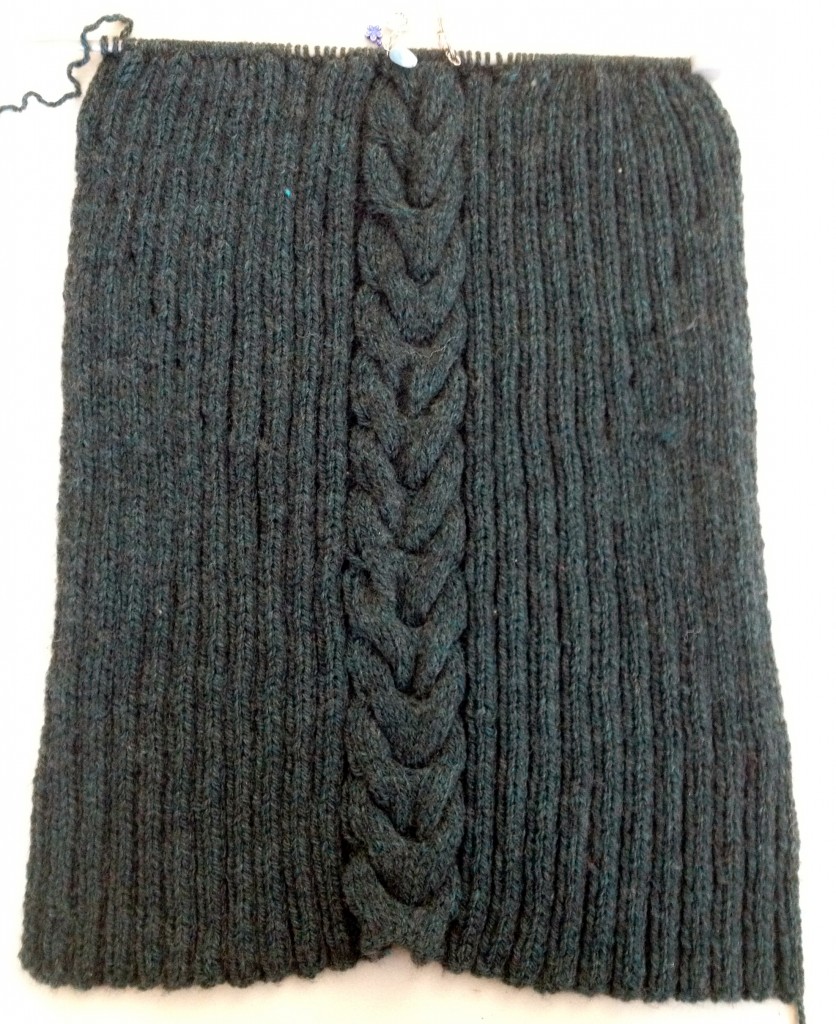 I have been getting a bit concerned that I'm going to run out of yarn. I did check my yardage very, very carefully before I started. Luckily, it was just me being a dolt, and I should have enough. I am cutting it fine though. Fingers crossed it lasts, otherwise I might have to go for a duo-tone effect! I do have some other aran in my stash, but it's a fetching cream. Maybe it won't look so bad….
I'm starting to see the end of the jumper. The sleeves are three-quarter length, and the cowl will basically be a "knit till the yarn runs out" job (I won't have enough to do the full written cowl, but that's OK. It's a bit long anyway.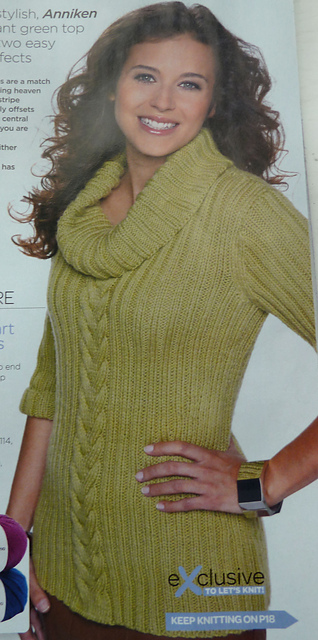 Work in Progress Wednesday
If you want to get into WIPW, head over to Tami's Amis. It's one of my favourite blogs, she does several regular slots every week, and it's really interesting reading. Also, the colours that she uses are fantastic, I'm in love with them – especially the greens! I have a bit of a thing for green, which will become clear in my future spinning attempts.
Much love,
Corrie xx
*I seem to go to folk festivals whenever things are a bit shaky. Odd. I do have some awesome reviews to post up, so watch this space.