Once again I start another post with the weather – it's an awfully grey and nasty day in Devon and I'm wearing my completed Riverton Cowl with pride! I finished it yesterday and blocked it this morning. It took a while to dry, but I can now wear it comfortably.
I have an awful headache today – I got told off by my doctor because I was drinking too much tea, and I am now suffering withdrawal symptoms! I am allowed three cups a day, and am definitely unhappy about the turn of events. Wonder-Mum has decided to detox with me, and she is being very chipper about the whole thing. The headache will come, just you wait mother…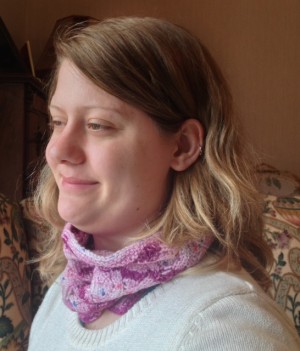 Riverton Cowl
I chose the Riverton Cowl cos it had a fairly nice pattern that I thought might work well with my yarn. The yarn is a King Cole double knitting acrylic that I bought in about 2008. I used it for a bag, ripped it back because I hated it, and have had a go at making it into leg-warmers, socks, hand-warmers and a hat – it's been frogged each time. I'm finally happy with this FO!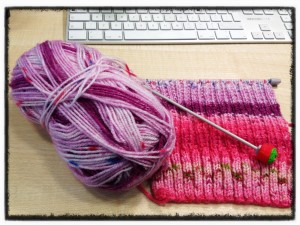 The pattern itself caused a bit of consternation. Part of the lace-work requires you to move the stitch-marker to ensure the pattern matches up. I've done a fair amount of lace before, but never one that involved this process, and I was so confused. I looked up in the comments of other Riverton Cowl pages and projects on Ravelry, and although a few people had mentioned this issue, the resolution was never mentioned.
Here's the resolution, guys! I was concerned when I moved the marker one stitch into the pattern – how would there be enough stitches for me to match the pattern as written, as I'd just taken one away?! Of course, I'd forgotten that if I moved the marker one stitch in, although I lost one at the beginning of the round, I also gained one at the end so the stitch count remained the same. I had simply been counting incorrectly.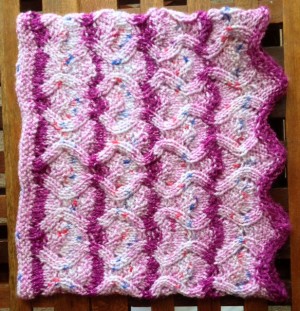 I ripped back that first row about eight times. I kid you not.
I'm glad I worked it out – the next time I do a lace pattern that is a bit similar to this, I will know, and I hope I can help someone else with this description!
Anyway that's all for now – I'm going to go sit down and try forget my headache. I've finally cast on some socks for my April Resolutions – hurrah!
Much love,
Corrie xx