I've been in Devon for four days, and I've already found a Knit and Natter! While we were in Devon over the Easter weekend, I popped into Hulu with JS and Vicky mentioned the group. I bought some sock yarn, which I've already showed you all. (I wound it into a ball yesterday. Can you say love?!)
Vicky, the shop owner, mentioned that she runs a group every second Wednesday – I was initially scared that the week the group falls on is the week I'm going to be in Kent every fortnight, but luckily not. So, for the foreseeable future, my Wednesday nights will be spent either at Knit and Natter, or driving to Kent!
Knit and Natter
I was a bit nervous before I went. Although I grew up in this town, I was always a bit of an outsider, as we arrived when I was ten and I had a very funny accent. Zimbabwean, you know. I don't really know any of the people my age here, excepting a few, so I had no idea what to expect at the Knit and Natter.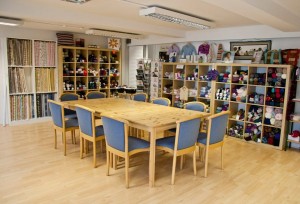 Luckily, there were a few people I knew, and those I didn't were very friendly! I had gone along expecting myself to be all prepared – I had found a sock pattern I really liked (still trying to start on those April Resolutions) and was ready to start. Silly girl that I am, I didn't check the weight of yarn in that pattern, and it was for a 3 ply. The yarn I had was a 4 ply. I'm too lazy to bother about working out what needles I need to sort out my gauge, so I just switched patterns – which meant I spent about half an hour at Knit and Natter looking through Ravelry!
The ladies there were all lovely. One of them is five months pregnant, so a lot of time was spent discussing the ins and outs of pregnancy – mostly the really gross bits. I reckon I was the youngest there by about ten years, so it was definitely over my head a bit, but it was really nice to feel part of a group! We also had a delicious treacle tart that one of the ladies made, and I had a cup of tea which made me stay awake half the night. It was worth it.
Hulu is also a lovely shop. Half of it is knitting, the other half fabrics and sewing machines. The middle of the shop is taken up by a big table that we all sat around. It has a gorgeous atmosphere and is just the right size to feel roomy but cosy.
I'm going to go back – and I think that I am going to be very happy there!
Much love,
Corrie xx